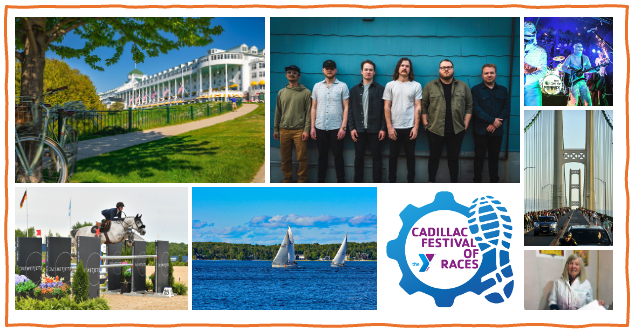 Your Labor Day Weekend Itinerary
Eight events to keep you busy from Manistee to Mackinac Island
Labor Day weekend provides local and out-of-town revelers with a variety of fun ways to bid the summer season farewell. From music festivals and art exhibits to regattas, foot races, and equestrian tournaments, northern Michigan has an event for you and yours this weekend. (And if this list isn't enough, flip to the Dates or Nitelife sections at the back of the paper.)
FRIDAY
Labor Day Jazz Weekend
The Grand Hotel on Mackinac Island | Sept. 2–5 | grandhotel.com
For the entire holiday weekend, you can enjoy fabulous jazz music by some of the country's top performers while staying at The Grand Hotel on Mackinac Island. This special weekend package includes concerts, receptions, cookout luncheons, daily breakfast and dinner, and all entertainment. John Pizzarelli, Cecile McLorin Salvant, Diego Rivera, Aaron Diehl, Kat Edmonson, and Paul Keller are the 2022 featured jazz performers, with the Calvin University Gospel Choir performing on Sunday. Ticket packages can be purchased over the phone—(800) 334-7263—or online.
Art Exhibits
Glen Arbor Arts Center and Crooked Tree Arts Center | Sept. 2 | Free | glenarborart.org, crookedtree.org
Two art exhibits are must-sees this weekend. The first, Ropes, Ribbons, Twigs, and Things by Dorothy Anderson Grow, opens on Friday, Sept. 2, at the Glen Arbor Arts Center. Meanwhile, the Paint Grand Traverse 2022 Gallery Exhibition at Crooked Tree Arts Center in Traverse City is on display through Sept. 17 and includes work by 36 artists from around the country created during the annual weeklong plein air festival. Both exhibits are free and open to the public.
SATURDAY
Cadillac Festival of Races
Cadillac Rotary Pavilion | Sept. 3 at 8am | $35 | cadillacareaymca.org
Join the Cadillac Area YMCA for their annual Cadillac Festival of Races! Participants can choose to run in the 5K or 10K—both start at 9am—which follow the shores of Lake Cadillac. A new option is the 7-mile Team Lake Run for teams of four, which begins at 10am. Register online or on-site the day of. All proceeds benefit the Cadillac Area YMCA's free 7th-grade membership program. For each age bracket, top three and finisher medals will be awarded.
LaborFest
Manistee | Sept. 3 from 9am to 12am | Tickets for the evening portion are $20 in advance or $30 at the door | saltcityrb.com
The fifth annual LaborFest—hosted by the Salt City Rock & Blues Society, a non-profit committed to supporting live music in Manistee—honors the region's rich history and the laborers who supported the salt, lumber, and sand industries. The all-day event includes a 9am car/bike show, a parade at noon, free local band performances from 1pm to 5pm, family-friendly activities, food vendors, craft beers, and spirits, and the ticketed 6pm concert. The evening portion of LaborFest features The Downtowners, Jake Kershaw, and Here Come the Mummies. Tickets are limited, and events will occur regardless of the weather. All LaborFest proceeds benefit the building of the state-of-the-art amphitheater on the shores of Lake Michigan.
The Red Fox Regatta
Charlevoix Yacht Club | Sept. 3-4 | charlevoixyachtclub.org/red-fox-regatta
As a sailing season cap-off, the Charlevoix Yacht Club hosts the two-day Red Fox Regatta, with sailors traversing up to Boyne City at the top of Lake Charlevoix and back again for an award ceremony. A fun event for sailors and families, the regatta is a treasured tradition. The "Party Like a Red Fox" celebration—open to landlubbers, too—takes place on Saturday at 4pm in Veterans Memorial Park in Boyne City. Tickets are $40/person and include dinner, beverages, and a live performance. To register for the Red Fox Regatta or purchase tickets, head to their website.
SUNDAY
Traverse City Fall Horse Show's Tournament of Champions
Flintfields Horse Park | Sept. 4 at 2pm | General Admission $15/person | traversecityhorseshows.com
The Traverse City Fall Horse Show's Tournament of Champions takes place Aug. 31–Sept. 4, with the Grand Prix occurring on the final day, in which champions will be crowned and $138,600 will be awarded. At this exciting Olympic-level event, attendees will enjoy show jumping, food, drink, and family-fun activities. All GA ticket proceeds benefit local charities, and gates open at noon.
Beer, Blues & Barbecue Festival
Treetops Resort | Sept. 4 from 3pm to 9pm | General admission $35/person; VIP $75/person | b3north.com
Eagle 101.5 presents this fifth annual music and cookout event in Gaylord, featuring The Steepwater Band, Jake Kershaw, The Jon Archambault Band, Levitator, and The Crosscut Kings. Attendees are encouraged to bring chairs and blankets for this outdoor afternoon/evening event. All tickets include food and drink tickets, and $5 from each ticket will be donated to the Otsego Community Foundation's Tornado Recovery Fund. Performances start at 4pm.
MONDAY
Mackinac Bridge Walk
Mackinaw City | Sept. 5 at 7am | Free | mackinacbridge.org
A tradition since 1958, the Annual Bridge Walk takes place on Labor Day with Governor Whitmer's party leading the procession. No fee or registration is necessary to participate, but arriving early is recommended. Participants may start from either end of the bridge—in Mackinaw City or St. Ignace—but must turn around at the midpoint and return to their point of origin. The Bridge Walk lasts roughly two hours and covers 10 miles. All walkers receive a numbered certificate.
Trending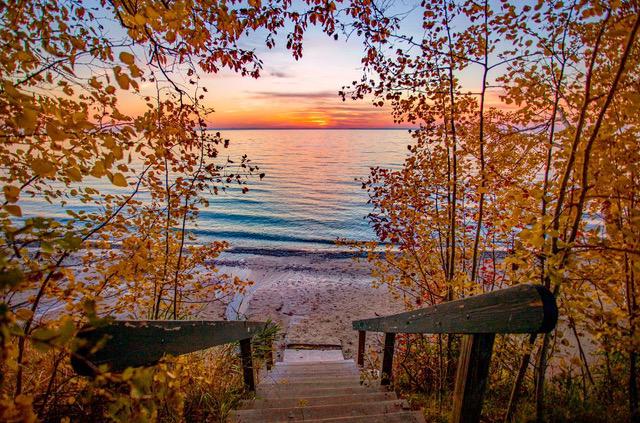 Cruisin' the Breezeway
Fall into East Jordan during the 15th Annual Autumn on the Breezeway! Choose from three different dates: Sept. 30, Oct. 7,...
Read More >>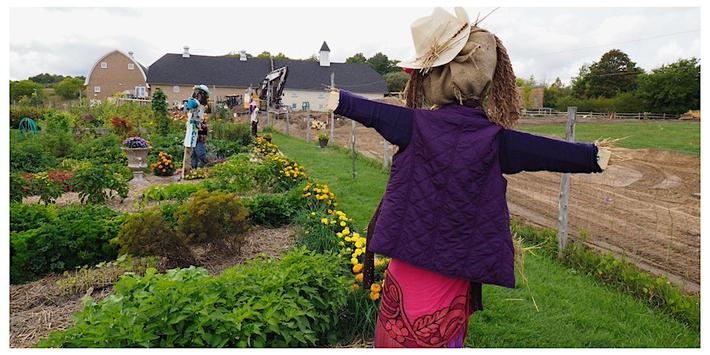 Scarecrow Szn
It may not be "spooky szn" (as the kids call it) just yet, but it does seem like it might be scarecrow szn. Th...
Read More >>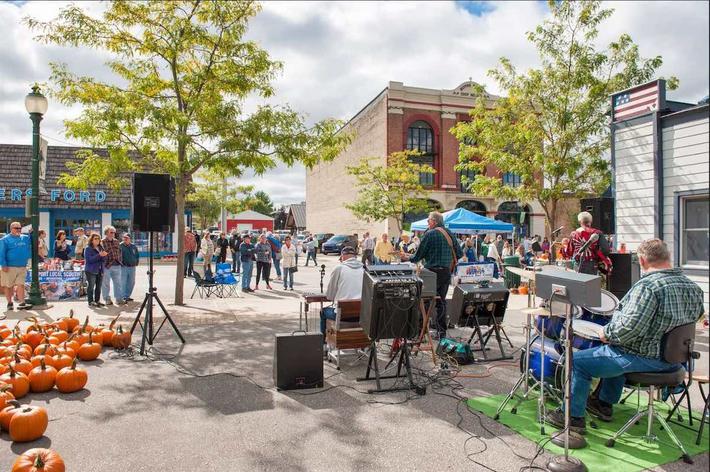 Celebrate the Harvest in Boyne City
Welcome to the season of harvest festivals! The days are getting shorter, the nights (and days) cooler, and it's tim...
Read More >>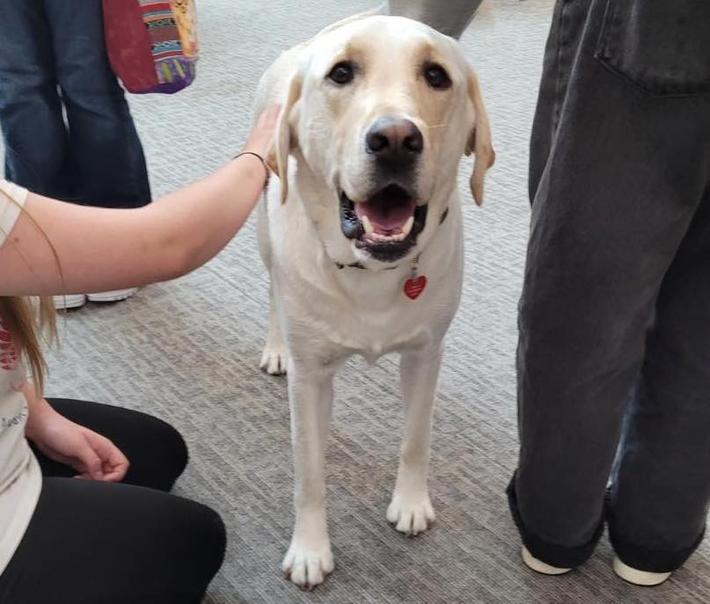 Pups on Campus
Traverse City West Senior High has brought on a very good boy as their newest staff member for the 2023-24 school year. Me...
Read More >>