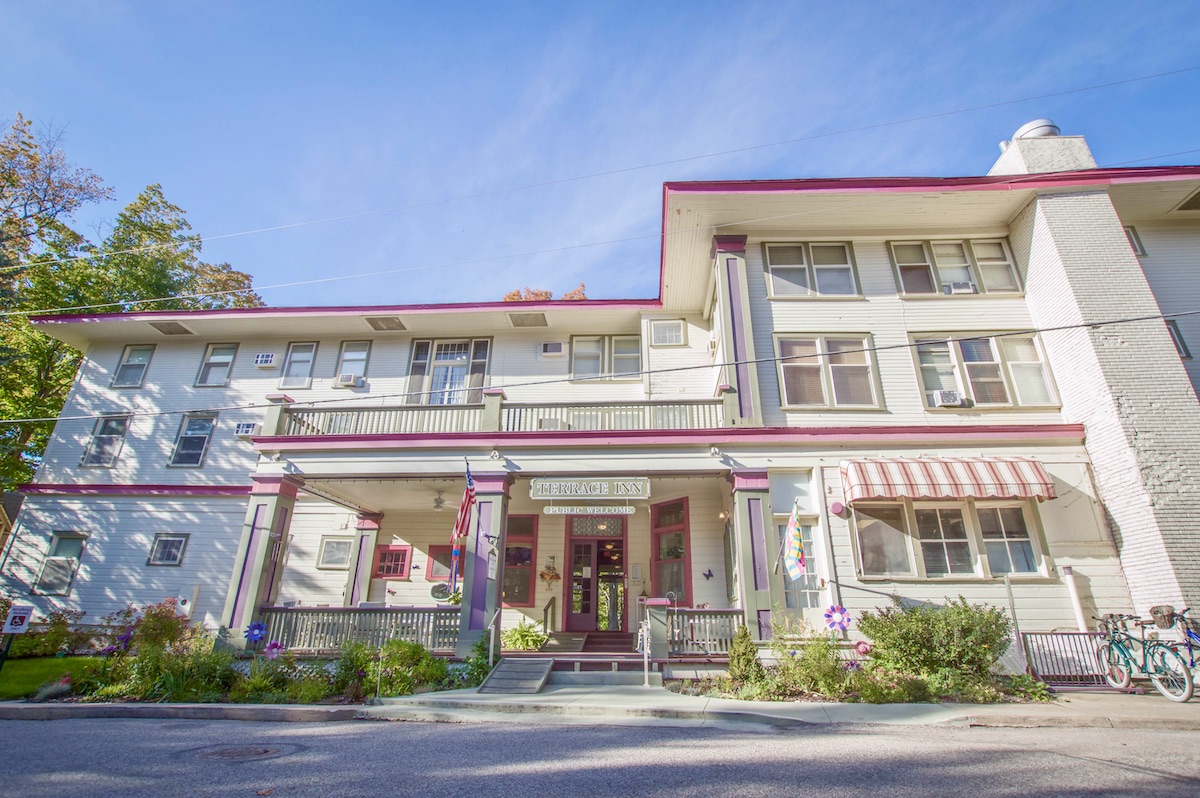 A Taste of the Past
Petoskey's 1911 Restaurant transports you to Victorian Michigan
Mystery is the name of the game at Petoskey's historic Terrace Inn and 1911 Restaurant. With more than a century of life in its walls, the building's authenticity, world-class cuisine, and supernatural rumors keep guests coming back year after year.
"It was very ahead of its time," Michigan Hemingway Society president, Chris Struble, says of the original Terrace Inn. State-of-the-art amenities (at least for the time period) made it easier for the inn to age gracefully through the decades. "Even with all the renovations that have taken place, [both the inn and the restaurant] still have that feeling of stepping back into the early 1900s."
(As for whether it's actually haunted? We'll let you be the judge.)
A Century of History
Named for its parcel's terraced descent down to Little Traverse Bay, the Terrace Inn and its attached eatery—now known as 1911 Restaurant—were first established when affluent banker William DeVol and his wife, Josephine, chose to expand their Bay View cottage property by purchasing the land behind it. With that land came a small bed and breakfast.
The original building, though, was in such disrepair that renovation was impossible. Consequently, the DeVols had to start from scratch, and by that winter, they had finished construction on the modern Terrace Inn. Billed as a luxury of its time, the hotel opened in 1911 and featured a host of modern amenities, like electric lighting and indoor plumbing. Other extravagant extras included call bells and customizable dining, with dishes that could be served hot or cold (more on that in a bit!).
The inn's Victorian-era tradition was a draw for Mo and Patty Rave, who purchased it in 2004. As veterans of the hospitality industry, the two couldn't pass on the space's rich history, whose lasting grip on Mo, in particular, took hold when he first stayed at the inn on a family trip in the early 1970s.
"Walking in was like magic," he explains. "I never forgot it. It was amazing [then], and I think it still is."
In order to maintain that tradition, the Raves have taken painstaking care in preserving the inn's antique splendor. Each of its 38 guest rooms, for instance, feature Victorian-era fixtures, including dressers from 1911 and wrought-iron bed frames. In fact, says Patty, most of the Terrace Inn's furniture dates to the Albert Pick & Co. package (est. 1857) that the DeVols themselves selected.
Historical details are just as deliberate in the attached 1911 Restaurant. Housed in the 2,000-square-foot space that once served as the Terrace Inn's canteen, the eatery consists of an indoor dining room complete with historic buffet and seating, as well as a patio and covered terrace; all of which encompass the flavor of an early 20th century meal.
A Menu Inspired by the Past
That authenticity extends to the menu, which offers three courses for a fixed price (though guests are welcome to choose a la carte). The concept, says Mo, was inspired by the Grand Hotel on Mackinac Island, but also gives a nod to the Terrace Inn's earliest dining format, wherein guests could elect to pay per meal—known as the "European Plan"—or select packages priced with their rooms.
Helmed by executive chef Andy Carlson, the restaurant's menu rotates seasonally and features regional American recipes designed to please a diverse clientele. "We tried to have something for everyone," says Mo—including both veggie and gluten-free options—while still maintaining the old-school elegance upon which the Terrace Inn's kitchen was built.
For Carlson, this means simple plates prepared to the highest possible standard. Of these, the Maple-Planked Whitefish ($33) is a standout, which chefs encrust in parmesan and serve alongside duchess potatoes with lemon and house-made caper aioli. "It's a classic," he notes. "[Guests] come back year after year for it."
The Great Lakes Walleye ($35), is another bestseller, which is sourced from John Cross Fisheries (this is true of all of the restaurant's freshwater proteins) and crusted in crispy lemon-panko with lemon beurre blanc and vegetable risotto.
Carlson also underscores the recently-added Bistro Filet ($42)—a buttery-rich Wagyu sirloin, char-grilled and served with a wine demi-glace—as well as the signature Schnitzel and Spaetzle ($35), which pairs pecan-crusted chicken breast with root vegetables and local cherry gastrique.
"You dine with your eyes before you eat," he explains, "so, we're bringing in all these techniques [and presentations] to encourage guests to linger a bit."
Unlike their 20th-century counterparts, modern diners can enjoy a cocktail or glass of wine with their meal, courtesy of the subtle but well-stocked bar the Raves installed in 2007. Other notable renovations include the dining room's eye-catching chandeliers (all comprised of Austrian crystal) and freshly-restored maple flooring. In the summer months, the eatery also offers live guitar music on the terrace.
"This is a destination for people to spend some time entertaining guests, having conversations, and actually enjoying their food," says Carlson. "I think it makes sense for the facility to inspire that."
A Brush with the Supernatural
For curious guests, Bay View is also a destination for supernatural activity. Established in 1875 as a Methodist revival camp, the area eventually blossomed into one of the country's best-preserved Chautauquas (after the New York original), complete with dozens of cottages that date to the 19th century.
With more than a few deaths on its grounds, though formal records are incomplete, Struble says the place is "screaming haunted." In the Terrace Inn building, ghost stories range from a pair of workers who perished in a construction accident to the owner William DeVol himself (there's lore to suggest he passed in the building), who's been spotted on more than one occasion peering out from an upstairs window.
The Hemingway Suite, so named for its décor, is also a supernatural hotspot, where more than one guest has reported a top-hatted figure appearing at the foot of the bed. In the basement, a presence named Elizabeth wreaks what Struble calls "helpful" mischief by warning guests of potential danger.
Other spooky phenomena include apparitions in old-timey clothing (in particular, a maid in the kitchen's dry-storage), disembodied piano music, and countless paranormal parties in the restaurant's vacant dining room.
In fact, Patty's first ghost experience took place on an early night at the inn. "[Mo and I] were guests there before we bought it, and we heard footsteps in the third-floor hall," she says. When they asked about their companion, though, the pair were told that they had been alone. "It was a little freaky, but intriguing!"
Skeptics and believers can agree that the space possesses a special history worth preserving for decades to come. "[It's] one of my favorite places to [go] in Bay View," says Struble. "I just love that you can get the true experience people would have had in that era. Not everyone has that opportunity."
Find The Terrace Inn and 1911 Restaurant at 1549 Glendale Ave., in Petoskey. (231) 347-2410, theterraceinn.com
Trending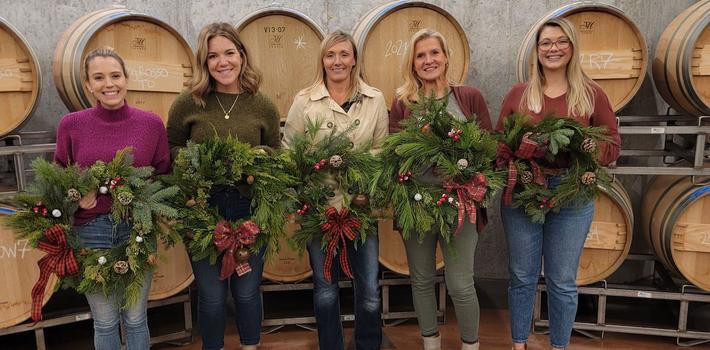 Wine & Wreaths at Mari
If you like wine and wreaths, you'll want to head to Mari Vineyards on Old Mission Peninsula. A 90-minute wreath-mak...
Read More >>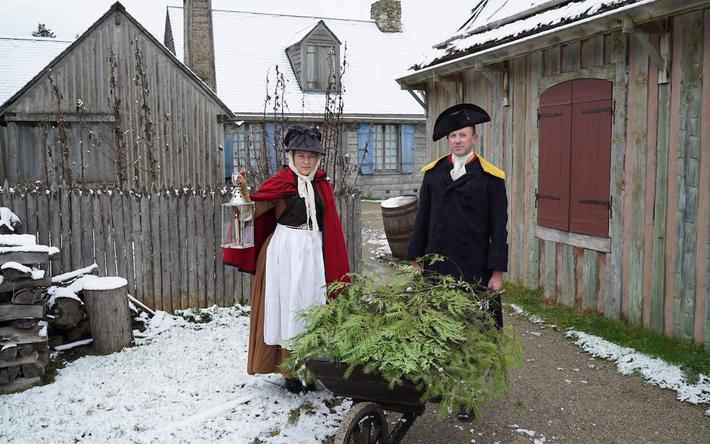 A Colonial Christmas
Christmas is coming to Colonial Michilimackinac in Mackinaw City on Dec. 9. Storytellers will bring to life the stories of...
Read More >>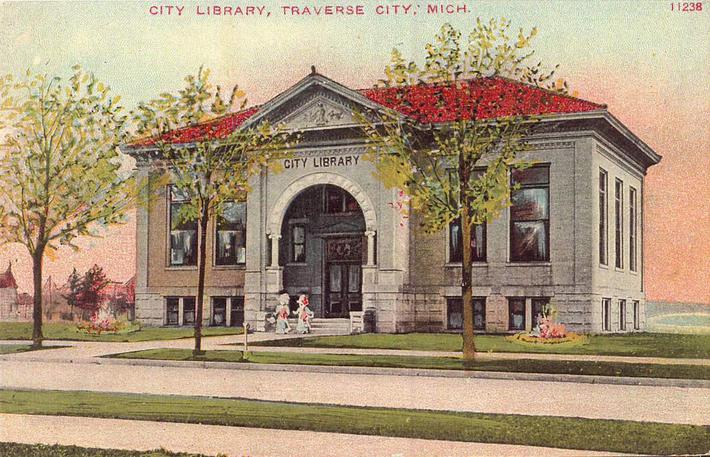 A Literary History of TADL
Next year, the Traverse Area District Library (TADL) will celebrate 155 years of lending books and knowledge in northern M...
Read More >>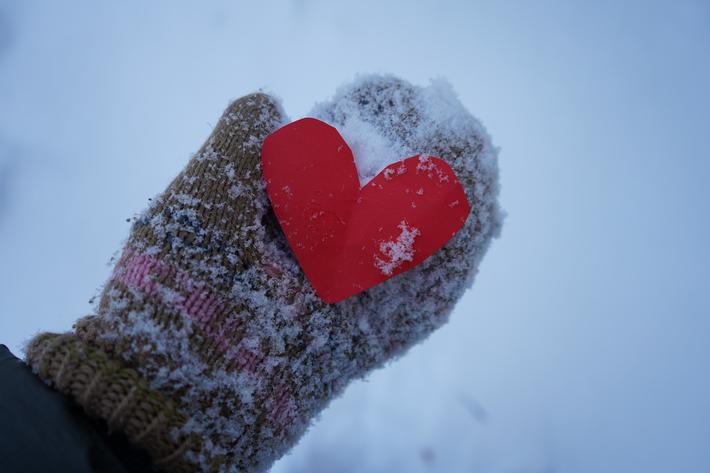 Merry Mittens
The Mitten Real Estate Group of Traverse City is helping make the season bright by kicking off their first Mitten Drive, w...
Read More >>