Stormcloud Bright Skies Ahead
July 1, 2016

Situated next to the nearly century-old Garden Theater in downtown Frankfort, just two blocks from Lake Michigan, Stormcloud Brewing Company is a reincarnation of another famous local landmark, albeit in a completely new guise. It may be a hip microbrewery/restaurant now, but back in the '30s and '40s, this place was known as The 7 Spot Cocktail Bar and Sandwich Shop. Today, the theater has been restored to its former glory, and the 7 Spot has been completely transformed into a trend-worthy gathering place for fans of craft beer and elevated pub food. The renovation left few traces of its predecessor, save for the original red-and-green neon clock glaring down from the wall above the bar.
FROM DARKROOM TO BREW ROOM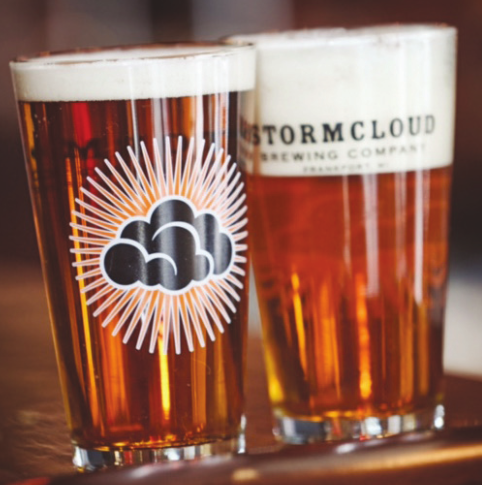 The founders of Stormcloud, Brian Confer and Rick Schmitt, both from Frankfort, come from very different professional backgrounds. Confer was a sought-after northern Michigan photographer for 17 years. Schmitt, who was VP of sales and marketing for Crystal Mountain for 15 years, explained how the idea of the two starting a brewery began to germinate. "Brian was Crystal's go-to photographer, so a couple of times each year, we would spend two days together, sunup to sundown. During those times, he would share what he was working on, and he might share the beer that he was making in his basement."
Shortly after the transition of photography from film to digital, Confer said he had decided he wasn't going to retire as a photographer. "I started exploring ideas for what to do next, and opening a brewery made the list. I had everything in my darkroom necessary to make beer: shelves, refrigerators, ventilation and a giant sink. So I turned it into a little home brewery and went to work. One of the earliest recipes I brewed later became our Rainmaker Pale Ale." These days, he's brewing beer for 15 taps at Stormcloud.
The two first started talking about having a microbrewery in the summer of 2011, said Schmitt. "At first, it was maybe a little hypothetical, but by fall, we were having more serious conversations about the 'what ifs.' It was a big risk for both of us but a calculated one. We went through the drill as to the viability of the project, asked, hopefully, the right questions, and did our homework. We also spent a lot of time at Short's in Bellaire. Joe [Short, the founder of Short's Brewing Company] was a big help to us."
GOING BELGIAN, MICHIGAN-STYLE
Right about that time, the 7 Spot property became available, along with the empty lot next to it. "My wife and I own the theater next door with another couple, and Brian and I started to discuss the potential synergies of having the brewery right next door," said Schmitt. We put a business plan together, did more market research, and checked everything out. And at some point, you say, 'okay, now we've jumped all these hurdles — we're either going to do it, or we're not."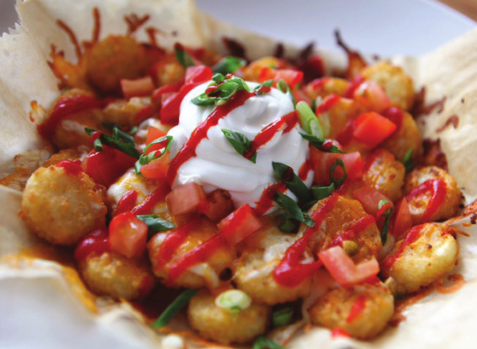 They did it in June 2013, and they haven't looked back. The brewery was a niche market that was ripe for development in Frankfort. The pair wanted to differentiate themselves in the region, though, and settled on brewing only Belgian-style ales. "Nobody else in northern Michigan is doing that," said Schmitt. "We still make American-style beer, but it has a Belgian influence. Belgian beer has been brewed over centuries to pair with food, not unlike wine. And if you look at the yeast that's used in Belgian ales, it's not dissimilar to the yeast you would use to make wine. That set the tone for our food choices."
But those choices were hardly a priority prior to opening. In fact, the food side of the business was one of partners' biggest surprises. "It was always our goal to have food, but it wasn't going to be our main focus — people were going to come for the beer," said Schmitt. "But the person we hired to run the kitchen really changed our emphasis. He elevated our product immediately. And as soon as we opened our doors, we knew: 'We're going to be a restaurant.'" Since then, Stormcloud even has started its own vegetable and herb garden, which is tended by a staff member who is an organic farmer.
The restaurant's current creative menu is the work of Head Chef Joe Meyers, a native of Michigan who studied culinary arts in Portland, Ore., moving in that vibrant food scene for five years before deciding to return home. "He brings a new and different vibe here and challenges us to step outside our comfort zone," said Schmitt. Besides cooking with locally sourced, seasonal ingredients, Meyer is passionate about charcuterie, foraged foods, and game meats. A recent small-plate special featured Dijoncrusted rabbit over a wheatberry-pumpkin seed salad with salsa verde and asparagus.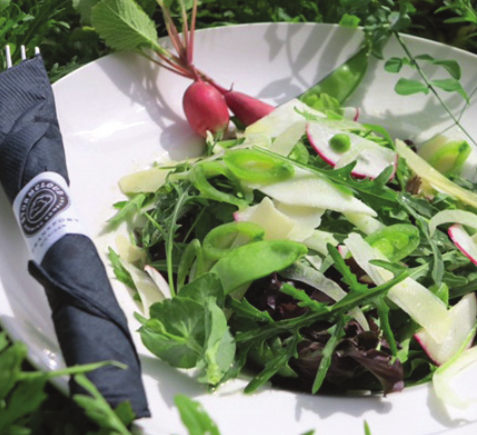 MORE REASONS TO SMILE

One popular menu staple is Totchos — house "Stormtots" tater tots, served with tomatoes, green onion, sour cream, Sriracha and melted cheese. That dish is paired with a beer that pays homage to its terroir: 7 Spot Amber. Another crowd favorite is Thai One On, one of Stormcloud's signature flatbread pizzas. It's topped with garlic herb oil, Thai curried shrimp, roasted corn, roasted garlic, mushrooms, onions, house blend cheeses, and a Thai peanut curry drizzle. Pairing suggestion: Fun Guv'nr Black IPA ("not stout-y, not porter-y, but IPA-y with a deep, dark malt" according to its beer-list description). Brat Bites — Stormcloud beer brats made by Honor Family Market — are wrapped in beer dough and served with house mustard. Their go-to brew: Birdwalker Blonde.
The whimsical names of many of Stormcloud's menu items and beers (others include Another Day, Another Apocalypse, and Thirty-One Planes IPA) give a strong hint at the owners' sense of humor and the convivial atmosphere they've always envisioned at Stormcloud. A look around the interior gives further hints. Cast your glance over the historic sepia photos on the west wall. Is that a Stormcloud logo on that young man's vintage bathing costume? Check out the old black upright piano — piled high with board games and puzzles — and play a tune if you like. Look at the list of upcoming events, and you might find an adult spelling bee, an essay contest, or a "Dark and Stormcloudy" food-and-film series. "In every conversation we had when we were planning this place, we said that we just wanted people to feel comfortable hanging out here. We designed both the interior and our outdoor patio to be welcoming and enjoyable for all ages and audiences," said Schmitt.
Keeping the spirit light, the partners' individual business cards list their title as "Co-El Guapo" (very loosely translated from Spanish: one of two handsome guys). "It's fun. Why not?" said Confer. "Maybe if the card says it, it will come true!" One thing is certain: With Stormcloud, one dream has come true for them already.
Stormcloud Brewing Company is located at 303 Main Street in Frankfort. Open Monday– Thursday, 11:30am–10pm; Friday and Saturday, 11:30am–11pm; Sunday, noon–9pm For more information, call 231- 352-0118 or visit stormcloudbrewing.com. $
Trending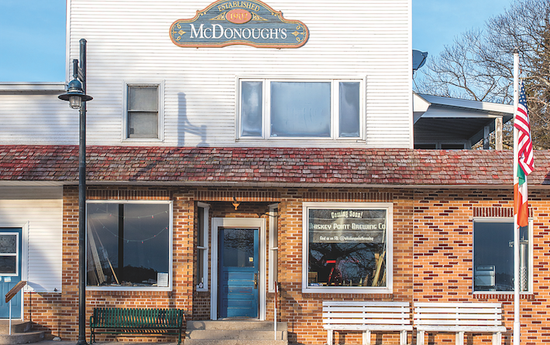 Welcome to Michigan's Most Remote Brewery
After years of planning and honing his beer-making skills, this spring, Patrick McGinnity plans to open Beaver Island's first microbrewery. Opening a craft brewery is challenging. Opening one on a remote island in Lake Michigan that's either a 15-minute plane ride or a two-and-a-half-hour ferry ride from ...
Read More >>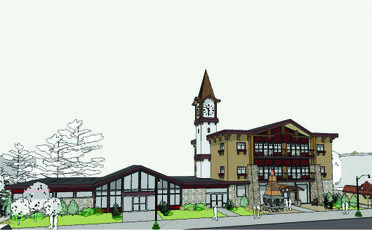 Gaylord: A boomtown Up North
Gaylord native Gary Scott had moved to Indiana, where he and some partners started a business to invest in distressed properties. He was talking to a banker in Detroit about real estate in Bloomington when he asked what kind of deals might be available in northern Michigan. ...
Read More >>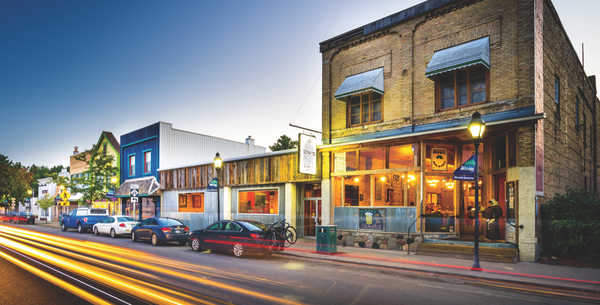 Small Up North Towns on the Rise
Spotlight on Bellaire (pictured)Seems Traverse City isn't the only place in the region making those "Best of" lists. The Antrim County hamlet of Bellaire was recently named to the list of Best Lakeside Towns in the U.S. by Country Living Magazine, alongside the likes of Vergennes, Vermont, Greenville, ...
Read More >>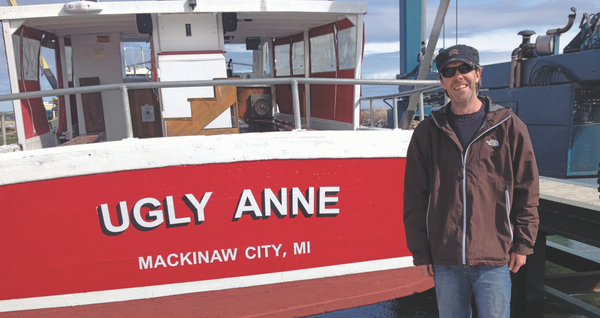 A Wicked Cool Ride Around the Straits
You expect to see boats around Mackinac Island in summer. Sailboats, power boats, cruisers, and the ubiquitous ferries that run residents and guests back and forth across the Straits of Mackinac, sure. But there's a more unusual vessel visible these days — an all-wooden Down East lobster ...
Read More >>
↑