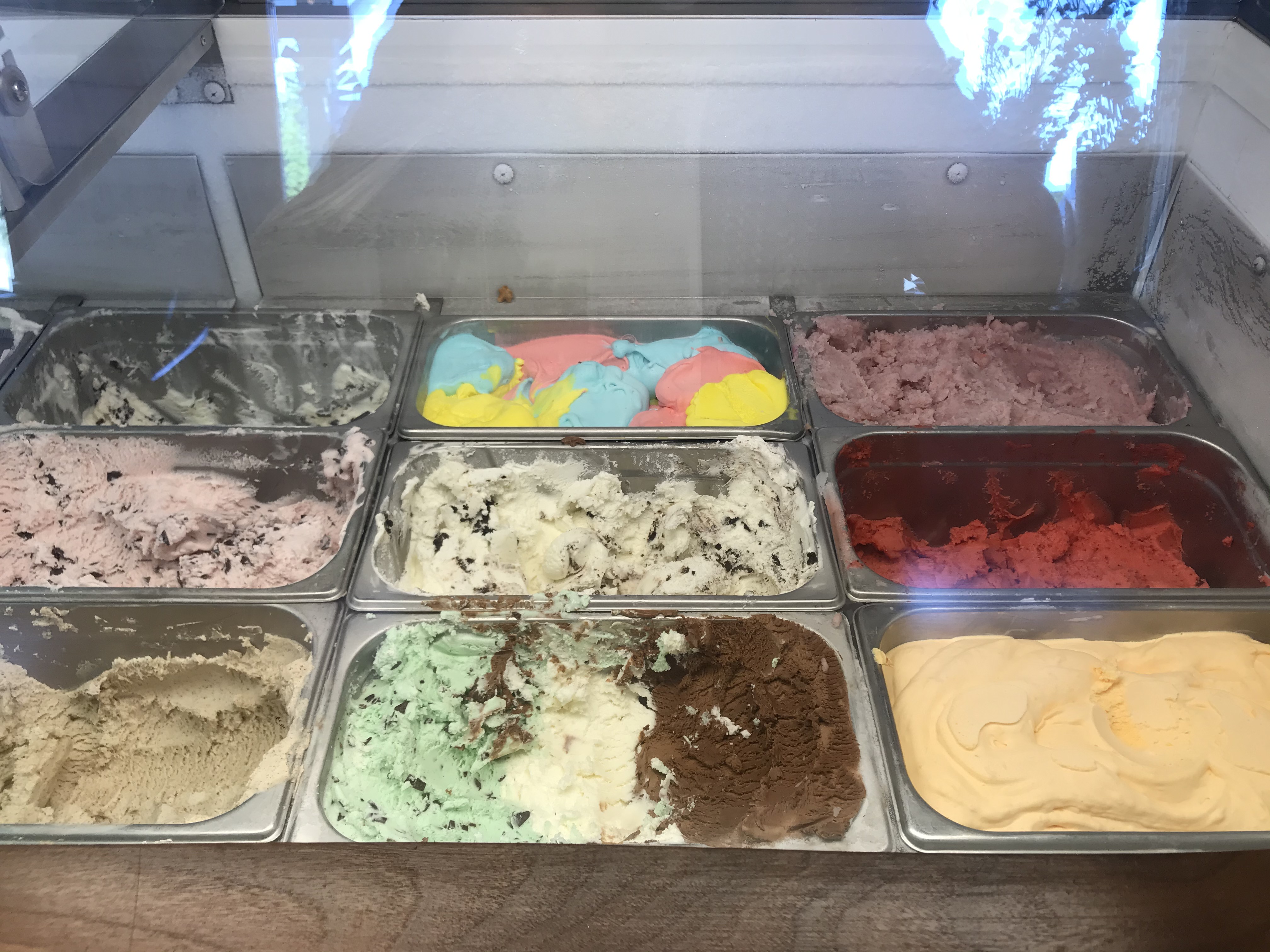 Benzonia's Hill Top Soda Shoppe
A lesson in old-fashioned ice cream.
I scream, you scream — most of it directed at the road construction on US-31 in Benzonia — but despite the difficulties posed by the orange barrels and plumes of dust outside, Hill Top Soda Shoppe is drawing lines of customers.
You could say that's exactly as owner Victoria Mekas envisioned it, but in truth, before she opened the Soda Shoppe in 2005, she had another business venture on her mind: "I wanted to be a florist," she said.

So after graduating from Benzie Central, she headed off to Michigan State University to study. Once there, however, she found the curriculum geared more toward horticulture, and she eventually left school to return home to Northern Michigan and pursue her dream. Soon after, she opened Victoria's Floral Design in Beulah. Six months later, she met Chris. It would prove to be a precipitous meeting.
Victoria's Floral Design shop was doing such a brisk business, that within three years, it outgrew the cozy confines of its Beulah location, so the designer bought a lot just east of US-31 in Benzonia, where her father had built a strip mall.
There was just one problem: Her flower shop wasn't big enough to fill all the space there. "We needed another business," she said.
As fate would have it, Chris had a background in the restaurant industry; his family had owned eateries in Detroit and Ann Arbor. The couple considered integrating restaurant, but ultimately decided an ice cream shop might make more sense. Decision made, the couple were off to ice cream school in North Carolina.
They quickly learned that to make the best ice cream, to stand out among countless other ice cream shops in a summer tourism region, they needed to start with the best ingredients.

"Since day one we've used Country Dairy in New Era [Michigan]. It's a high-end dairy," Victoria said, noting that it's not only rBST-free but also exceptionally creamy, thanks to a content of 16 percent butterfat.
Add to that cow-not-chemically-engineered goodness: all of Hill Top's ice cream is sweetened with real sugar, not corn syrup. Most flavors are gluten-free, and they use local ingredients whenever they can.

"There's something about local strawberries. We use Grossnickle strawberries only," she said, referring to Grossnickle Farms in nearby Kaleva. "We have a freezer full of strawberries. We usually run out in spring," just shy of the summer harvest.
Also au natural: "Our sorbets are from fresh fruit, sugar, and lemon and lime juice, too."
Among Hill Top's unique ice cream flavors are Benzie Berry Blast (with those in-demand strawberries); Pear and Port Wine Sorbet; and special school flavors like Husky Puff Supreme, chock full of cherries and cheesecake; Buckley Bear, a coffee ice cream with sugar cookies and a chocolate swirl; and the Mekas' twist on Neopolitan, in which mint chocolate chip replaces strawberry.
While a floral design shop and an ice creamery might be enough for most folks, the couple's success spurred them to seize more opportunity. When a coffee shop closed in Frankfort, they dove in and opened Petals and Perks, a combo coffee house and gift shop that opened in 2013.
Two years later and just a couple doors down, they opened their fourth business, Lynn & Perrin, a purveyor of specialty jams, jellies, chutneys, crackers and chips, flavored olive oils and balsamic vinegars, herbs and spices, wine, and craft beer.
It turns out the couple has had some foresight, both in terms of business choices and, in particular renovation project they took on at Hill Top. They remodeled two years ago, expanding from 140 square feet to 600 — "We needed more room to make ice cream," said Chris.
"It's much bigger and better. Now we have more freezers and an outdoor freezer. We can go after more wholesale accounts," added Victoria.
Fortuitously, they also installed a drive-thru. When the pandemic hit, they leaned hard on that particular addition in to serve their popular ice cream, coffee, and fresh donuts to their loyal customers who couldn't or chose not to come inside.
Keeping an eye on four separate businesses is challenge enough. Add in the strains of a nationwide pandemic and summer roadwork outside your ice cream shop, and it seems like more than most could handle. Yet it all paled next to Victoria's health crisis when she was diagnosed with cancer. She said dealing with cancer in the middle of a pandemic is not anything she anticipated, but she has been able to continue to working on a nearly daily basis.
The reaction from customers is what keeps them — and, you might say, Victoria, coming back. "When people say … it's the best ever," she said, "that gives you a lot of pride."
Find Hill Top Soda Shoppe, open 11am to 9pm daily at 7117 South St., in Benzonia. (231) 882-9697, www.HillTopSodaShoppe.com
Trending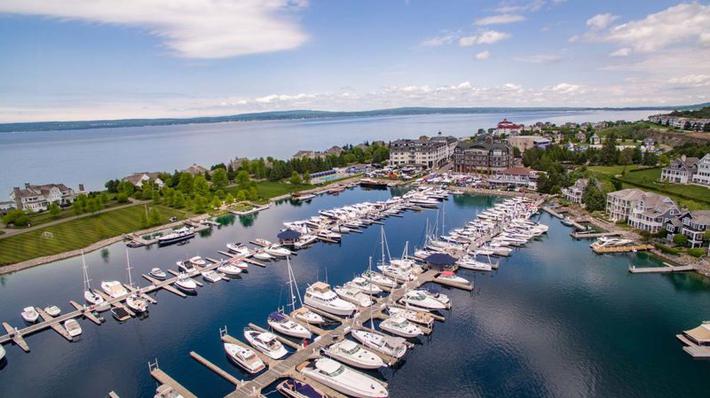 We Like Big Boats, and We Cannot Lie
Since buying your own yacht isn't likely this year due to supply and demand issues, what's the harm in dreamin...
Read More >>
Ending the Filibuster
The filibuster, much in the news lately, has an interesting if not usually glorious history. From the French word...
Read More >>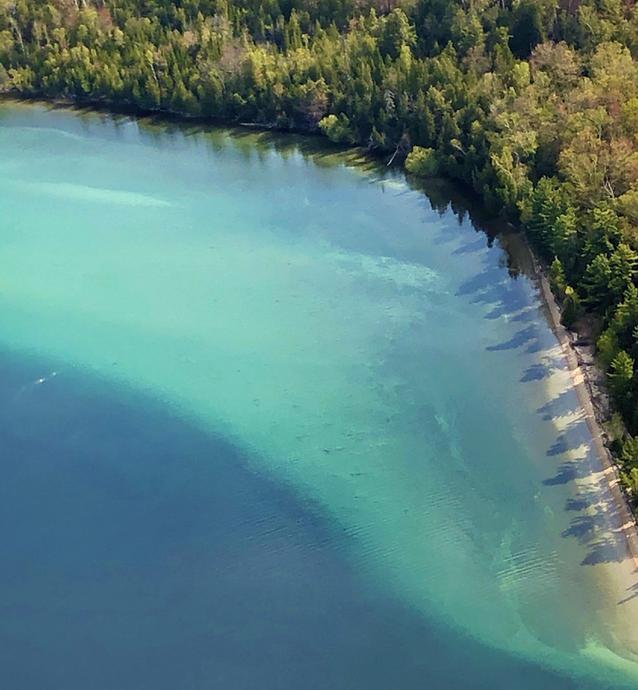 Torch Lake Takeover
You don't need to live on the shores of Torch Lake to know how breathtakingly gorgeous it is. A massive inland lake ...
Read More >>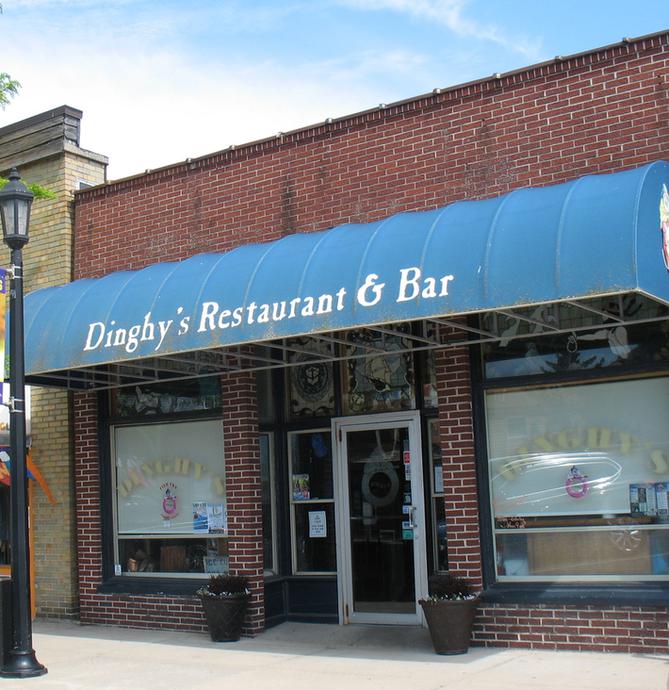 Dinghy's Restaurant & Bar
Kelly Sandman chuckles at a customer's joke, runs a cloth across a section of the 33-foot-bar, then greets a famishe...
Read More >>
↑