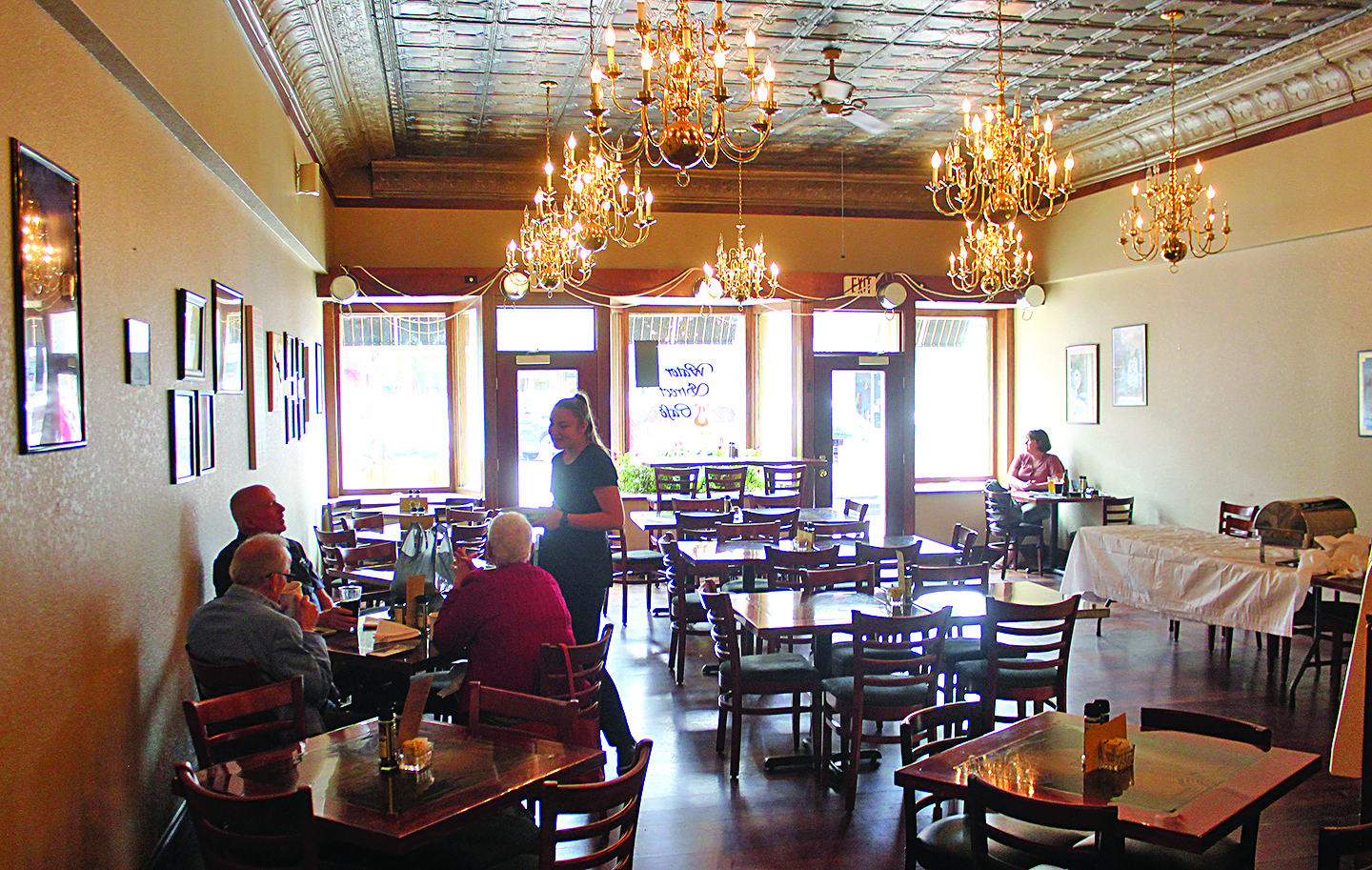 Boyne City's Water Street Café
Not so much reborn — but lovingly adopted — by brothers James and Kirt Ploe
By Eric Cox | Sept. 28, 2019
Transitioning restaurant ownership can be a tricky endeavor. While the new proprietors inherit what is hopefully a solid place with a loyal, appreciative clientele, a precarious balance must be struck in order to move on with their own food service goals while adhering to enough of the old ones to satisfy the stalwart patrons.

Such is the case at Boyne City's Water Street Cafe, which siblings James and Kirt Ploe took over in May. The brothers, both East Jordan High School grads with extensive kitchen and food management experience, bought the Cafe from Larry and Val Glasgow, who operated it under the same name for the past 15 years.

Primarily a breakfast and specialty sandwich eatery, Water Street Cafe's direction hasn't changed much under the Ploes' ownership. Like the Glasgows, they rely on classy breakfast fare — a model that has endured the seasonal ebb and flow of hungry tourists.
"We've enjoyed tons of support," older brother James said. "We have a loyal, local customer base here."

The Ploe brothers are assisted by two employees, as well as their wives and a few of the seven children they have between them. Seating about 65, the establishment can have very busy mornings, creating an all-hands-on-deck atmosphere, in which staffers are greeting, seating, serving, and finally saying "So long!" to satisfied customers.

With their first summer season behind them, the brothers' satisfaction with their new endeavor is apparent. Both take pride in their work, and customers seem to feel at home in the 2,500-square-foot interior, where, despite golden chandeliers warmly illuminating the historic building's gorgeous pressed tin ceiling, the fare isn't intended to be fancy — just solid quality food served in an inviting space.

"We're not trying to blow anybody out of the water with our omelettes," James said. "It's more like we want to serve a quality product that's simple and affordable. Val and Larry did the same. We didn't come in here trying to break the mold or anything. We wanted to take the successful products and atmosphere they already offered and just add ourselves to it."

THE ROAD TO WATER STREET
You could say refraining from fixing things that aren't broken is also one of the brothers' specialties. Prior to taking over Water Street, both had been working outside the culinary field for over eight years — James in third-party assembly and Kirt in industrial construction. Prior to that, each had worked in and managed kitchens all over northern Michigan at restaurants big and small.

Having gotten their fill of the food business, however, they made a joint decision to leave restaurants and pursue other work. Though they continued to partner up to take on the occasional catering job, they agreed that, if they ever re-entered commercial kitchens, it would as their own bosses — not someone else's employees.

Last year, James started getting the itch to get back into food service. At a family cookout, James approached Kirt to talk about restarting their culinary careers and going in together on their own eatery. When they left the party, the idea remained just that — an idea. But not for long.

"About two hours later," James said, "Kirt texted and said, 'You convinced me!'

"I never lost interest," he added. "And [Kirt] never really lost interest. So when we came back into the restaurant business, it just kind of felt natural."

That agreement set in motion a research project in which the brothers would scour the area for business opportunities. "We started looking at our options, what market we wanted to be in," said James. "We both decided right away we wanted to be here in Boyne. We like the community better than most others up here, so we just stuck with it. And here we are!"

Kirt said they investigated several opportunities in and around Boyne City, but couldn't find the situation they wanted — until one of the brothers' mutual friends told them he had heard a rumor that Water Street Cafe was for sale.

"We went straight there that same day and talked to Val and Larry," James said. "When we walked into this place, we just kind of fell in love. It hit a lot of the boxes we wanted to check off."
Although James said it felt like forever, it took around six months from the time the brothers put in their offer until the Glasgow's accepted. Since that time, both brothers agreed that Boyne City's support for the Water Street Cafe has been sincere and constant.

"The community's been very open, very inviting — very happy to have us here," Kirt said. "They're happy to have young business owners in the community. They're excited to have a younger group here. We've had a ton of support."

STAYING THE COURSE
One of the reasons the community might be so supportive is that the Ploe brothers aren't interested in re-inventing the wheel or upstaging the former owners; they're dedicated to cranking out the hearty, rock-solid breakfast fare and tasty, creative sandwiches patrons love — time-tested breakfast favorites like classic Eggs Benedict, Quiche Lorraine, buttermilk pancakes, and stuffed hash browns — all deftly prepared and served in ample portions.

On Sunday mornings, the Cafe rolls out its always-popular breakfast buffet, featuring Kirt on the fresh omelet bar. Those uninterested in such morning victuals may select something from the restaurant's entire menu, all of which is available throughout the buffet hours.

Lunch options put the restaurant's specialty sandwich in the spotlight: The beefy Black Angus Patty Melt is rich with tasty Swiss cheese and savory caramelized onions. The sandwich packs quite a punch when partnered with the homemade onion rings, the breading on which is the stuff of legend.

On a more creative note, The ABC sandwich boasts sliced Granny Smith apples, crispy bacon, Swiss and cheddar cheeses, and a snappy-sweet honey mustard sauce that laces the whole thing together nicely. Italian panini bread — grilled to a satisfying crispness — sturdily girds the sweet-and-savory filling. A heap of the Cafe's crunchy broccoli salad rounds out the plate with complimenting colors and a creamy consistency that compliments the sandwich.

Find the Water Street Cafe at 113 Water St. in Boyne City. (231) 497-5050, or search "Water Street Cafe" on Facebook.


Trending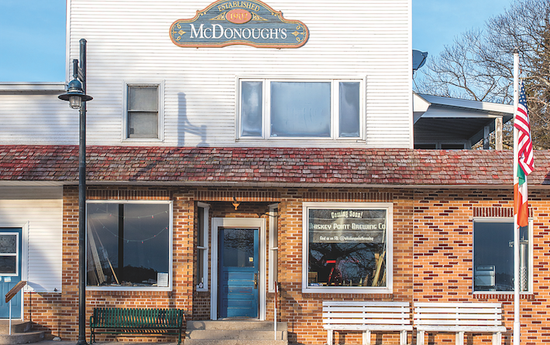 Welcome to Michigan's Most Remote Brewery
After years of planning and honing his beer-making skills, this spring, Patrick McGinnity plans to open Beaver Island&rsqu...
Read More >>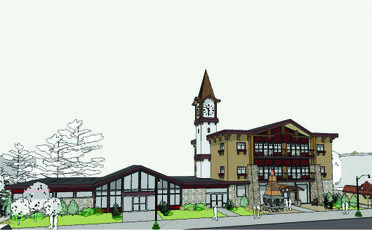 Gaylord: A boomtown Up North
Gaylord native Gary Scott had moved to Indiana, where he and some partners started a business to invest in distressed prop...
Read More >>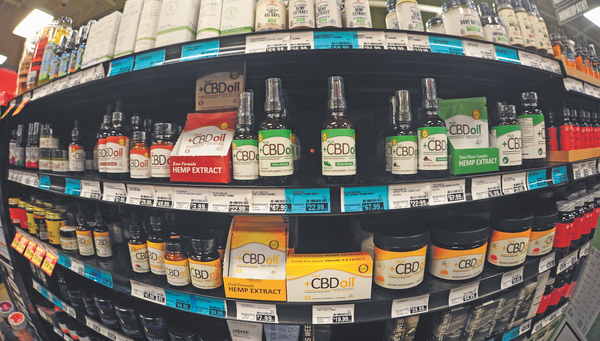 CBD Laws: Dazed and Confused
The sign outside of Family Video in Kalkaska lets drivers know the store has more than just movies. The sign reads: &...
Read More >>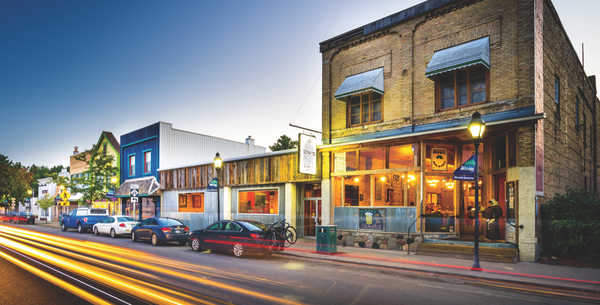 Small Up North Towns on the Rise
Spotlight on Bellaire (pictured)Seems Traverse City isn't the only place in the region making those "Best...
Read More >>
↑