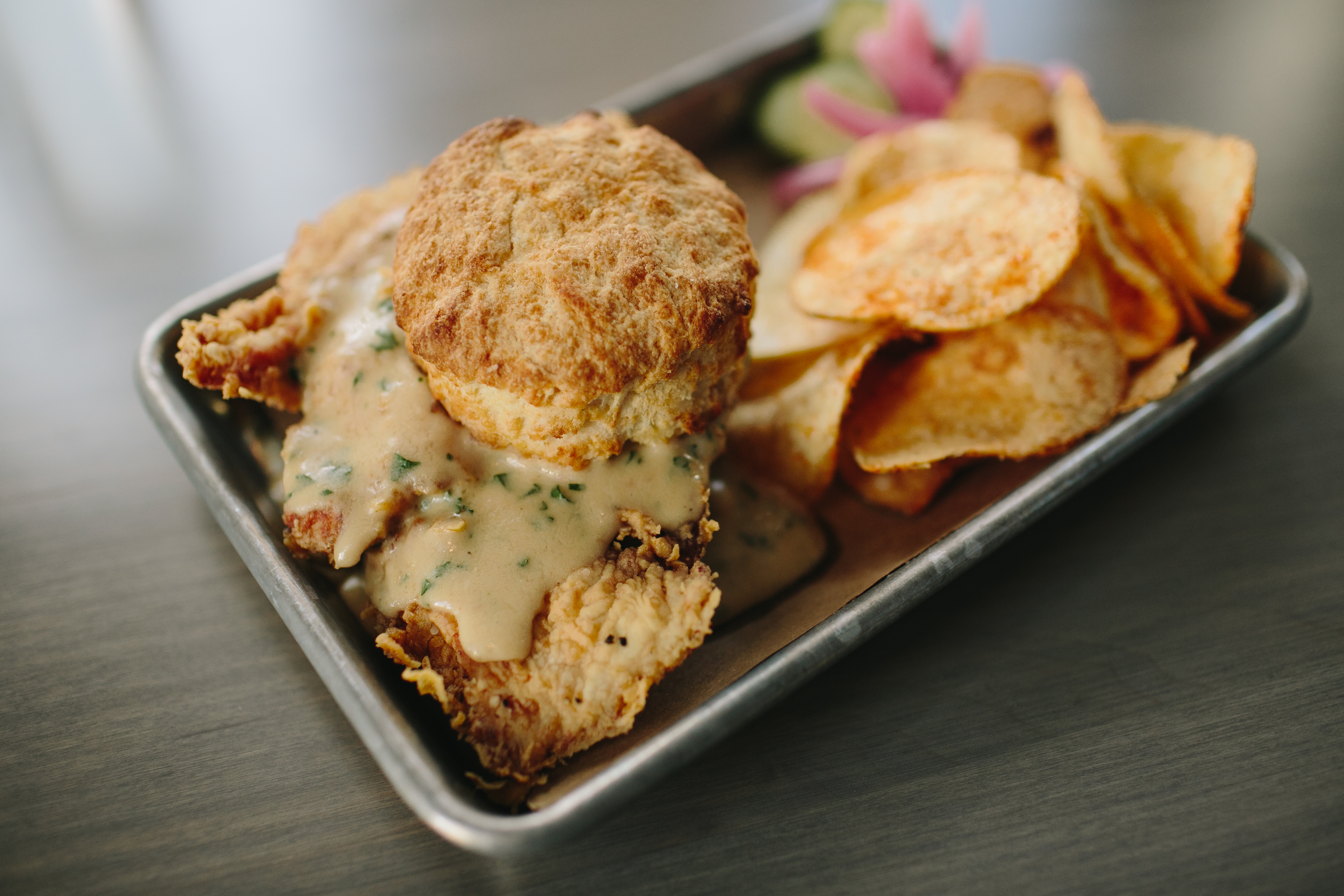 Bringing the Low Country Up North at East Jordan's Blue Smoke
If you spend any time in the Carolinas, you're likely to come away with a renewed appreciation for barbecued food of several different varieties. In Adam Kline's case, he also wanted to bring that style of cuisine Up North, where he lives. He opened Blue Smoke in East Jordan as a more complex companion restaurant to his other local barbecue joint, Pigs Eatin' Ribs in Charlevoix, all in a bid to expand northern Michigan's barbecue horizons.
Perfect Palette
Kline, who owns both restaurants, set the tone for Blue Smoke by outfitting the restaurant in a modern–industrial theme. He chose an unusual color palette of turquoise blue, taupe and black highlighted by locally harvested barn wood, steel beams and a multitude of chalkboards that display both artwork and various menus. "We also stained our solid maple tables, but only very lightly, so you can still see the wood grain," Kline said.

Three big garage doors open up in the summer to a patio with picnic tables for al fresco dining, and the upstairs dining area overlooks the Jordan Valley. "It's a great setting – you can see the Jordan River and out into Lake Charlevoix," Kline noted.
Oil paintings of local scenes also hang in the restaurant painted by East Jordan artist Cayla Tinney. The restaurant is a well–fused combination of local influences and those of the Carolinas, where Kline resided before he moved to northern Michigan.
Low Country
"I lived in the Charleston area, and every Sunday, it was over to Grandma's Kitchen for fried chicken and potato salad," Kline said. Several of Kline's staffers have also spent time in the South, so there's a common thread of understanding throughout the restaurant about the goals they're working to accomplish. "We're really trying to carry the feel of Down South up here with a mix of Southern barbecue and 'low country' food."

The Charleston area, Kline explained, is referred to as the "low country" because of its location on the coast surrounded by marshes. "A lot of the food served there is almost farm–to–table style, plus seafood," he said. "Each region of the South also offers a different kind of barbecue that's predominant in its respective region, so we take a little from all those with a heavier focus on the low country."
That makes Blue Smoke's menu heavy on the barbecue (several different kinds) as well as additional Southern dishes like beer–battered catfish, po' boy sandwiches and fried green tomatoes. Bryan Banfield, the manager at Blue Smoke, explained that one of the ways Blue Smoke is different is in how hard the restaurant works to capture what dining in the South is really like.

Wonderiffic
"Some places up here do smoke their meat, but no one really does things as you would in a true Southern kitchen," Banfield explained. "If you're in the South and you get together with your family after church, there's usually a big table with a platter of pork on it and someone's putting together pulled pork sandwiches. Then, at the end of the table, is a loaf of Wonder Bread, which is a classic Southern thing – they use the bread as a napkin."
So Blue Smoke's Low Country boil – a mix of house–made sausage, shrimp and redskin potatoes in a broth made of corn, Old Bay seasoning and PBR (beer) – is presented to the table with a plate of Wonder Bread. "It's similar to the big shrimp boils you get down South but smaller and in our own style," Banfield said.

Another menu highlight is shrimp and grits – jumbo tail–on shrimp marinated with fresh herbs, then char–grilled and set onto the grits with a tomato–fennel broth poured over the top. The grits are milled at a company in Charleston; Kline gets them milled fresh and shipped direct the next day whenever he places an order. In addition, the All 'Merican burger features two smashed patties with American cheese, pickles and Blue Smoke's own "magic" sauce.
"Our classic chicken and biscuit features sawmill gravy – a milk–based gravy that incorporates bits of our house–cured bacon – and it's served 'Southern,' with a couple of pickles on top of the whole thing," Kline said.
"I think the most unique part of our menu is the 'From the Pit' part," Banfield noted. "That's meat directly from our smoking pit – you make up a barbecue platter of your choice with two, three or four meats plus two sides. For the meats, you can choose from brisket, pulled pork, chicken, house–made sausage or house cut bacon. And with our wood–fired smoker and wood–fired grill, everything you eat here tastes like it was cooked right over a Southern campfire."
Brave New Food
Even with all this emphasis on the South, Blue Smoke is a northern Michigan restaurant, so Kline and his staff work to keep much of the menu as local as possible, including fish from John Cross in Charlevoix, sodas from Northwoods Soda & Syrup Co., cheese from Boss Mouse Cheese and ice cream from Moomers. Desserts at Blue Smoke include northern Michigan summer favorites like ice cream floats juxtaposed with Southern classics like banana cream pie and red velvet cake. "We also do a couple of intrinsically Southern beverages," Banfield added, "[such as] hand–squeezed lemonade and real Southern sweet tea."
Blue Smoke has only been open since December of 2016, but so far, the local reception has been as welcoming as the South itself. "We're looking forward to letting the place get busy this summer, and we'll see how it goes," Kline said. "The coolest thing is that people aren't afraid to try some of these dishes that are pretty new to northern Michigan. I'm glad to see that. Some of the restaurants up here can be pretty 'cookie cutter,' so we really wanted to try something outside the box."

Blue Smoke is located at 101 Main Street in downtown East Jordan. Visit online at bluesmokeej.com or call (231) 222-2583. Price rating: $$
Trending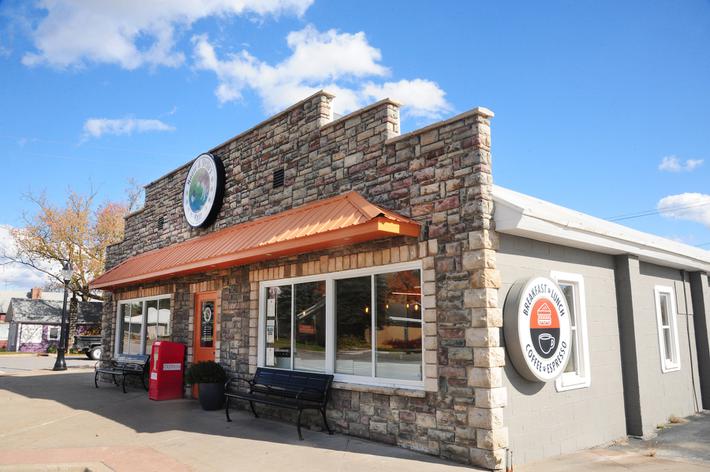 Kalkaska's Moose & Stella's
Dan Bloomquist and his wife, Evamarie, bought Breakfast & Burger Express in downtown Kalkaska at a great time: Decembe...
Read More >>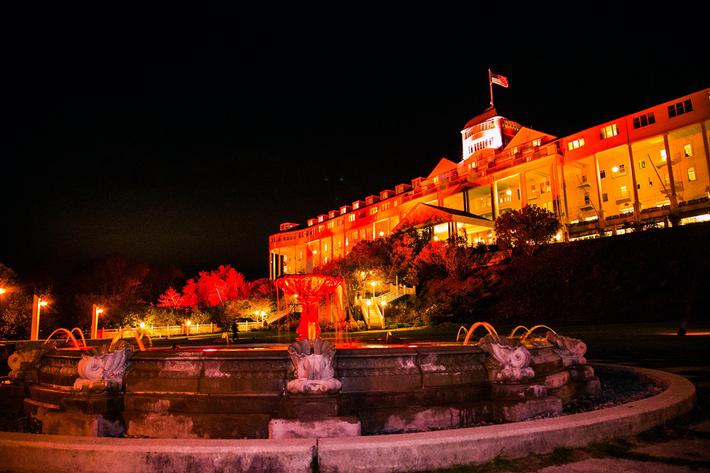 Halloween Rising
While the pandemic continues to impact lives and prevent mass gatherings, some Halloween events Up North, much like your a...
Read More >>
Hope and Vote
With mail-in voting well underway for many, and a trip to the polls just days away for many more, the gravity of the outco...
Read More >>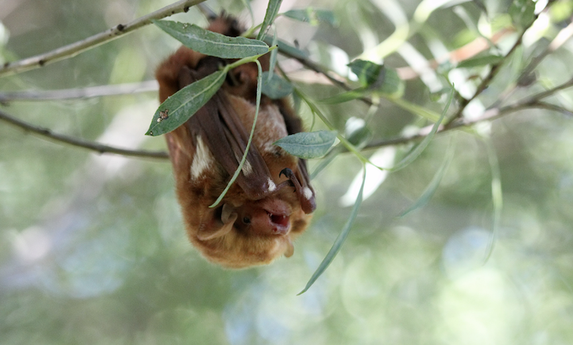 A Nightmare for Michigan Bats?
If you're seeing more decorative bats this Halloween than you saw of their live counterparts this summer, there&rsqu...
Read More >>
↑