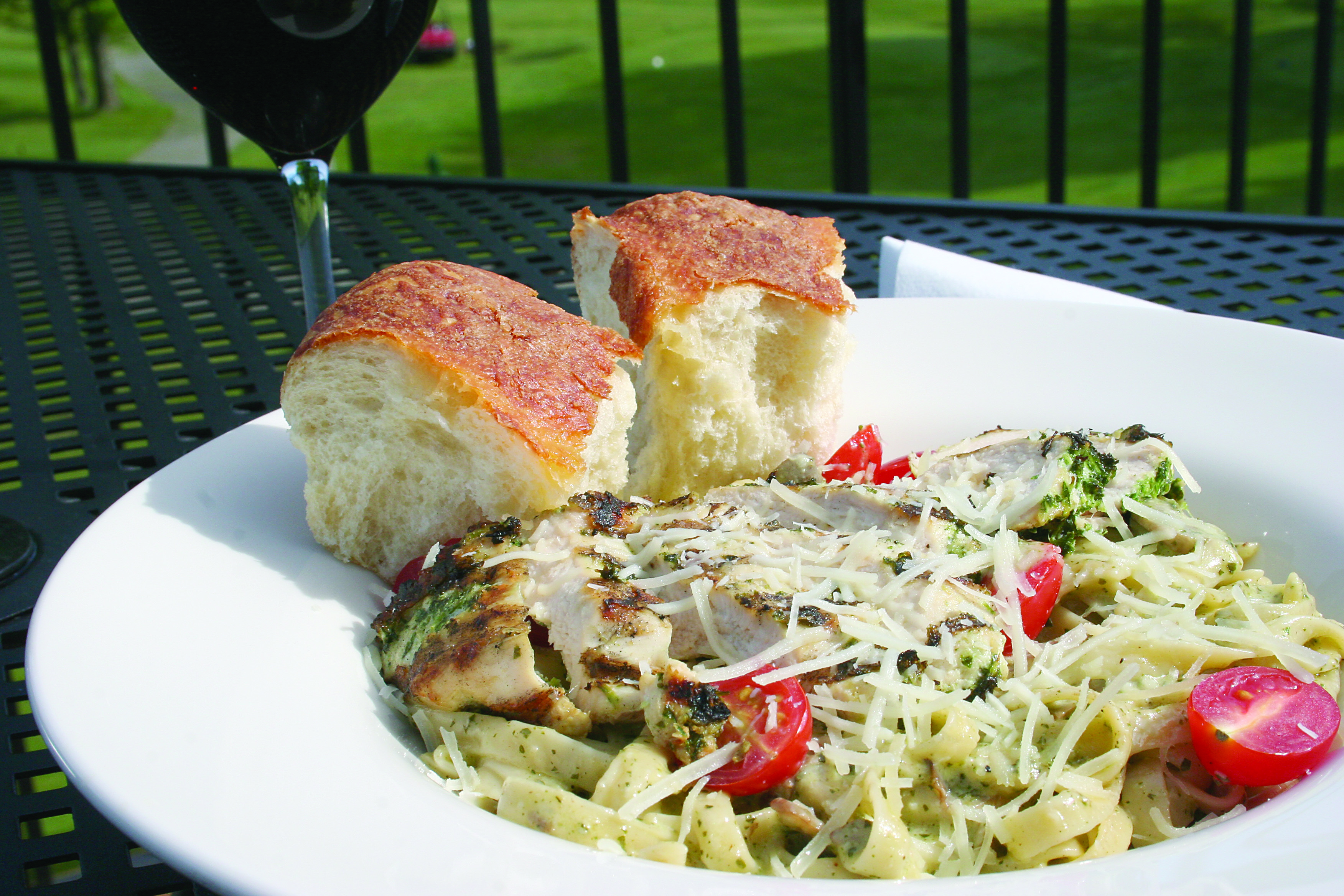 Classic Golf and Casual Fine Eats
The revamped Chestnut Valley restaurant
Opened in 2005 as a combination golf course and restaurant, Chestnut Valley sits north of Harbor Springs in a wooded setting that surrounds meticulously groomed greens and gently rolling fairways.
Its current owner, Mike Wilson, bought the facility in 2011; new general manager, Mark Sanche, started at Chestnut Valley this past April, and has been part of the restaurant relaunch at the club that's aiming to take the menu back closer to its roots.
"Early on, the menu here was casual fine dining, with classics like risotto and pasta dishes," Sanche said. "The past few years, it was more of a bar menu with a focus on burgers and hot dogs." Now, Chestnut Valley is trying to bridge the gap between those disparate culinary approaches, blending the more informal foods with a few upscale options in a bid to appeal to a wider range of palates.
"We're sourcing a lot of local ingredients and items where we can, with a goal of keeping the menu prices low," said Sanche. "We feel that we can offer a higher-quality product by working with local people. Our new focus is on 'affordable and casual fine dining.' Familiar fare like nachos, shrimp cocktail, and locally sourced chicken wings top the appetizer options, with chili and a soup of the day rounding out the restaurant's "Short Game" selections.
"In the Weeds," Chestnut Valley's menu of salads, includes both a standard Caesar salad and a chicken Caesar, as well as a classic wedge salad with iceberg lettuce, chopped bacon, blue cheese crumbles, and diced tomatoes. "Our most popular salad is the blackened salmon salad, with Michigan dried cherries, artisan greens, grape tomatoes, red onion, cucumber, and blue cheese crumbles; that one is served with a cherry vinaigrette dressing," Sanche said.
The burgers remain on the menu but bring a local, tasty connection to the table: "We're bringing in grass-fed beef from Jurek's Meats and Grocery in Pellston," Sanche said. "That really makes the burgers good, and keeps them away from that typical bland-burger flavor. We're super excited about our burgers." One to try: The Chestnut Burger, which boasts bacon, cheddar cheese, barbecue sauce, and a hand-battered onion ring.
Diners also will find a grilled pork chop dinner on the new menu, grilled to perfection and served with garlic mashed russet potatoes and seasonal vegetables. "The sauce on that is really good, it's made of Michigan apples, heavy crème, and Left Foot Charley Cinnamon Girl hard cider," Sanche said, "so it's almost like an apple gravy on the pork."
Other entrees include a 10-ounce New York strip steak and a 12-ounce ribeye; pasta dishes including carbonara, Alfredo, and chicken pesto; and Chestnut Valley's "Water Hazard" menu selections, which include perch, cod, smelt, and shrimp dinners. "We also do a bluegill fish fry on Friday nights," said Sanche. "We get Lake Ontario bluegill sourced from Eastern Market in Detroit, and we serve the fish with hand-cut French fries and cole slaw."
If you're looking for dessert, you'll see that Chestnut Valley has revamped that part of the menu, too, with cheesecake, old-school Bananas Foster, and a northern Michigan favorite: "We've got a great Grandma's old-fashioned cobbler," Sanche said. "We make it with whichever fruit is currently in season, and serve it with vanilla ice cream."
With the new menu focus and summer right around the corner, it looks like Chestnut Valley is ready to grow. "We're just looking forward to getting our name back out there," Sanche said. "My goal is to highlight the fact that you can eat local reasonably. You can come on out, play a round of golf, and have a nice dinner without spending a lot of money."
Chestnut Valley Golf Club and Restaurant is located at 1875 Club House Dr., northeast of Harbor Springs. chestnutvalleygolf.com, (231) 526-9100. $$
Trending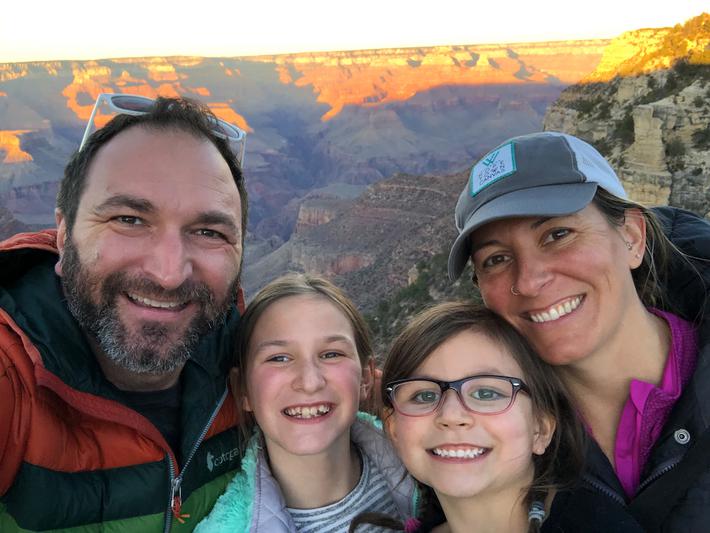 A Nine-month Family Vacation
Long before the pandemic, Joe and Christina Sanok had a plan. A dream, really: They wanted to take off with their kids and...
Read More >>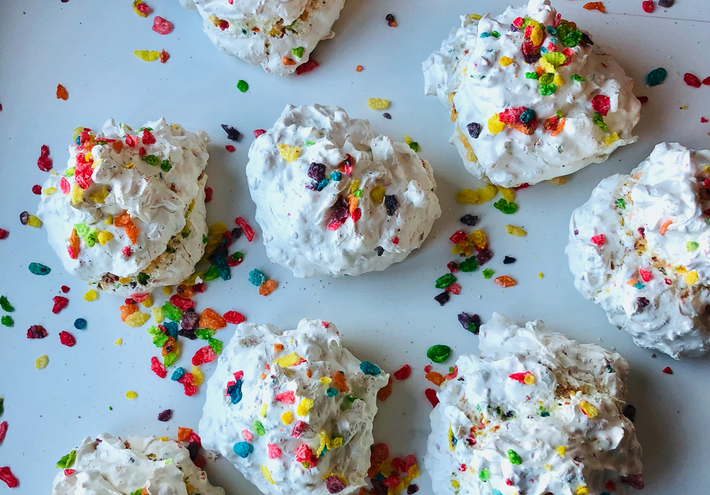 7 Batches Made in Heaven
Let's be honest: Picking the best cookies in northern Michigan is an impossible task. There are so many "right...
Read More >>
Respecting the River
Forever, the Grand Traverse Band of Ottawa and Chippewa Indians (GTB) has regarded the water — and the Boardman/Otta...
Read More >>
Not a Clue
Surely politicians wouldn't be so clueless that they'd lie about COVID-19 deaths or take a vacation during a statewide eme...
Read More >>
↑