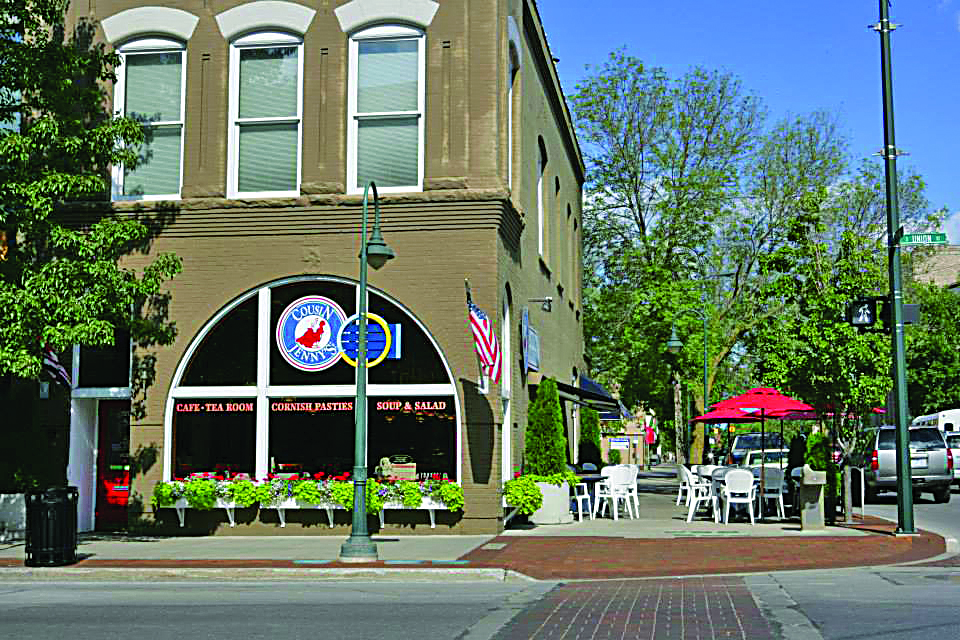 Cousin Jenny's
Cornish pasties from a Yooper's kitchen on a corner in Traverse City
Pasties have a longstanding tradition in Jerilyn De Boer's family. Her parents operated Jean Kay's Pasties — named for her mother, Jean Kathleen (Kay) Harsch — in Iron Mountain for years. Her brother, Brian, who helped establish that original restaurant, now has his own Jean Kay's in Marquette. And building on that heritage, DeBoer brought pasties to the Lower Peninsula, building her own legacy over the past 40 years in Traverse City.
"My roots are in the Upper Peninsula, so growing up, I was involved in the whole culture of pasties and the Cornish people who had introduced them to the area," said De Boer. Miners and their families from Cornwall, England, which has a long history of mining, migrated to the UP in the mid-19th century to work in the area's emerging iron ore and copper mining industry. With them, they brought their ubiquitous pastie, a self-contained, hand-held meal (usually of meat and vegetables) sealed inside a pastry crust that the men could easily take with them into the mines. The seam of the pastry had a specific purpose: Since the miners often had arsenic dust on their hands from their work, it served as a disposable handle. In time, the pastie was embraced by people all over the UP, and today it's a signature food there.
SAY IT WITH ME: "PASS-TEE"
De Boer went to Ferris State University to become a dental technician, then landed a job after graduation in Wisconsin. But she and her older sister, Kathleen, who lived in Traverse City, eventually hatched a plan to start a Jean Kay's Pasties shop there. In 1979, they opened their little 500-square-foot space on Front Street (now home to Good Harbor Coffee)."It was a natural to follow in our parents' and brother's footsteps, and a pastie shop was something that Traverse Citydidn't have," said De Boer. "I went home for a couple of months before we opened and trained with my dad, and he and my mom passed on their recipe for the classic Cornish pastie, which is filled with steak, rutabaga, potato, onion, salt, and pepper."Kathleen moved to Floridawith her familya year into the venture, butJerilyn stayed on and continued to build the business.
"For the first few years, our clientele consisted mainly of transplants from the UP," said De Boer. "For the rest, it took education and perseverance on our part — a lot of the customers who came in didn't even know how to pronounce pastie." [Ed. note: It's pass-tee, not pays-tee.]

"When my parents sold Jean Kay's in Iron Mountain nine years after I had opened ours, I felt that I needed to establish my identity if I wanted to expand and grow in the Lower Peninsula. So I changed the name to Cousin Jenny's, which is part of the history of the pasty. The Cornish miners were called 'Cousin Jacks' by the UP locals, and their wives, who made the pasties for their husbands to take into the mines, were called 'Cousin Jennys.'"
De Boer didn't meet her husband, Nick, until she had already been in business for a couple of years. But he had his own job and didn't join her in the venture until much later. "In the meantime, I did pretty much everything myself, and after our son was born, I would often take [the baby] to work with me," she said. "I was a busy gal. It was fun, but it was also challenging, a lot of hard work, and long hours. Which is still basically still the case now, other than that I have great people working with me, and I am mechanized to some extent: I have a potato peeler and dicer, a meat cutter and a dough roller. But each pastie is still made fresh, by hand,every morning, using only the highest quality ingredients available."
THE BRITISH ARE COMING
In 1993, De Boer moved Cousin Jenny's to its current location, at the corner Union and State Street, tripling the size of her operation. "This building dates back over 100 years, and it is beautiful, but it needed a complete remodel to make it ours," she said. "We came in and tore the whole place apart, with Nick personally doing a lot of the work, including exposing the brick walls, which had been covered, and preserving the original stamped tin ceiling."
The De Boers also recycled a bit of Traverse City's history for the restaurant's interior décor; decorative wooden wall sections, glass panels, and tables were salvaged from the Park Place Hotel's former ground floor eatery, which was dismantled to make way for the present restaurant, Minerva's. To reinforce the spirit of the original Cornish pasties, the De Boers incorporated a number of items with a British theme. Much of the memorabilia that gives the restaurant its unique character was brought back from trips to England; other things are gifts from friends or customers. But one particularly striking piece of the décor came from just down the block.

"We did a lot of research online to try to find an original British Royal Guard uniform, but they were very expensive. And then my son and I were browsing through Wilson's Antiques one day and chanced upon the one that's now on the mannequin above the front door. It's an original from the U.K. and actually has the guard's name in it."
Look around, and you'll also see a full-sized British flag and iconic red telephone booth. A wall next to the latter is adorned with vintage black-and-white photos showing Cornish miners eating pasties. And one of the striking signs over the take-out deli case instructs takeout customers to "Queue," which in England means to stand in line to be served. In summer, Cousin Jenny's offers an attractively appointed outdoor café seating area, which is blessed with a sheltered, south-facing exposure. "This is a stunning location," said De Boer. "We're a block off Front Street, but it hasn't hurt us."
DARING TO BE DIFFERENT
A lot of pastie shops fully bake their pasties, De Boer said, "but one of the keys to our success — other than the quality of the food and service and the uniqueness of our product — is that after we make our pasties, we only partially bake them. We never take them to the fully-baked stage until right before serving time. That preserves the quality and guarantees that you get a hot, fresh pastie every time." Customers can also buy partially baked pasties to go and either take them home and bake them right away, or freeze them for later.
Cousin Jenny's makes several kinds of pasties because, De Boer explained, "This is a different market from the UP. It was a whole open field here to do whatever I wanted to do, and to make things a little more interesting. Cornish women didn't like to waste food, so they used to use whatever they had on hand — often leftovers — to fill their pasties. Pastie actually means 'past day meal'. I just kind of took that concept and expanded on it."
De Boer's first "expansion" was the veggie pastie (with seven different vegetables, cream, and cheddar cheese); followed by the chicken pastie (with peas, carrots, potatoes, corn, cream of chicken soup, and cheddar cheese). Those two, along with the original steak version, are served daily at Cousin Jenny's. Two additional varieties bring the selection up to five on a rotating basis during the week, and might include the French potato pastie (with ham, green onion, Monterey Jack, cheddar cheese, and sour cream], the German pastie (with Swiss cheese, ham, and sauerkraut in a rye crust), the Italian pastie (with pizza sauce, pepperoni, Italian sausage, green pepper, and mozzarella cheese — a hit with kids), or the steak'n'cheddar pastie (like the traditional steak pastie, but with the addition of cheddar cheese]. Pasties are offered in two sizes: 10 ounces or 16 ounces.
Pasties are the No. 1 seller at Cousin Jenny's, but the restaurant's beautifully composed salads are a close second. The menu features 17(!) of them, as well as several sandwiches and wraps, and two to three varying kinds of soup.
"Downtown Traverse City is such a totally different atmosphere from when we started here," said De Boer. "We had some tough times over the years — with big snowstorms, two recessions, and the building of the Grand Traverse Mall, among other things. And then we watched it all get revived, due to the efforts of local business owners and people outside this area who saw the benefits and the beauty and the potential of this town. In the end, it made us more alive and stronger, because we had to be."
HAPPY ANNIVERSARY!
On May 26, Cousin Jenny's will mark its 40th anniversary (watch the website for upcoming news on this summer's charitable celebration plans). Over the years, the restaurant has been featured in national publications like Gourmetmagazine, the Chicago Tribune,Women's Day, and Midwest Living,as well as in local media. And in addition to the steady growth of the flagship brick-and-mortar Cousin Jenny's, De Boer reported that her online sales have steadily increased over the years as well. She regularly ships pasties all over the country to fans who can't live without them. "I get some really beautiful notes via the website all the time," she said. "People who used to live in Traverse City and have moved away see that we ship, and they write to me and say, 'I'm so glad I found you online! I used to love coming to Cousin Jenny's, and I miss the pasties!'"
As much as De Boer loves what she created, she hinted that she and her husband will be ready to retire in the next few years, and when that time comes, they will be looking for the right person to buy Cousin Jenny's and carry on their iconic business.

"Over the years, we've made a lot of friends, served a lot of people, met a lot of great customers, and hopefully made in impact in this community," she said. "We are grateful and honored to have been able to be in Traverse City for so long and to make a living and help other people make a living through us."
Cousin Jenny's is located at 129 South Union St., in Traverse City. Open 7am to 6pm Monday through Friday, and 11am to 4pm Saturdays. (231) 941-7821. Catering, delivery and shipping are also available. For detailed information visit www.cousinjenniespasties.com .
DYNAMITE!
"Traditionally, pasties are served with ketchup," said De Boer. "But with all of the different kinds of pasties we have on our menu, we have added other condiments that we feel complement them. And we came up with a proprietary condiment that we call Dynamite Sauce, so named because dynamite was used in the UP to blow open the mines, and our sauce has a bit of a kick. We not only serve it in the restaurant but sell it, too, and people buy a lot of it."
Trending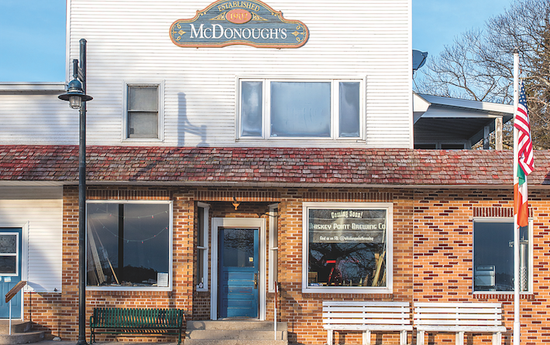 Welcome to Michigan's Most Remote Brewery
After years of planning and honing his beer-making skills, this spring, Patrick McGinnity plans to open Beaver Island&rsqu...
Read More >>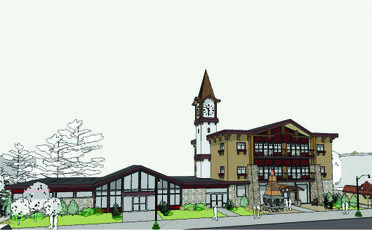 Gaylord: A boomtown Up North
Gaylord native Gary Scott had moved to Indiana, where he and some partners started a business to invest in distressed prop...
Read More >>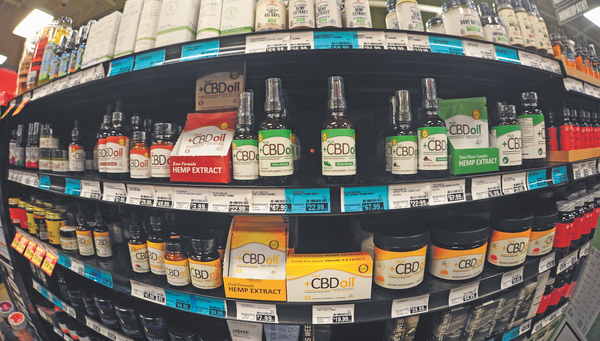 CBD Laws: Dazed and Confused
The sign outside of Family Video in Kalkaska lets drivers know the store has more than just movies. The sign reads: &...
Read More >>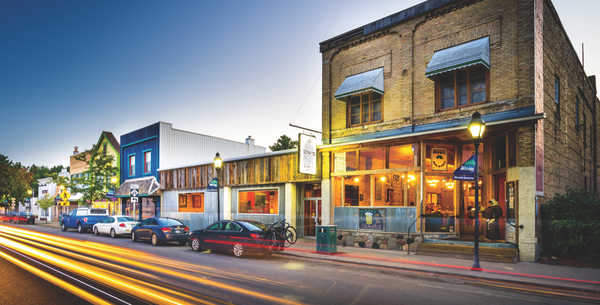 Small Up North Towns on the Rise
Spotlight on Bellaire (pictured)Seems Traverse City isn't the only place in the region making those "Best...
Read More >>
↑