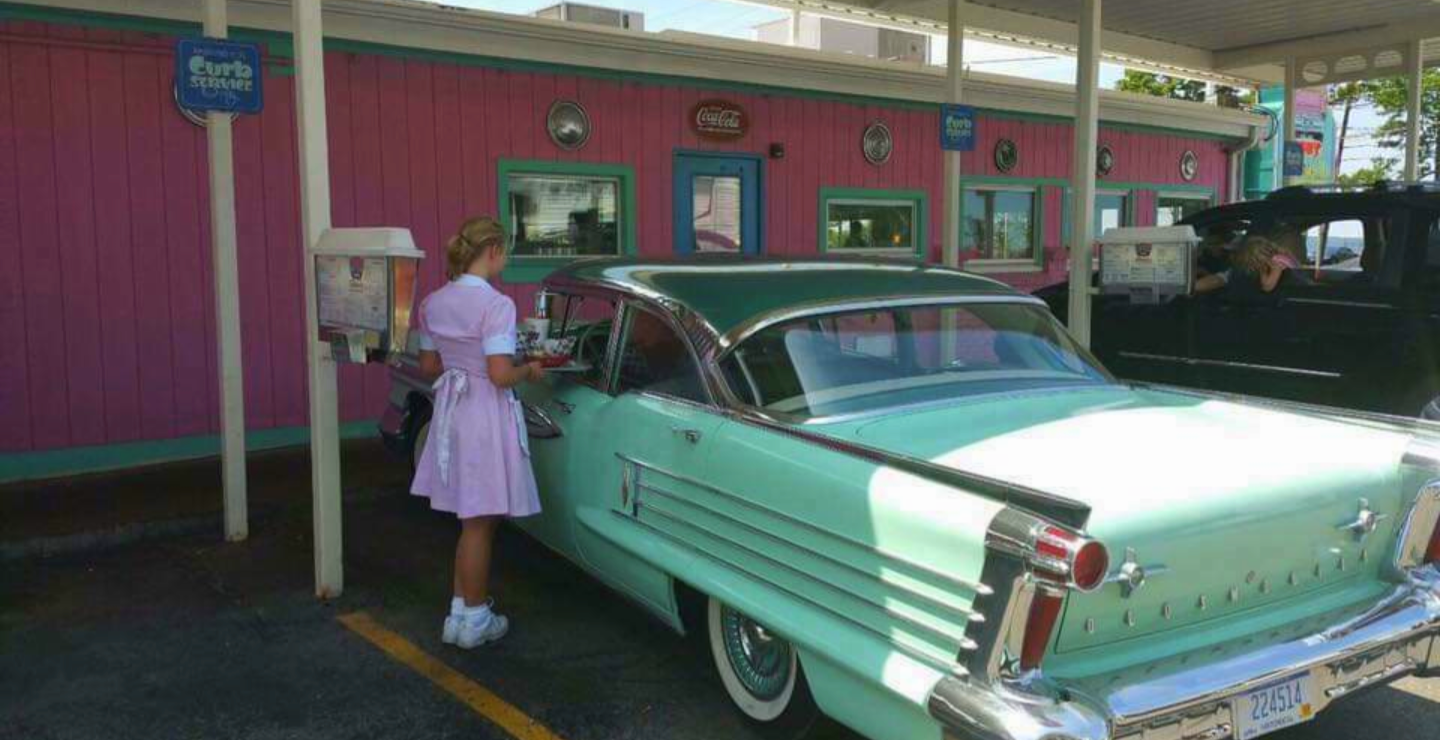 Don's Drive-In
An Oldie but a Very, Very Goodie
It's hard to determine exactly what it takes for someone or something to be dubbed an icon. Yet it's clear that whatever those requirements are, Don's Drive-In has met them.
Located on US-31 in East Bay Township, the eatery opened in 1958. While the world around it has changed in the 60-plus years since then, the feel of the place hasn't. Hamburgers, fries, and real milkshakes harken back to classic '50s fare while the diner-style décor and old-fashioned service — think: pink walls, boomerang-patterned Formica countertops, and smiling carhops who'll walk up to your car window to serve you.
THEN & NOW
Owner Mike Maddasion bought the East Bay landmark in 2017. When asked why not modernize things, or change the name to reflect the new ownership, he suggested one think of the old adage "If it ain't broke, don't fix it."
"It was bought as Don's — it's Don's forever," he says.
Forever is a mighty long time, but the restaurant has been holding forth as Don's since namesake Don Shaff purchased it in 1960. He's credited with doubling the eatery's size and introducing curb service.
Shaff sold the business to his neighbor, Bob Wilson, in 1980, who ran it as Don's Drive-In for the next 37 years. It was under Wilson that the restaurant started crafting those thick, creamy milkshakes that have a huge following among locals and tourists alike. (During Cherry Festival, Reed says guests were opting to wait in line, sometimes up to 30 minutes, rather than go elsewhere.)
Now it's Maddasion's turn. He's well versed in what makes it work. "I started here July 1, 1987," he says.
It was just a year later that he was joined by Dan Reed, who today is Maddasion's right hand as general manager. Not one to simply delegate, you'll find Reed doing paperwork one minute, on the line the next, then waiting on tables. "This is home to me. I like to be the guy that helped cook somebody's meal. I love making really good food and watching people enjoy it, then wave happily on their way out," he says.
CHANGES
Of course, that was a challenge during the throes of the pandemic. Don's Drive-In was built entirely for dining "in" — whether that was in the restaurant or inside customers' cars. Pandemic restrictions didn't permit either on-site; only carryout, which made it impossible to gauge the reactions of the customers, happy or otherwise. Reed was not a fan.
"There were no smiles with the masks," says Reed.
Like almost any other restaurant, Don's had to completely change its business model. That meant everything from finding different containers to learning how to pack the food properly for to-go orders. Now the restaurant is open again, but Reed says it's still limited to 50 percent capacity — not because of pandemic restrictions but because he can't find enough workers. "It's a lack of help," he says, noting it's the same challenge faced by restaurants, retailers and other businesses across the region.
Luckily, the popularity of carryout at Don's seems undimmed. Reed says what was almost exclusively dine-in pre-pandemic is now a 50/50 mix. Which isn't all bad. Besides the overall lack of workers, some of the newer employees weren't even familiar with how to serve customers eating in. "I had to re-train people," Reed says.
THE MENU
Don's Drive-In is a must-stop for locals and visitors alike. Their loyalty is reflected in the many awards it's won, for Best Burger, Best Milkshake — even Best Sign in the State of Michigan.
The restaurant offers staples such as grilled cheese, tuna fish, charbroiled chicken sandwiches, Reubens, footlong hotdogs, Coney dogs, chicken fingers, and coffee. If you want the best of what it has to offer, though, you've got to try its most popular meal: "Our quarter-pound cheeseburger, French fries, and a medium shake," says Reed firmly.
"We sell a lot of everything, but that [combo is] 85 percent [of sales]," he says.
Credit for their big-winning burgers — with cheese or without — goes to the burger meat itself. "We just have excellent beef, from Louie's of Traverse City. It's consistent and has the perfect beef-to-fat ratio. We've run out of it sometimes, and I'll have to buy some at the grocery store just to get through the rest of the day."
No problem as long as people don't notice, right? Nope. "You bet they notice," Reed says.
If, God forbid, you are on a diet at Don's, turkey burgers and veggie burgers are on the menu; as is a hamburger steak, served sans bun. Those not on a diet might like to try the Breaded Clams Basket, Big D half-pounder, or the "Monster" burger weighing in at three-quarters of a pound. All burger eaters can choose from four kinds of cheese, everything "for the ask'n" (mayo, lettuce, tomato, ketchup, mustard, onion, and a pickle), and special toppings like bacon, mushrooms, jalapenos, olives, or fried onions.
Also on the high-calorie not-to-be-missed list: Don's shakes — vanilla, chocolate, strawberry, and cherry made from "real syrup" or strawberry, cherry, and a special made from real fruit. For a little extra, you can make any a malt.
Though the nostalgic décor is fun — from the bright pink building with the neon sign in the shape of a car's tail fins to the interior walls festooned with old vinyl records, fancy hubcaps, and images of mid-century pop-culture heroes — Don's has remained so popular all these years because of its consistently good food and service. And yes, you can still belly up to one of the outdoor picnic tables (with a view of East Bay!), dine inside, or order and eat the traditional Don's Drive-In way: from and in your car.
Find Don's Drive-In 2030 US-31 North in Traverse City. It's open 11am to 9pm seven days a week. (231) 938-1860, www.donsdriveinmi.com
Trending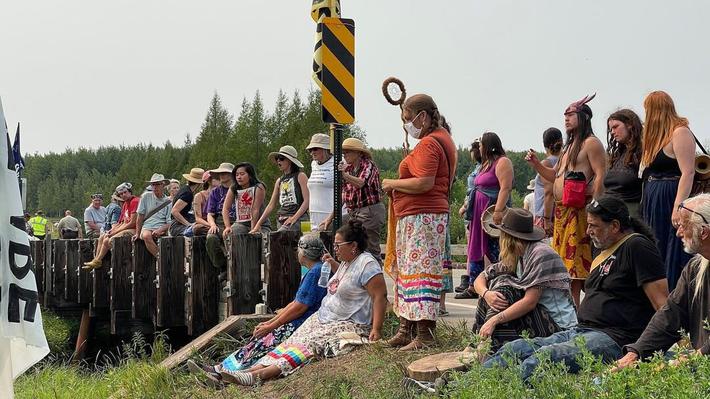 Hope for Line 5 opponents via Line 3's latest development?
Opponents of the ongoing Line 3 pipeline project in northern Minnesota — an oil-moving cousin of the also-contested,...
Read More >>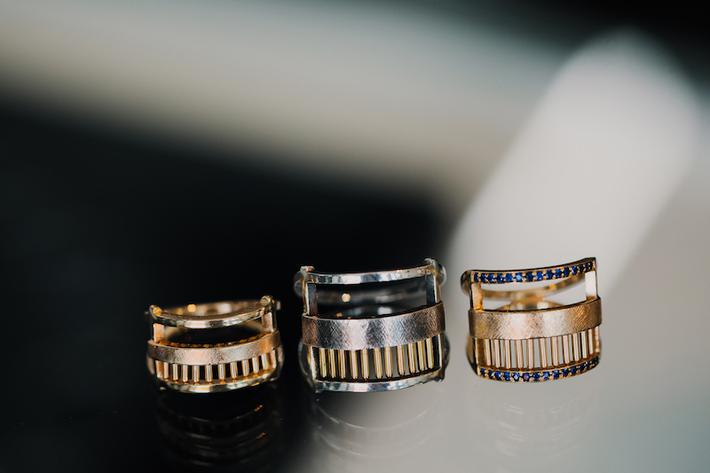 Visual + Aural Alchemy
Dana C. Fear has a name that sounds like a sentence. "I've just realized that in the last couple of years, &l...
Read More >>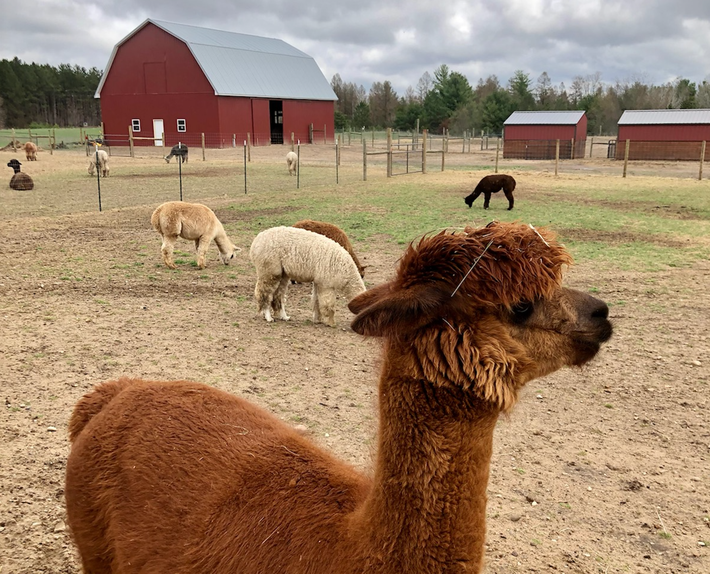 All the Warm Fuzzies
After living in the Detroit area for two decades, Rebecca and Jason Gill longed for a change. They said good-bye to their...
Read More >>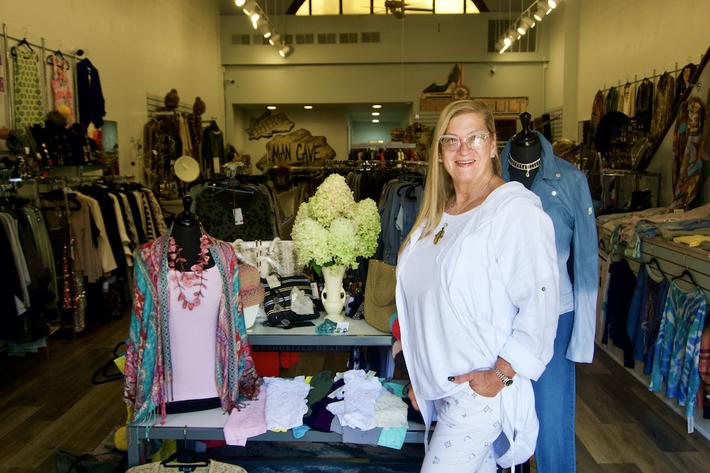 The Fabulous Pepper Berkowitz
Pepper Berkowitz might be a bit of an anomaly in the fashion world. She's warm, engaging, and genuinely wants to hel...
Read More >>
↑