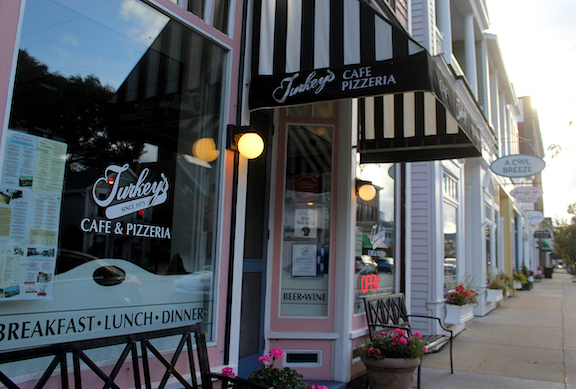 Down on Main Street
Turkey's Cafe & Pizzeria: cozy and classic small-town-America dining
By Eric Cox | Oct. 10, 2020
In the cozy confines of a small-town Main Street restaurant, a casual but discerning diner can often find bliss.
It might come in the form of great coffee, a deliciously fluffy pancake, or a glowing vintage jukebox.
But at Turkey's Cafe & Pizzeria in Harbor Springs, the bliss is in both its food and its vibe — a picturesque indoor-outdoor eatery styled in perky and preppy pink, white, and black, and housed in a historic building.
According to owner Jeff Graham, Turkey's is located in one of Harbor Springs' oldest structures, a former newspaper office and, as fate would have it, site of the first pizza ever made in that town.
Patio seating behind a white picket fence and under a large shade tree supplements Turkey's small dining room, one side of which is lined with compact wooden booths. A short cocktail bar on the opposite wall connects two larger booths. A vintage bottle collection and other nostalgic knick-knacks hearken to the days when Graham, currently in his 45th year as owner, was growing up in the tiny hamlet on the shores of Little Traverse Bay.
And that's just the way Graham likes it. The old bottles and spice cans remind him of that time, and he designed his restaurant to evoke those sentimental memories — a comfort to him and his patrons. Key in transporting people to the past: the warm wafts of fresh-baked bread and savory pizzas that greet patrons well before they approach the place's front door.
MAKING OF A RESTAURATEUR
A veteran of the restaurant industry, Graham worked at the historic Juilleret's (now Pierson's Grille & Spirits), a classic soda fountain in the heart of Harbor Springs. He enjoyed the business so much, he eventually bought the building at 250 E. Main St. to launch Turkey's, which then included an ice cream bar and carry-out food.
"I've always liked it down at this end of town because it's not so busy, and it's quieter," the soft-spoken Graham told Northern Express. "A lot of places on Main Street have carry-out now, but for a long time we were the only ones who had it. Our take-out business is still booming, even more now than before COVID."
ON THE MENU
Since the restaurant's roots were planted early on in the carry-out game, it's no wonder the Turkey's menu is so well-suited to take-home food. Aside from the hearty, excellent pizzas that feature handmade dough and meats from the 1913-founded Northern Michigan market, Plath's Smoked Meats, the restaurant offers a variety of large sandwiches in a range of styles, including six specialty burgers, five filling sandwiches (the Italian Zapper, $14, was our favorite), plus three wraps and three sandwiches all featuring … what else? Turkey!
These namesake birds are roasted right in the restaurant, their tender white meat hand-pulled and stuffed between layers of homemade bread. Turkey specialties include the sizable Turkey Sandwich ($10), Turk's Turkey Day Sandwich ($12), and the most popular one, the Turkey Club ($14), which comes piled with deep red tomatoes, crisp green lettuce, and mayo slathered on thick, grilled whole wheat bread.
On the lighter side, Turkey's offers eight robust salads, the most popular being the Cherry Chicken Salad ($13) — a bed of greens layered with grilled chicken breast, dried cherries, feta cheese, walnuts, onions, and a tasty raspberry vinaigrette. Coming in a close second is Turkey's Grilled Chicken Caesar salad ($12), comprised of romaine lettuce, chicken breast, zucchini, red onion, garlic croutons, and romano cheese.
For those who prefer low-frills, Turkey's offers the basics: a grilled cheese, the All-American Hot Dog, and chicken strips.
But for those who want frills, and plenty of them, pizza is what puts Turkey's on the map. Handmade and hand-tossed dough gives each pie a golden brown, slightly crunchy crust that makes a perfect palette for the pizzeria's rainbow of fresh toppings. Plath's meats account for the protein options, while vegetable topping choices include fresh basil, chopped garlic, artichoke hearts, jalapenos, and a dozen more.
Our large sausage and pepperoni pie was perfectly baked, its ring of light brown outer crust containing an inner sea of molten mozzarella, boulders of tasty sausage, and big rings of spicy pepperoni. Cheese strands stretched and fell with each bite, and the tart sauce made it all sing.

For years, ice cream was a mainstay of Turkey's traditional offerings. But, a few years ago Graham opted to replace the ice cream cooler with a small bar, featuring bottled and canned beer, a few local beers on tap, mixed drinks, and a short roster of quality wines.
LEGACY
Another change is on the horizon for the classic American eatery: After 45 years of building his business, he's ready to retire. Tradition, however, won't fall by the wayside. He's planning to hand the business down to his daughter, Sara (Graham) Charles, a former ski coach who's been managing Turkey's for the last five years.
Graham, a former Harbor Springs High School skiing star, had been coaching skiers in Colorado when she moved back to Harbor Springs to work at her father's restaurant. Her plan? To spend one year there as a way of determining whether she would and could take over the establishment upon his retirement.
"I definitely wanted to feel it out before I decided. Now, here we are, five years later," she said. "And it's been really cool working with my dad."

Charles, a parent to two young children herself, added, "I never realized how much I missed home. I always knew that [Habor Springs] would be really cool to raise my kids — in the same environment my dad and mom raised me. I love this town. I loved growing up here … I knew this was my spot."
As for Graham, he hopes to see Turkey's remain in the family for a long time. "We've made it this far," he said. "And we're working on it. We're working on it, and we're gonna make this happen."
Find Turkey's Cafe & Pizzaria at 250 E. Main St., in Harbor Springs. www.turkeyspizzaria.com, (231) 526-6041.
Trending
Talking Truth
Truth is, we are all freedom-loving people here in America. Truth is, we are all fiercely independent at heart. And truth ...
Read More >>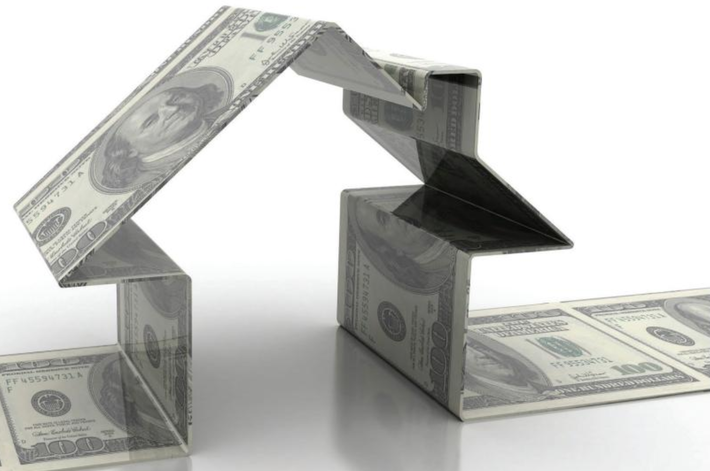 The North's Workforce Housing Crisis Just Got Worse
Is the ideal of "affordable housing" even possible to achieve in northern Michigan? It's a question tha...
Read More >>
Loyalty to a Lie
Some Republicans have fallen down and they can't, or won't, get up. This isn't the party of Lincoln, and it's not l...
Read More >>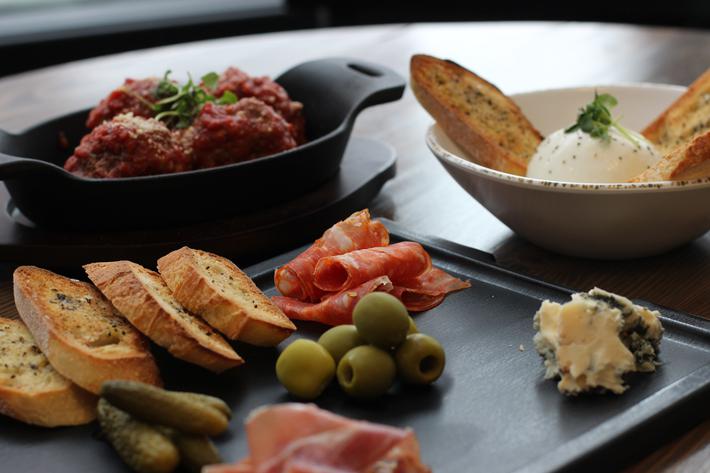 Vita Bella Italian Kitchen and Market
Maybe Ed Carella didn't have a choice. After all, he'd basically been raised in a pizzeria. His parents, Tina ...
Read More >>
↑