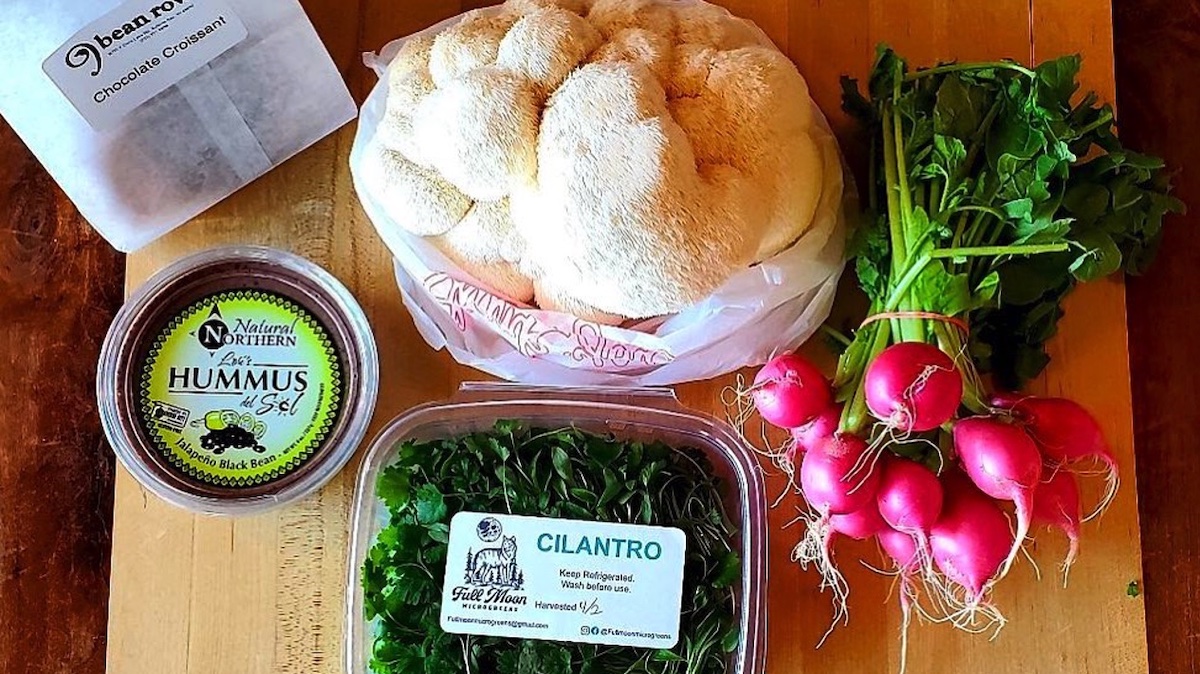 Fresh Fare for the Winter Months
Seasonal inspiration from farmers markets and specialty stores
As the days grow colder and the nights grow longer, many of us turn to our kitchens to cook up comfort. Whether your style is preparing a pot of soup in your pajamas or fashioning an impressive charcuterie spread for a bright night of hosting, northern Michigan's farmers markets and specialty grocery shops have what you need. Best of all? You can still find fresh and local produce, meat, and sweets…even in the dead of winter.
Online Access to Local Eats
Although there are no tents or tables lining downtown TC's parking lot B this time of year, there is still an avenue to secure farm-fresh goods November through April: Sara Hardy Farmers Market's online market.
The digital platform launched in May 2020 as a contact-free option to keep the market running through the pandemic. The market's host, Traverse City's Downtown Development Authority, contracts with SEEDS to manage both the indoor and summer outdoor markets.
"We kept the online market because it allows us to serve food assistance customers and get fresh fruits and vegetables year-round to people who really need it. It is still a resource for people who want a no-contact shopping option." Kyle Warner, the Sara Hardy Farmers Market manager says.
Since 2020, 2,000 patrons have registered as online market customers. Most of those subscribers joined during the pandemic and still receive a weekly email invitation to place an order. Today, about 50 customers order from the online market each week.
"It is a great option for people to do their market shopping from the comfort of their own home or on their lunch break at work. It takes five minutes or less and it is a quick stop on a Saturday morning to pick up your bag." Warner says.
Here is how it works—every Sunday at noon, November through April—the online ordering window opens. Shoppers can order fresh produce and other local products online until the ordering window closes Thursday at noon. Between Thursday and Saturday, local producers get to work fulfilling orders. Saturdays from 10am and 1pm, customers can swing by Traverse City Tourism's main lobby at the intersection of Garland and Union to pick up their order.
Now, we know what you're thinking. Is anything growing this time of year? The answer, quite simply, is yes. All winter long, the market offers much more than the expected apples, beets, and potatoes (although it does provide delicious varieties of all the above).
"Some of our most popular products are greens from Lakeview Hills Farm's climate-controlled hoop houses, Baker's Acres apples [available through January], and Buchan's ice cream," Warner says.
Though the market hosts a lovely selection of fruits and vegetables, it is certainly not limited to fresh produce. For cheese lovers, Saltless Sea Creamery and Leelanau Cheese offer tempting fresh-made cheeses (like mozzarella, ricotta, and fromage blanc). For those with a sweet tooth, Silver Star Goods offers a mouthwatering selection of baked goods (think brownies, cookies, and breads). Vendors like Morganic Farm offer pork, lamb, beef, and poultry. You'll also find everything from kombucha and local drink mixes to pierogis and microgreens.
Learn more about the online market on their Facebook page (@SaraHardyFarmersMarket) or register as a customer at sarahardyfarmersmarket.localfoodmarketplace.com.
Shopping for the Season
When temperatures drop, Hansen Foods co-owner Connie Frost notices shopping trends shift to more comfort food items and holiday entertaining favorites.
"Customers certainly make more hearty and warm dishes like soups, stews, casseroles, and roasts. More baking is done in the winter months as well, so flour and sugar become more purchased items," Frost says.
During the holidays, Hansen Foods also sees an uptick in entertainment supply purchases. Compared with the rest of the year, alcohol sale trends do not fluctuate much during the winter, but Frost does notice a spike in beer, wine, and spirit sales around the holidays as patrons toast the season.
"All of the Mawby sparkling wines are very popular around the holidays," Frost says, adding that they're perfect for a celebration toast. "Other local wines that are some of our top selling around the holidays are Amoritas Vineyard Chardonnay, Bel Lago Red, and Bel Lago Pinot Noir."
On the beer side, the Short's Super Hoppy Holidays variety pack takes the top spot for local sales, but the "most popular beer around the holidays hands down" is the Goose Island Bourbon County Stout. Frost says the single case the store received for Black Friday didn't even last a week on the shelves, and now folks will have to wait another year for the limited release to return. (Unless, of course, their beer distributor can create a Christmas miracle.)
Another popular holiday-time item? Party tray supplies. Frost sees crackers, cheeses, cured meats, dips, and spreads fly off the shelves from November through January.
"Charcuterie boards are the craze, and our cheese island is full of specialty products to build the perfect board. A brand our staff and customers are excited about is Terrapin Ridge. We offer numerous sauces, mustards, and jams from this line that add bold flavors to recipes," she says.
Frost also notes that Hansen Foods works hard to support local farmers throughout the year. During the winter months, the market offers winter squash, apples, and root vegetables from local farms as they are available. "We feature a magnitude of products from local businesses, which adds to the unique community culture we deeply stand behind," she says.
They also stock local products such as Bardenhagen eggs, Moomers ice cream, Leelanau Cheese raclette and fromage blanc, local honey and jams, and Farmer's Creamery milk. Rounding out their local offerings, Hansen Foods supports six local bakeries by stocking their breads and pies. Suttons Bay's Chimoski Bakery has a cherry pie that is most often spotted in the checkout line, followed by Grand Traverse Pie Company's cherry crumb and apple crumb iterations.
And it appears the bakeries and Moomers have a good thing going. Although the ice cream shop's Peppermint Stick flavor gets a boost this time of year, the No. 1 is a tried and true classic for à la mode desserts: "Vanilla continues to be the top selling flavor week to week, year round!" Frost says.
Stop in and browse at Hansen Foods at 91 4th St, Suttons Bay, or keep up with the market online at hansenfoodsofsb.com.
Trending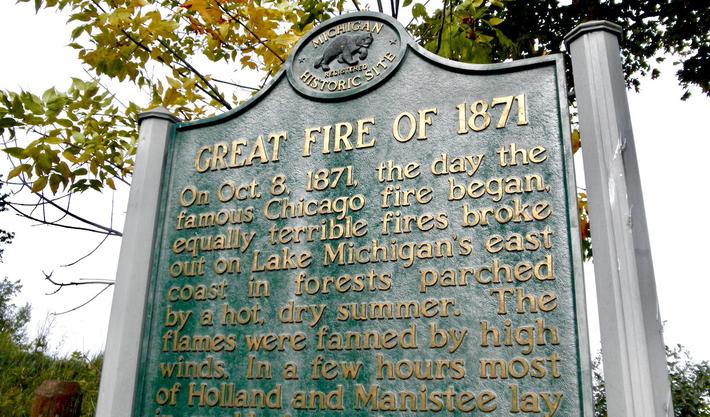 Histories and Mysteries: The Great Michigan Fire
Every schoolchild knows the tale of how Mrs. O'Leary's cow (supposedly) kicked over a lantern in a Chicago bar...
Read More >>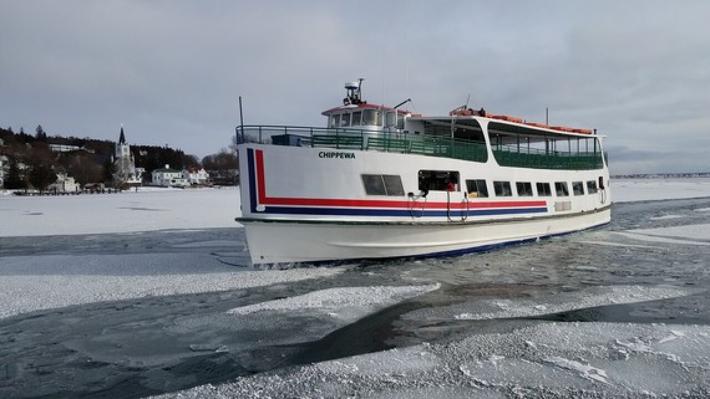 Electric Ferry Service
Mackinac Island ferries cruise back and forth across the Straits dozens of times per day in the high season, carrying as m...
Read More >>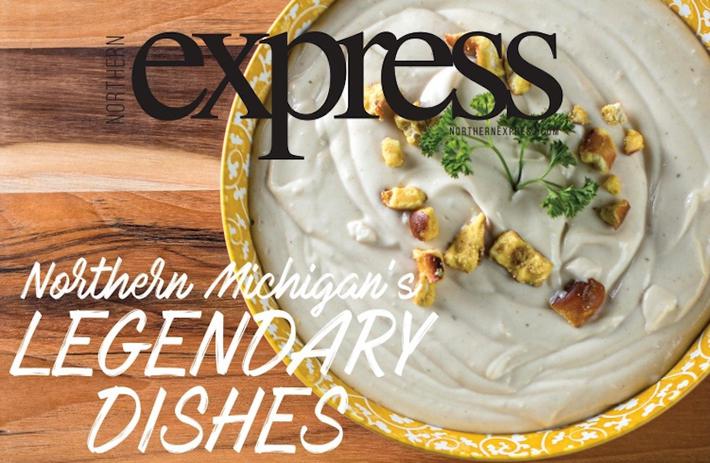 What's Your Favorite Meal in NoMi?
Northern Express is gearing up for our Spring Restaurant Guide, and that means it's time to feature five more amazin...
Read More >>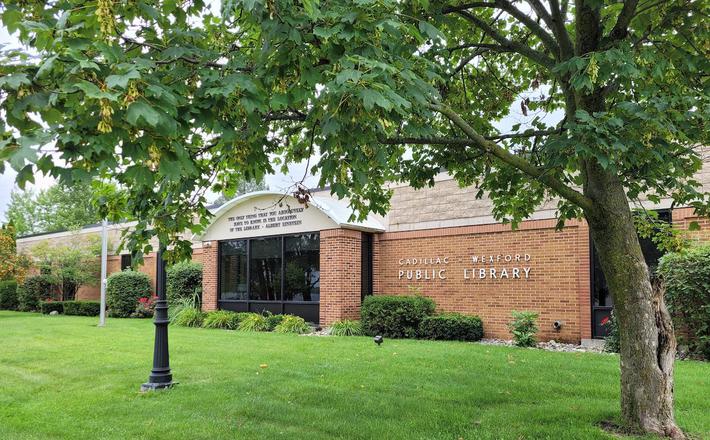 An Indiana Jones Adventure
It's our Histories & Mysteries issue, and what could bring those two things together more perfectly than an Indi...
Read More >>