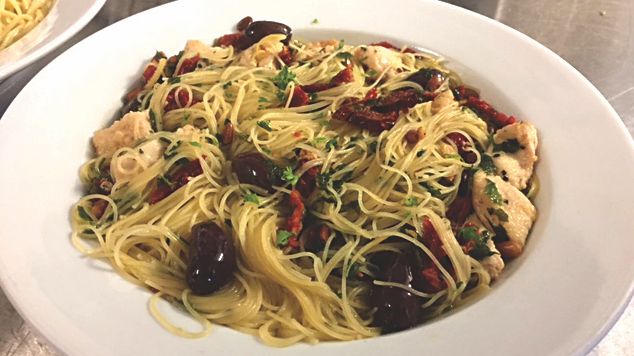 Glen Lake's Trattoria Funistrada
St. Louis-inspired Italian
Out in western Leelanau County, on the eastern edge of Big Glen Lake, lies Funistrada, a charming restaurant housed in a historic cottage-like clapboard building surrounded by, in summer anyway, by greenery and flowers. Looking at the menu, you immediately think of Italy. But the food that comes out of the kitchen here is actually an homage to St. Louis (that's Missouri, not Michigan). Curious? Read on …
Holly and Tom Reay, owners of Funistrada since the spring of 2000, were Glen Lake "summer kids" growing up. She is a native of Chicago, and he hails from St. Louis. (More on that later.) "Our families had been coming up here for generations, and this is where we met," Holly explained. Later, as adults, they each decided that they wanted to live there year-round.
In the 1970s and '80s, the building that Funistrada now occupies was a German restaurant called the Glen Lake Inn, and it was a favorite haunt of Tom and Holly's grandparents, both of whom had summer homes in the area. Before that, it had hosted another restaurant and a bar, but originally, nearly a century ago, it was a dining hall for nearby cabins that didn't have kitchens.
Holly and Tom had both worked in local restaurants during those long-ago summer vacations and beyond, but she went on to become a teacher, and he studied philosophy. And all that time, a dream of owning their own restaurant was in the back of their minds. Tom's road to becoming a chef led from the Leelanau Peninsula to Michigan State University to the Virgin Islands to Colorado and back.
"I spent a lot of time during and after college bartending and cooking, working my way toward what I realized was the career I wanted." His wife always knew he would make it. "He's just one of those people who have that natural cooking ability," she said. "And his parents and grandparents were all very good cooks, so he grew up with that gourmet lifestyle."
Holly found she loved the hospitality field more than teaching, and preferred the management side of the business. That meant that both the kitchen and the front of the house would be covered if they followed their dream.
"We would say, 'Wouldn't it be great if we could find a place like the Glen Lake Inn?'" said Holly. "And then one day we drove by here and saw an auction sign. It felt like fate. So even though we really couldn't afford it, we went to the auction that night, and we won it!" Afterward, Tom remembered, the two were standing outside in shock, and Holly called her father — and just like a little kid who breaks the news "Hey, Dad, I just got a puppy!" she said, "Hey, Dad, we just got a restaurant!"
So why Italian? One reason, the couple admitted, was that there were no Italian restaurants in the region at the time. But Tom had another reason, too. "There is a big Italian-American community in St. Louis — it's a whole neighborhood of Italian grocery stores and shops and restaurants called 'The Hill.' I grew up around there, and it holds a lot of great memories for me. I had some friends who had restaurants there, and after we bought ours, I called one of them up — he was very well known around town — and when I told him what I was planning to do, he reached out to some of his colleagues and said, 'Hey, I'm sending someone over — show him what you do.' And those people were very generous in sharing their culinary knowledge and skills with me. I was already a good cook, but they helped me to be even better. So the food we do here is a tribute to those St. Louis Italian restaurants."
Funistrada's menu changes very little, because their customers depend on being able to come in and get the dishes they love. True to the Italian love of vitello (veal), the menu offers three different preparations of it, most popular of which is the saltimbocca (with prosciutto, mozzarella, and Parmesan in a mushroom-Marsala sauce). That same preparation is also offered with chicken breast. Another highly popular dish among Funistrada regulars (who make up the bulk of their clientele) might surprise some — it's the appetizer lumache (snails), with garlic and red onion, served on crostini. "Even kids like it," said Holly.
"Jake, our chef, does regular menu specials — he's classically trained, and they're always phenomenal," said Holly. "But in the past, if people came in for the saltimbocca (or another one of their tried and true favorites), it was hard to convince them to try something else. That's starting to change a bit. I think people are trusting that it's going to be good."
If you're a pasta fan, you'll appreciate the many options on that part of the menu, like the hearty lasagna Bolognese (five meats and three cheeses), the angel hair Carsoni (chicken with Kalamata olives, sun-dried tomato, pine nuts, mint, lemon zest and red pepper flakes, tossed lightly in olive oil), and two variations of linguini (with clams and pink or white sauce, or chicken and goat cheese-arugula pesto), to name just a few.
Seasonal local veggies and fruits make their way into the Funistrada kitchen as they become available. "We get rhubarb, asparagus, raspberries, blueberries, cherries, and lots of tomatoes and lettuce," said Tom. "They go mostly into the great specials that our classically trained Chef Jake creates, but some will make it onto the main menu, too. We do a really popular sauce every spring made with asparagus, lemon zest, some of the pot liquor, and olive oil, blended until it's smooth and then garnished with the tips. It's very creamy, but there's no cream in it at all. We serve it over penne or baked salmon. We also make an appetizer of asparagus with a morel ragù."
To complement the Funistrada menu, an extensive wine list includes several Italian selections, both red and white (including prosecco), and the full bar stocks Italian spirits like grappa, Vin Santo, and limoncello, as well as espresso drinks.
The Reays and their two children just got back from Italy, and they said it was inspiring to be able to sample many regional dishes. "We have Glen Arbor Restaurant Week coming up starting April 27, and we decided to do a traditional appetizer for it that we found everywhere we went in Venice, called sarde en saor," Tom said. "They used sardines, but we're using smelt. They are flash-fried, marinated, and served with sweet and sour onions and golden raisins." [For more information and full restaurant week menu, go to visitglenarbor.com/events.]
Being a seasonal destination restaurant may have been somewhat of a challenge in the past, but Holly said they're busy almost year-round now. "It is a little quieter in the winter, but we're very much supported by the locals, and tourists are here for skiing. We don't have to fill the place every night all summer long in able to make it. We kind of welcome the few months when we do get some downtime — usually mid-December through mid-April." She believes that what has kept customers coming to Funistrada all these years — besides the quality and consistency of the food — is a combination of warm hospitality and a casual, comfortable, familiar environment. "It's like being a guest in someone's home, where your friends and neighbors gather. It's not unusual to have a logjam in the dining room, because people come in, they see others they know, and they stop to talk."
Funistrada is located at 4566 West MacFarlane Rd in Burdickville. (231) 334-3900. Opens for dinner at 5:30 pm Wednesday through Sunday. Reservations accepted via phone or website. trattoria-funistrada.com. $$-$$$
BEHIND THE NAME
THANKS, SAVEUR
Tom explains: "I read an article in Saveur years ago on a survey the U.S. military had done during the seventies, ranking people's food preferences from high to low. And just to test whether responders were paying attention or bluffing, they threw in a few fantasy food names, one of them being Funistrada. When the results were in, it ranked higher than foods like eggplant! It sounds Italian, but it's not really an Italian word. When we chose that name for our restaurant, we even made it into Wikipedia!" Made up or not, there actually is meaning in the word for this restaurant: Strada means a road, street, or path in Italian, and because Funistrada is on a section of road that is literally "off the beaten path," Holly and Tom chose that phrase as their tagline.
DESSERT, ANYONE?
TWO WORDS: SAVE ROOM
"Our pastry chef is amazing. She could start a business with her cakes and pastries if she wanted," said Holly. "We've been serving her tiramisu ever since we opened — that's definitely a customer favorite." Besides that sweet temptation and her other regular dessert menu items (among them vanilla panna cotta, flourless chocolate torte, and something called "chocolate-caramely pecan goodness"), she makes at least one extra dessert feature every night (recent offerings: Italian cream cake and coconut cheesecake).
Trending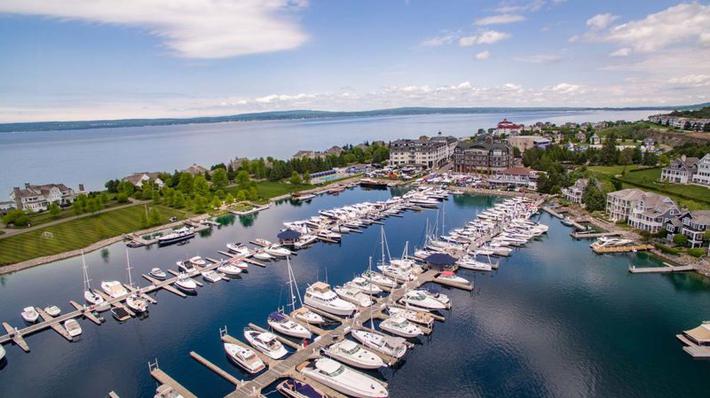 We Like Big Boats, and We Cannot Lie
Since buying your own yacht isn't likely this year due to supply and demand issues, what's the harm in dreamin...
Read More >>
Ending the Filibuster
The filibuster, much in the news lately, has an interesting if not usually glorious history. From the French word...
Read More >>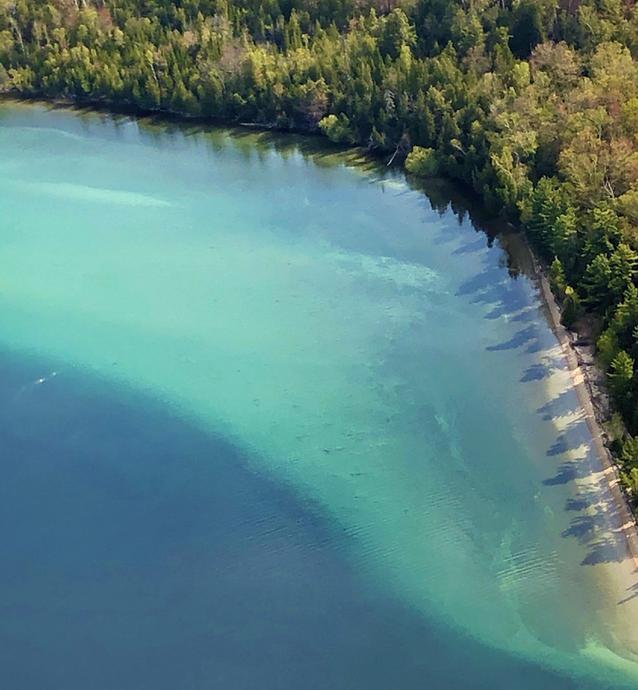 Torch Lake Takeover
You don't need to live on the shores of Torch Lake to know how breathtakingly gorgeous it is. A massive inland lake ...
Read More >>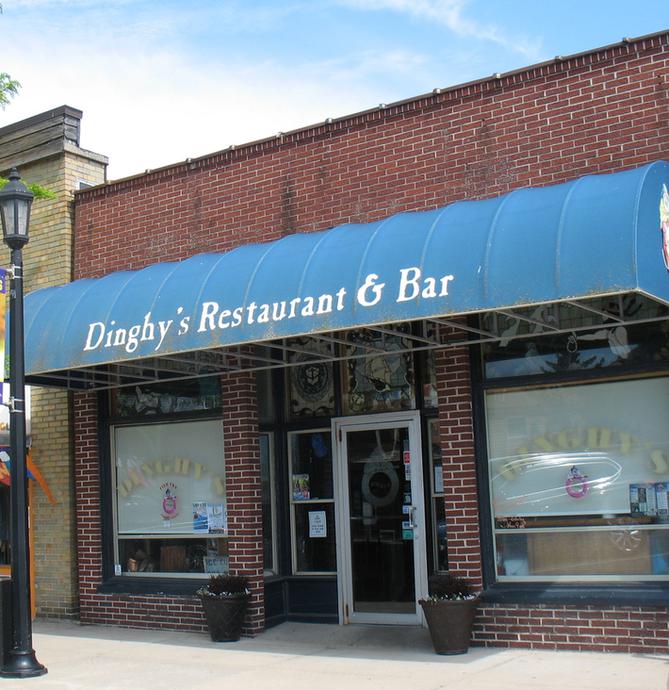 Dinghy's Restaurant & Bar
Kelly Sandman chuckles at a customer's joke, runs a cloth across a section of the 33-foot-bar, then greets a famishe...
Read More >>
↑