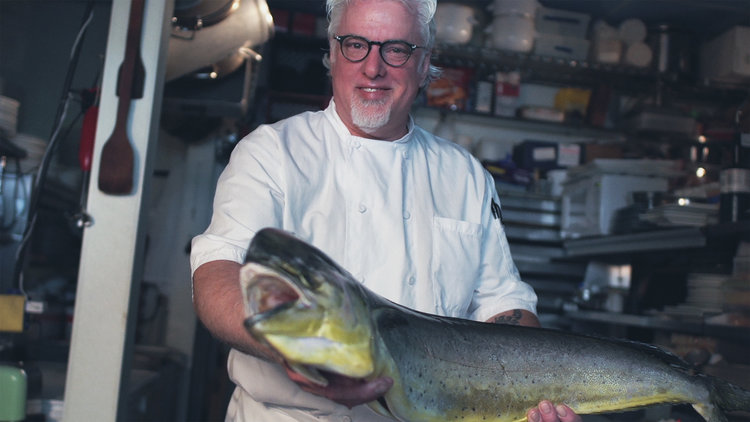 Glen Arbor's Blu
Fine dining on the beach
Randy Chamberlain was already in the kitchen by age 10. Decades later, he's still there. But instead of reigning over the dish tank at Chamberlain's, his parents' now-shuttered casual eatery on Garfield Road in Traverse City, he is now executive chef and co-owner of the quietly elegant fine dining restaurant Blu, overlooking Lake Michigan in Glen Arbor. His wife, Mari, a certified sommelier, manages the front of the house, and their son Logan handles sous chef duties in the back of the house. So at least in one respect, the two enterprises have one thing in common: family.
"During the 1980s, Chamberlain's was one of the most popular places in Traverse City," said Chamberlain. "We served about 1,000 people a day. My mom, my dad, my uncle, my siblings — we were all involved. I was raised in that atmosphere — doing everything from washing dishes to line cooking, and by the time I was 19, I was the kitchen manager." His culinary dreams and aspirations, however, lay elsewhere.
NEW HORIZONS
"I've been fascinated by fine dining all my life," he said. "When I was about 20 years old, I decided I wanted to be a chef and cook that kind of food, but about the only outside inspiration I had was the occasional episode of Julia Child's The French Chef on PBS. And then my father hired a cook who had had classical French training. I remember the first time he came in and grabbed a quart of cream, put in in a pan with some garlic, reduced it down and made an Alfredo sauce, and put noodles in it. I had never seen or tasted anything like that before …
"He really took me under his wing and expanded my culinary horizons. He told me, 'You know, it's out there — go find it. If you want to do this, you need to go and get it.' So I did. And I almost left the region, because I didn't think there was anything like that in Traverse City, but then I found that there was. I went to Reflections in 1984, and from there to Windows. I felt extremely underqualified, because the level of what was happening there, even after Reflections, was so high, not only in the ingredients but also the techniques, timing, and running a restaurant kitchen. The expectations and the striving for perfection were exhilarating. And I met Mari there."
THE GMA EFFECT
"A 40-seat fine dining restaurant was my ultimate dream, but I never could have imagined that it would be in this environment on Lake Michigan," said Chamberlain. "So when we got this opportunity in 2007, we just couldn't pass it up. We had no money then, so we begged and borrowed, and we opened in 2008. But it was a very scary time to open a fine dining restaurant. Everybody kept telling me, 'Fine dining is dead. Do something different.'"
Chamberlain admitted that the first years were tough. "I worked my tail off with a very inexperienced staff. And then in 2011, Good Morning America awarded the Sleeping Bear Dunes National Lakeshore the title of Most Beautiful Place in America. That just blew everything up — and I say that in a good way. We were just beginning to hit our stride at that point, but suddenly Glen Arbor, which sits in the middle of the National Lakeshore, was on the map. We were getting calls from people in foreign countries, asking questions, and making reservations for the next summer, and at first we thought it was a joke. But it was real — tourism here changed after that. Our busy season now extends from April through Halloween. And that allows me to give a good living wage with stability to the professional staff that I need."
WHAT'S FOR DINNER?
Now in year nine with Blu, Chamberlain said what he sees happening is exactly what he wanted to create from the start: a fine dining restaurant in which the ingredients dictate the menu, not the other way around. And that menu changes daily, depending on what is available and in season.
"For the most part, people who call for reservations and come in don't know what they're going to have for dinner that night — and that's exciting to them. And I can give my creativity free rein. The staff has been prepping things all day or all afternoon, and they might think they know what's going to happen with them, but they don't really know. At about three o'clock, I'm looking over the prepped ingredients, and the menu for that night goes from my head to the paper to the wait staff to the kitchen. The menu is literally printed at about 4:30, and we open at five."
A few of the things that landed on a recent menu included fried green tomatoes with tomato-rosemary cream, feta and capers; veal sweetbreads with green tomato jam, almond and mustard green salad; duck confit with pineapple-vanilla duck jus; and Bouchon (chocolate flourless cake with chocolate malt ice cream).
With a menu this ambitious, it's not surprising that the beverage selection is also carefully curated, giving ample space to bubbly (local blanc de blanc, prosecco and champagne) as well as Old and New World red and white wines, Michigan wines, and top-shelf spirits.
Chamberlain's appreciation, enthusiasm, and respect for all of his ingredients and suppliers goes deep, but he has a special place in his heart for those from nearby. "I serve a lot of local chicken, sometimes fish from the Great Lakes, and local produce from Loma Farm, Stonyfield Acres, and Bardenhagens, among others. With several of the farmers that I deal with, I've offered money up front in the past and said, 'I want you to leave my beets — or parsnips or potatoes — in the ground over the winter and give them to me in the spring,' and it's so worth it. You get a potato that you can eat raw like an apple – it's so crunchy and sweet. It's a mystery to me how it changes. And the parsnips don't have that woody core — they're so much sweeter — but still crisp. It's incredible.'
WHAT'S IN A NAME?
"People are always asking how the name Blu came about," said Chamberlain. "Well, if I hadn't ended up in this career, I probably would have been in marketing, because I like trying to figure out what's going to make people do something, and I like things that are named in a way that aren't telling you exactly what they are — you have to think a little bit. In this case, my inspiration came from just looking out of these windows at the water and the sky — blue. And they are always changing, just like our ingredients and menus. I've seen thousands of different shades of blue out there over the years, but at least once a month, something happens that none of us has seen before, and we will all stop and wonder. So the word 'blue' worked. Then it was just a matter of dropping the 'e' to make it more interesting and finding the right font to make it look clean."
Chamberlain acknowledges the drawbacks of being a destination restaurant in the off season, but said he wouldn't have it any other way. "I have had people suggest that I should move Blu to Chicago or some other city avoid those drawbacks. And my response to that is that I'm in this most beautiful place, and luckily, our success and our understanding the ebb and flow of the year have brought us to the point where we can look forward to the quieter months to rejuvenate and not stress about the restaurant not being full on a Saturday night in the middle of the winter. I often compare it to the life of a bear, just to kind of feast in the summer and rest in the winter. It's natural at this point. And we try to make the best of it, and enjoy it for what it is."
Blu is located at 5705 South Lake St., in Glen Arbor. Open for dinner Tuesday – Sunday; closed Monday. Reservations are suggested by calling (231) 334-2530. For more information, visit glenarborblu.com or check out Blu's Facebook page. Rating: $$$-$$$$
ODE TO BOCUSE
LYON
Chamberlain: "Two years ago, "Mari and I went to Europe — my first trip. The main reason was to make a pilgrimage to the 3-star Michelin restaurant Paul Bocuse, in Lyon, which has been operating for 52 years. With as long as I had wanted to go there, and the great expectations, I was so nervous when I finally got there. It is extravagant, but it is unlike anything you have ever experienced. It still puts me in awe just thinking about it. What a sensational, beautiful restaurant that is — it's hard to explain how perfect it was. It's a shining example of every little thing that we strive for here at Blu, but especially the hospitality. That's really what it's all about, whatever kind of restaurant you have. I mean, the food was amazing, but it was such a hospitable operation. We're going back again this year!"
ODE TO RABBITS
PARIS
Chamberlain: "This is the first year that I've put rabbit on the menu. When Mari and I were in in Paris in 2015, we went to a restaurant called Lapin, French for 'rabbit.' Among other things, not surprisingly, the menu featured rabbit prepared a dozen different ways — terrines, sausages, confits, shredded on salads — and we enjoyed it so much. That really got me going, and I thought, I need to add this to what I'm doing. Then back home, I saw an episode of The Chef and the Farmer on Netflix that was all about rabbit. It's one of the fastest developing meat proteins, with the least amount of feed going into it, so it's very sustainable. There are now two rabbit farms in this region, too. So I told myself again, I've just got to figure this thing out. Right now I'm doing a rabbit galantine. So far it has been quite a good seller."
Trending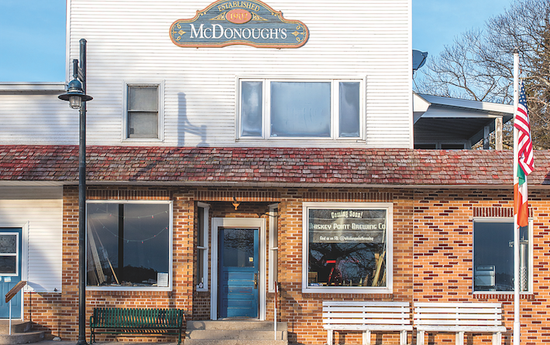 Welcome to Michigan's Most Remote Brewery
After years of planning and honing his beer-making skills, this spring, Patrick McGinnity plans to open Beaver Island's first microbrewery. Opening a craft brewery is challenging. Opening one on a remote island in Lake Michigan that's either a 15-minute plane ride or a two-and-a-half-hour ferry ride from ...
Read More >>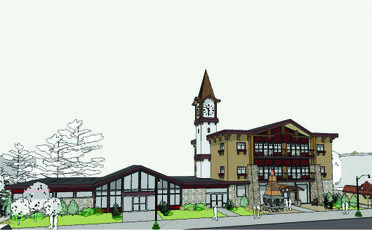 Gaylord: A boomtown Up North
Gaylord native Gary Scott had moved to Indiana, where he and some partners started a business to invest in distressed properties. He was talking to a banker in Detroit about real estate in Bloomington when he asked what kind of deals might be available in northern Michigan. ...
Read More >>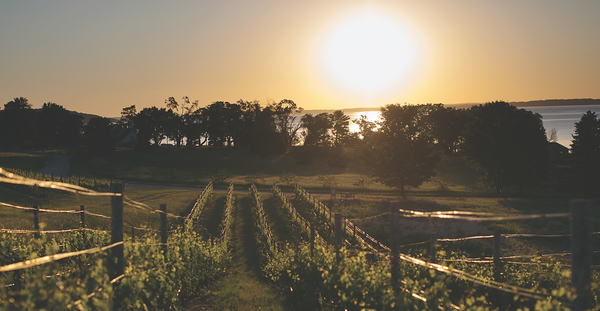 The Latest on the Region's Wine Scene
So many wines, so little time. Each year brings new vintages, new styles, new tasting rooms and events, even new grapes. With some four dozen wineries scattered around the region, how do you keep up with what's new and exciting? For starters, the Old Mission Peninsula Wineries ...
Read More >>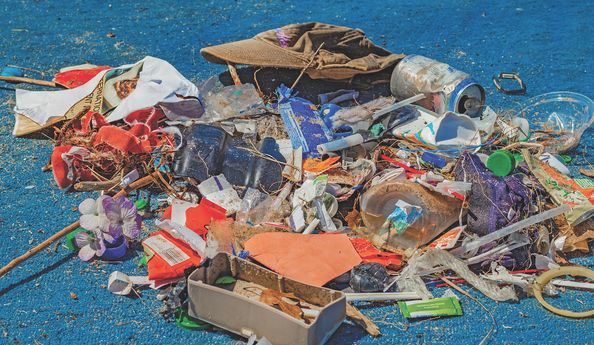 Does Grand Traverse Bay Have a Plastic Problem?
Some seasoned beachcombers noticed an alarming amount of plastic trash washed up along Grand Traverse Bay this spring, fueling worry that's been building over how so much plastic is getting into the Great Lakes and what the consequences might be. Photographer John Robert Williams has spent years ...
Read More >>
↑