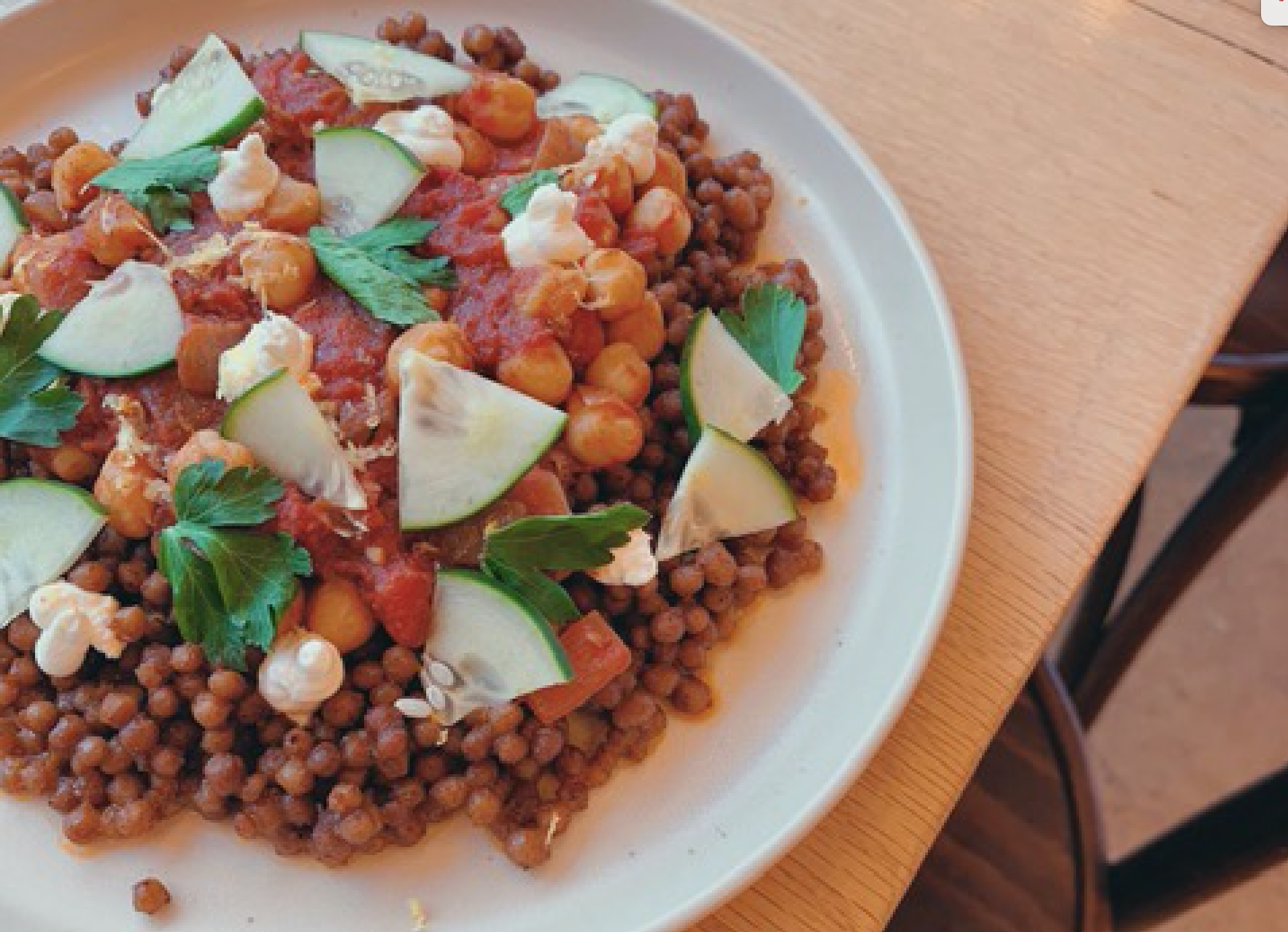 Traverse City's Hexenbelle
Global comfort food, locally roasted coffee, and magical baked goods for a better world
One of Traverse City's newest and most innovative restaurant/cafes, Hexenbelle, launched in November 2020, is the concept of Christian Geoghegan (head chef), Hanna Lane (head baker), and Heather Webber (head of the coffee/espresso program). The members of this young trio are already recognized among those in the local food and beverage community as up-and-comers to watch. Northern Express talked with Geoghegan, whose multicultural background not only inspires many of the dishes on the wholly vegetarian Hexenbelle menu but also helps to foster an atmosphere of respect and inclusion for people and foods of all kinds.
The story behind the name Hexenbelle reads like a fairytale: The word breaks down into Hexen, the German word for witches, and belle, the French word for beautiful. The combination evokes a magical forest flower for the restaurant's founders — thus the wildflower-like logo. And with their feminist beliefs (witches, being powerful female figures, represent sisterhood and a reverence for Mother Nature's gifts), they like to think it represents the secret special ingredient in everything they create, but also the fact that they are conjuring up food and drink to make others happy.
Two of the first things that will probably catch your eye when you enter Hexenbelle for the first time are its soothing pink color scheme (an homage to women, meant to be reminiscent of a womb), and the large Palestinian and Pride Progress (LGBTQ+BIPOC) flags adorning one wall. Christian Geoghegan, who worked alongside Chef James Bloomfield in this same space when it was Alliance, is fully on board with celebrating women — in a pink-hued setting or anywhere else. And as a biracial person of Palestinian descent who identifies as non-binary, Geoghegan feels a deep connection with both of the flags displayed. Born in Livonia, just outside of Detroit, to an Irish father and a Palestinian mother, Geoghegan grew up in an Arabic household and honors that heritage. (Note: Geoghegan prefers the use of they, their, and them to the usual male and female pronouns, which is reflected in the text of this article.)
The passions behind Hexenbelle's existence are simple: carefully curated, delicious, and conscientiously prepared vegetarian fare, freshly baked pastries, and locally roasted coffee (from Chuck Korson at BLK/ MRKT Roastery, Lane and Webber's former employer). But its creators are also committed to having the venue be more than just a place to eat and drink.

The trio wants Hexenbelle to be dedicated to expanding people's horizons (culinary and otherwise), tempering prejudices, bringing people together, and supporting worthy causes (see sidebar). It's a tall order, but one that these three smart, highly principled, compassionate individuals strive to fill every day. And judging from the positive and enthusiastic public response to Hexenbelle ever since it opened, this region has an appetite for both its food and its ethos.
"Growing up, I was very close to my maternal grandmother, whose family had deep roots in the Palestinian city of Ramallah," said Geoghegan. "She and my mom are my two biggest food influences — that's where my love of cooking came from. I have younger brothers, but I was the firstborn, and my mom and dad were both working when I was little, so my grandparents would look after me, and my grandma would cook all of these wonderful Palestinian dishes.
"She had come to the Detroit area as a young girl with my great-grandparents, immigrants who had been forced out of their homeland. The family tried very hard to fit into their new surroundings, but my mom, as a woman and a brown person growing up in Detroit in the '60s and '70s, endured a lot of racism and harassment. I suffered the same fate after 9/11. We were basically told that we needed to assimilate to try to move forward. But the irony is that by trying to assimilate, you lose some of your identity. Still, our traditional food has remained a thing of great significance to my family, and I hope that by sharing my version of it here at Hexenbelle, I can reclaim part of that identity. It's one way of keeping Palestinian culture alive and making it something that can be enjoyed and appreciated by others."
Hexenbelle's menu is all about comfort food from different global perspectives, and Hummus is the single most important thing on the menu for Geoghegan. "All cooks talk about 'What would be your last meal?' and mine would be hummus," they said. "I know it will never be as good as my grandmother's — ever — but that's OK. We don't use a recipe. It's not that we're arrogant; it's just that it forces us to be present each time we make it and try to understand how the tahini is sometimes different, and the chickpeas are sometimes different, and you work from that to get it to where it's balanced on your palate."

Geoghegan's hummus is served with flatbread, drizzled with Hexenbelle's very special olive oil — fair trade, organic, Jenin Palestinian Olive Oil — and dusted with house-made za'atar spice mix. Another classic Palestinian comfort food on the Hexenbelle menu that transports Geohegen back to their grandma's kitchen is maftoul, a soul-warming dish of couscous with tomato-stewed chickpeas, labneh, and cucumber.
The menu features many Arabic and Middle Eastern items, but also food from other parts of the world. "My respect for hummus became kind of a guiding principle and root for including other iconic international dishes in our selections. I thought, 'OK, if hummus is that important to me, every other country or world region has the equivalent of that,' they said. "It might be Asian fried rice. It might be Mexican mole. It's that food that defines their culture, their quintessential emotive food experience, and what everyone can relate their memories to."
Breakfast and lunch offerings are relatively static, but for the dinner menu, Geoghegan tries to do a new dish every week. "I think we started with Mapo Tofu, an umami-rich Sichuan dish with doubanjiang (a spicy fermented broad bean sauce) served over rice," they said. "It was inspired by James Beard award-winning chef Danny Bowien from Mission Chinese in San Francisco — he's one of my favorite chefs. It took a lot of research to understand not just the cooking process for it but also the ingredients and the why and the how of it, but that's important to me. This weekend for dinner, I'll do a Persian dish, Chelo ba Tahdig, which is Persian saffron and ghee rice. The rice is really the main thing, but we will serve a Great Northern Bean khoresh (stew) with it, as well as yogurt on the side and pomegranate seeds, because some people might be hesitant to order it if it were just rice."
Geoghegan also feels it's important to understand the relationship of food to the season, and he genuinely appreciates local farmers and the great things they are doing. "We're so blessed up here," they said. "There is so much amazing produce available. That's what keeps pushing me, and that's why Heather and I became vegetarian and then vegan. Obviously, that can be a challenge when you're working in the culinary field. I was a vegetarian while I was working at Alliance, but I was still trying everything because I wanted to learn, and it was part of my job. James, by the way, was a great mentor to me at Alliance, as was legendary Tapawingo chef Pete Peterson, who was doing front of the house there for about a year. Those two, and so many others, made the effort and took the time to teach and guide me, and I am grateful for that."
Building on their previous experiences, the Hexenbelle partners saw a way to use all of their different talents in one place. "All of us have strengths and weaknesses, and luckily the weaknesses are overlapped by someone else's strengths," said Geoghegan. "I'm a good cook but not a great baker, so thankfully, we have Hannah, who is the best baker I've ever been around. She keeps our bakery case stocked with a rotating array of sweet and savory breads, pastries, cookies, and cakes. Her Guava Bun — babka dough filled with cream cheese, guava jam, and lime zest — is incredible. She surprised me recently with her new Peanut Butter Tahini Cookie, and I was blown away.

"And then we have Heather, who is a barista extraordinaire. Her Witches in Paris coffee creation — with powdered sugar, butter caramel sauce, and cinnamon — is insanely good. Together we can do this unique thing that's somehow connected because we're all on the same page. It's not three individual people, it's a unit. We view it like music — three major tones in a chord. All different notes, but they're combining to produce something harmonious."
Find Hexenbelle at 144 Hall St., Suite 107, in Traverse City's Warehouse MRKT. Online orders only: at hexenbelle.square.site. (Note: If an item is active on the website, it's available to order online.) For more information, including days and hours of service, see website, email hexenbelle@gmail.com, or call (231) 486-6128.
GIVING BACK
"We all feel very lucky to be where we are, doing what we want to be doing, and it motivates us to be constantly engaged with helping others who aren't so fortunate," said Geoghegan. "We celebrated the winter solstice — something we carried over from BLK\MRKT — by donating to hospice. We also champion women's causes. We're 2/3 women-owned, which is a huge thing for us. We definitely want to start working with people from Up North Pride, too. We're not going to pretend we don't care about political causes or environmental causes or ethical causes, like people who are marginalized. Everything and everyone matters to us, and we don't try to hide who we are or who we support. We also know that we're lucky because of the help we've received from so many sources, so it's important for us to give back, or give someone a platform, or give someone a voice, or have a location for events that matter. I really want to host group events here when it's safe to do so again."
Photo above: One delicious result of Geoghegan's interest in Sichuan food: His Sichuan Mapo Tofu. "I'm very interested in Sichuan food, especially since studying the history of the Silk Road," Geoghegan said. "It started in Xi'an in China and went all the way to the Middle East, and you start to see the culinary line through that whole region. You see lamb dishes, certain spices like cumin, and other flavors of China and you're like, oh, that's familiar to me. But when I want to cook Sichuan food — or food from any other culture that is not my own — I'm kind of asking permission. And the permission is that if I respect its origins and it's tasty, it's OK."
Trending
Goliath Brewing Co.'s Scorpius Morchella
There's not a lot we don't like about Iowa's Topping Goliath Brewing Co. Purposely founded in th...
Read More >>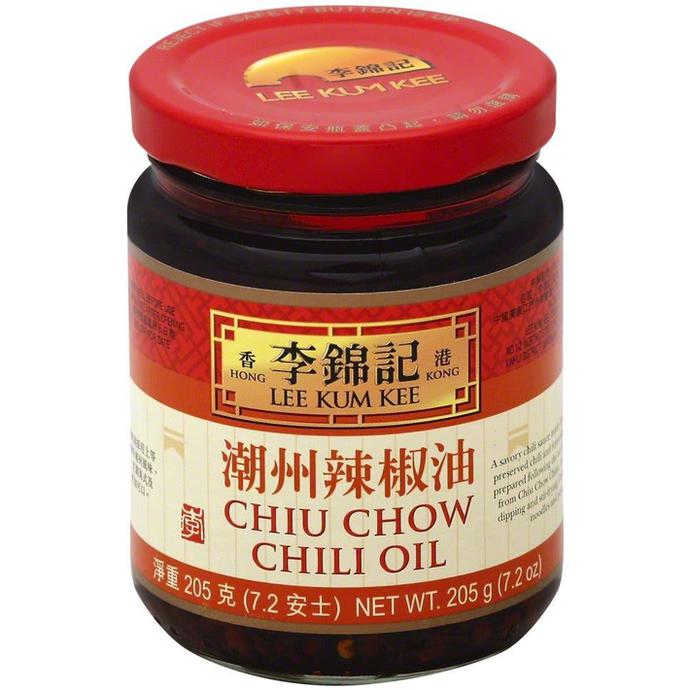 Chefs' Secret Weapons
My own "secret weapon" is a birthday gift I received from my husband some time ago (after several hints had be...
Read More >>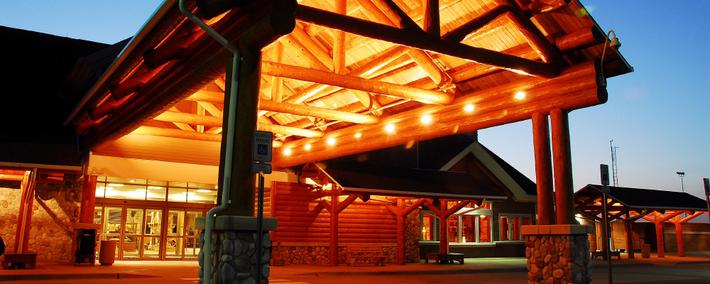 Where to Eat this Spring
Please be seated for these abbreviated versions of the restaurant profiles we've featured since our last Restaurant ...
Read More >>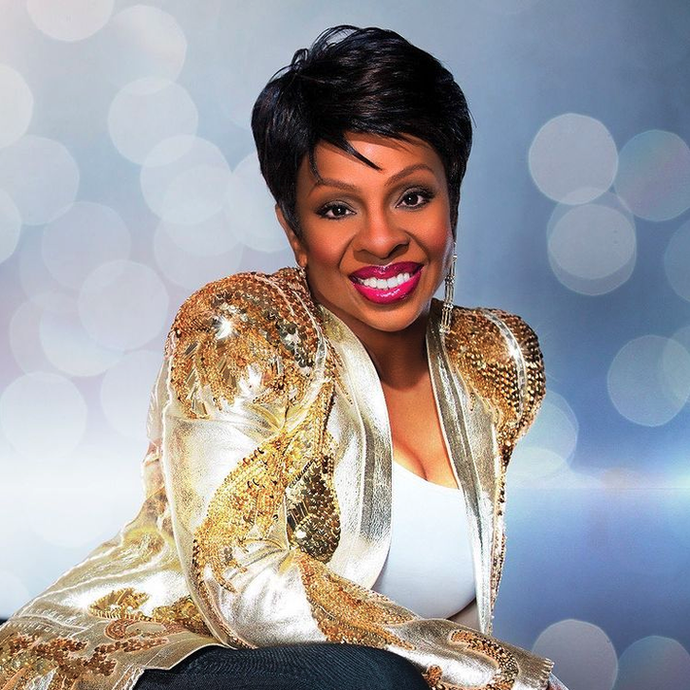 Live and In-Person Performances at GLCFA are Back — and Big
In the good old summertime, people used to gather, enjoy one another's company, and do things. One of the things the...
Read More >>
↑