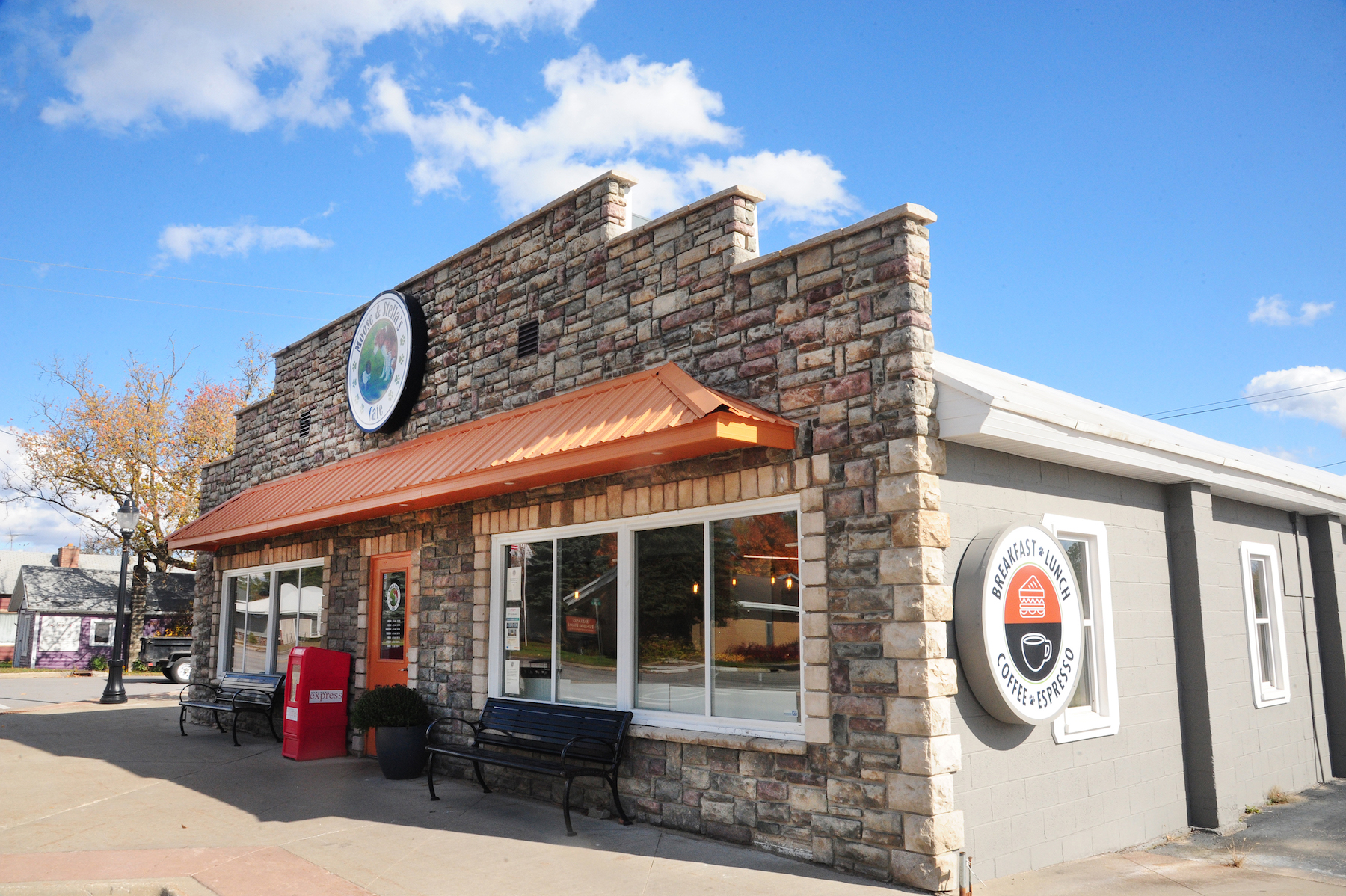 Kalkaska's Moose & Stella's
Big dogs and fine feasts for hungry humans (and their pups)
Dan Bloomquist and his wife, Evamarie, bought Breakfast & Burger Express in downtown Kalkaska at a great time: December 2019, just before the COVID-19 pandemic hit. Bloomquist considers the forced closure a bit of a lucky break.
"It took a little while because some of the construction companies were closed too," Bloomquist said. "But it gave us time to get remodeling done. It kind of worked in our favor, because I was going to try to do remodeling in the evenings and stay open during the day. That would have been kind of hard."
Bloomquist also owns another restaurant, Trout Town, in Kalkaska just a few blocks away, which has an Up North, outdoorsy feel to it. The owners thought about a similar theme for their new restaurant but decided to go in a different direction.
GOING TO THE DOGS
"We were taking way too long to try to figure it out," Bloomquist said. "Someone had mentioned a dog theme, and we were intrigued. There are no real dog-themed restaurants up here that we know of."
The owners eventually settled on Moose & Stella's Café, named after their own dogs — Moose, a Brittany, and Stella, a Yorkshire Terrier.
"It turned out to be a great choice," Bloomquist said. "I think people love the decor and you know it's not overwhelming with dogs, but we do have a few dog pictures."
The owners' dogs have not been to the restaurant, but its logo, which can be found throughout the restaurant, shows a rendition of the Bloomquists' pets.
The rebranded dog-themed restaurant opened around Memorial Day weekend, and since then, business has been good, according to the owner.
FANCY FRENCH & BIG DOGS
Not only did the restaurant get a makeover, but so did the menu. Bloomquist and his wife did "extensive research" by visiting several popular restaurants during a trip to the Detroit area.
"We took a lot of information from some of the trends that might get to northern Michigan a little late," Bloomquist said.
Most importantly he wanted to offer the community something different. Although French toast is a staple at most restaurants, Bloomquist says Moose & Stella's takes the breakfast dish to the next level. Currently, they have a German Oktoberfest inspired apple strudel French toast. There is also a baked French toast, which is more like a bread pudding. And there is stuffed French toast with mascarpone cheese. Even the standard French toast has a twist; it's made with thick, chewy Halal bread.
On the lunch menu, paninis have made the line up along with gourmet hot dogs.
"Being a dog-theme restaurant, we had to have dogs on the menu," Bloomquist said.
There are four different quarter-pound certified Angus beef hot dogs to choose from, including the Detroit Coney, Jalapeno Popper, Carolina Slaw Dog, and the Buffalo Bacon Bleu — none of which are average in size.
"The hot dogs are huge," General Manager James Meeker said. "People are freaked out by the size of them. We sell quite a few of them, especially the Coney dogs."
Meeker said all the sauces are made fresh, in-house, and the bread is from Traverse City Bagel & Bakery. The soups are made from scratch at the restaurant and so are the baked goods. On a recent visit, pumpkin spice cupcakes sat next to the cash register for sale.
Another addition to the menu is the $2.99 plain Doggy Burger, which is intended to go home in a doggy bag for customers' four-legged friends.
"This is a new menu for us and I am sure it is going to evolve," Bloomquist said. "We're going to keep it fresh and keep the great things, but the things that don't move so well, we will change seasonally."
One item that didn't make the cut: the Belly Buster challenge. Those who ordered it were challenged to eat a loaded two-pound hamburger or an enormous breakfast skillet within 30 minutes. The winner had their picture taken, received a free shirt, and did not have to pay for the meal, which cost $19.99.
"It was a cool thing for Breakfast and Burger. It worked for them for the longest time," Bloomquist said. "We want to be something different and go in a different direction [here]."
Some of the more popular items on the former menu, like the breakfast skillet and hamburgers, still remain on the revamped Moose and Stella's menu — some just under new names.
KALKASKA CAPPUCCINOS
Another new edition, not only to the restaurant but also Kalkaska, is gourmet coffee.
"I think we're the only place in Kalkaska that has a real cappuccino machine," Bloomquist said.
The restaurant offers espressos, lattes and cappuccinos. The owner hopes to expand its options and have seasonal drinks available.
"Right now we have a pumpkin latte," Bloomquist said.
The restaurant is only open for breakfast and lunch, which frees up the kitchen for catering. Bloomquist said the kitchen was upgraded with convection ovens and ranges to help out with that side of the business.
In the next couple of years, Bloomquist hopes to expand the catering business and have a patio for outdoor seating.
"Those are some of our goals," he said.
Overall the re-branded restaurant has been well received by the community, the owner said.
"I would say our responses have been 99 percent positive — and from the tourists as well," Bloomquist said. "There's a lot of people coming through, and we're seeing a lot of new faces and I'm hoping to build on that."
Moose and Stella's is open 6:30am to 3pm Monday through Saturday, and 7:30am to 3pm Sundays. Find it at 203 S Cedar St., Kalkaska. (231) 258-9779, www.mooseandstellas.com
Trending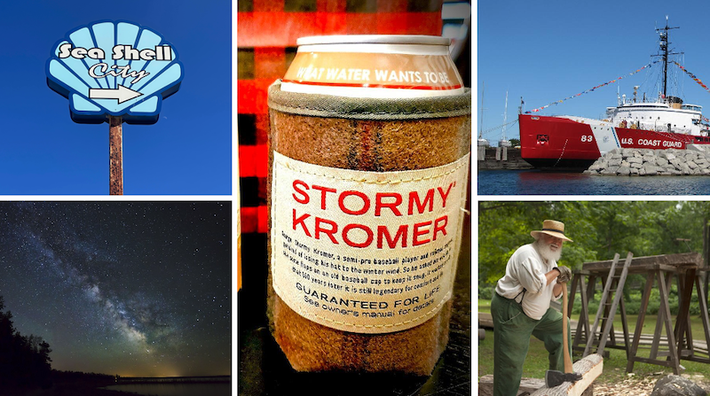 Must-sees on the Way to da U.P.
Whether you want to stretch your legs or stretch out your vacation, try at least one—or all!—of these detours ...
Read More >>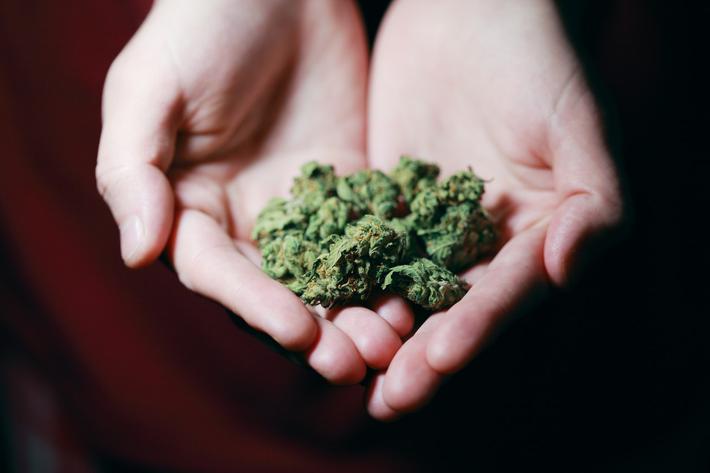 Traverse City Going Green(er)
After years of limbo, Traverse City's City Commission voted to move forward with allowing retail recreational mariju...
Read More >>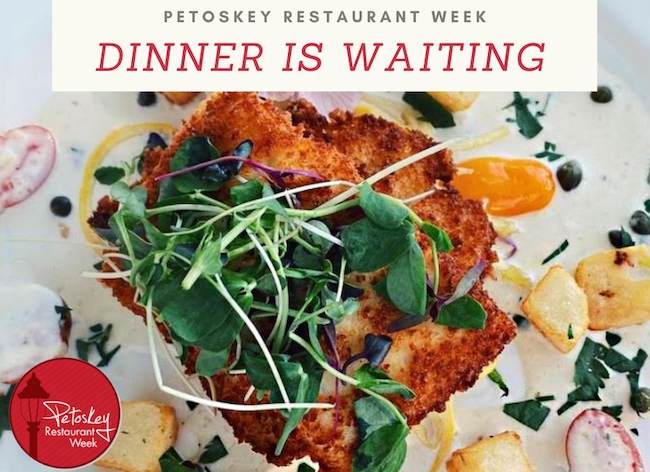 Restaurant Week Is Happening Now in Petoskey
Play hooky before the long weekend and make a stop in Petoskey for their spring Restaurant Week, running May 20-27. Three-...
Read More >>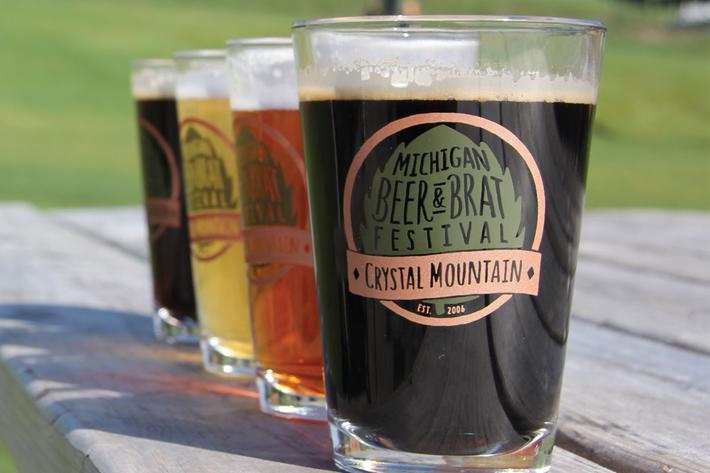 We See Beer and Brats in Your Future
The 15th annual Michigan Beer and Brat Festival is making a comeback Saturday, May 28, at Crystal Mountain in Thompsonvill...
Read More >>
↑