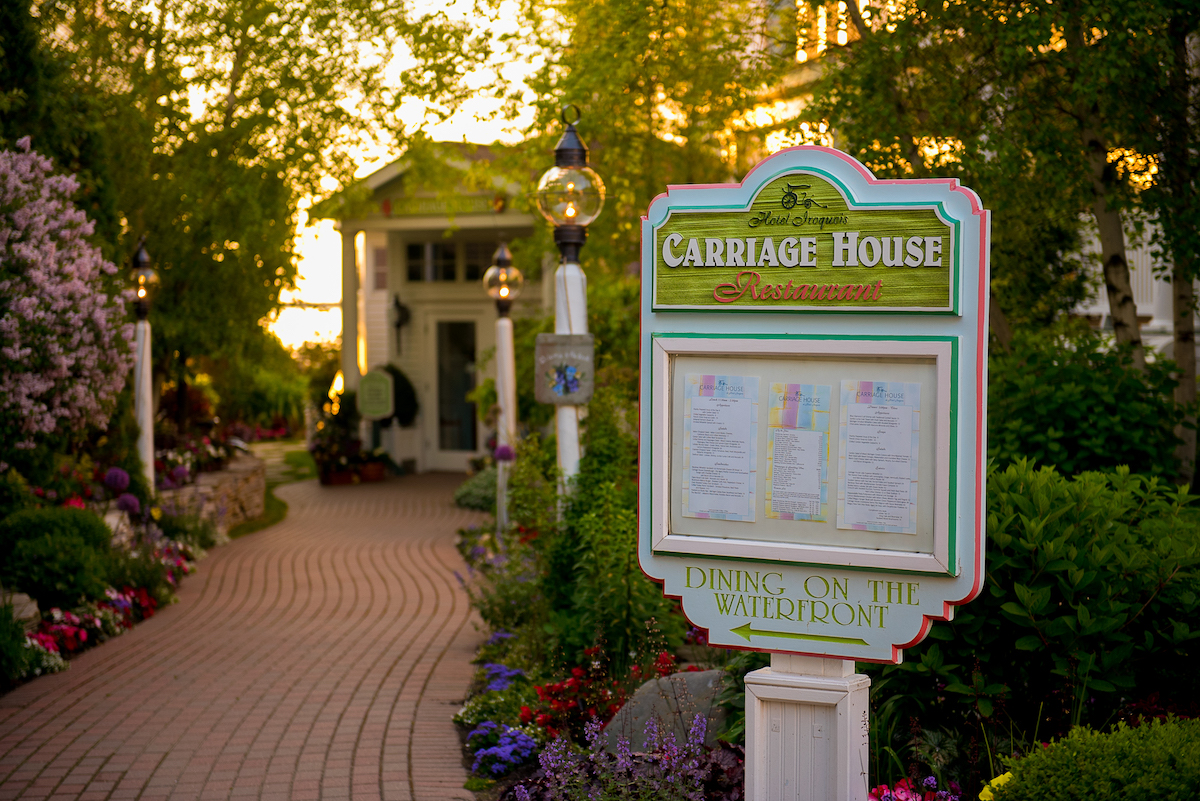 Take a Ride to the Carriage House
Fine dining awaits on Mackinac Island
Mackinac Island blacksmith Robert Benjamin had an eye for prime real estate. In 1900, he built his home near Biddle Point, overlooking Lake Huron and the Straits of Mackinac, on one of the most beautiful waterfront parcels on an island chock full of beautiful waterfront.
Benjamin didn't stay long, but he did start something: In 1904, Mr. and Mrs. Samuel Poole assumed ownership and created the first iteration of Hotel Iroquois, maintaining ownership until 1954. They sold to Sam and Margaret McIntire, and the McIntires expanded the hotel and opened the Carriage House restaurant in 1958.
Margaret McIntire, in her 90s, still came in daily to keep an eye on operations until the perfect buyers appeared in 2020: the Jon Cotton family, Michiganaders and longtime patrons of the Iroquois who dreamed of owning the hotel and carrying on in the same spirit. So far, it seems they have succeeded, especially with the continued legacy of outstanding food at the Carriage House.
A European Influence
Everything about the restaurant feels impeccable—as crisp and fresh as the breeze coming off the Straits—from its chic style and easy ambience to its exceptional quality and flawless service. The Carriage House is widely lauded for its stylish interior and flower-bedecked verandas facing the vivid blue of the Straits, and the stunning gardens are worthy of their own profile.
One enters through an award-winning Victorian garden brick pathway—a dreamscape of flowers, decorative trees, shrubs, and greenery. Inside, the style is sophisticated Victorian, with a polished, worldly look that speaks to the property's historical roots without being quaint. (A true Victorian might reach for the smelling salts, but for today's guest, it's just right.) This version takes the plump upholstery, intricate woodwork, and patterned wall coverings of the era and gives them a jumpstart with deftly combined colors, textures, and patterns.
In keeping with the theme, the dinner menu presents smooth interpretations of classic American dishes with European sensibilities.
"I like European cuisine because everything is from scratch," says Chef Greg Murphy, whose kitchen is also all scratch and house-made, using the best products available. Think organic greens from Presque Isle Farms; whitefish from Big Stone Bay in Mackinaw City; grass-fed beef from a boutique operation in South Dakota; and sweet, rich scallops from the deep waters off the coast of New Jersey, one of the nation's top providers. "Some of the best scallops in the world come from this area," Murphy says.
Murphy learned his trade at Schoolcraft College's renowned culinary program, but he earned his bona fides at the nationally-known Golden Mushroom, Detroit's finest restaurant at the time, with Milos Cihelka, the nation's first certified master chef, at the helm. (To date, there are fewer than 80 Master Chefs worldwide.) "That was my boot camp," Murphy says. "It was the place to work, let alone to eat. If you were going to be a good chef in Michigan, you had to work at the Golden Mushroom."
Dining in Style
Murphy brings all of that expertise to the kitchen each May when the restaurant reopens after the winter. His whitefish, delicately seasoned, is a menu favorite, and it can't get much fresher than what one finds at the Carriage House. Other must-tries are the Pan Seared Diver Scallops, with lemongrass and ginger atop a bed of wild mushroom risotto, and the 8oz Filet Mignon with Sauce Béarnaise. Sautéed morels are available as an add-on. (Add a lobster tail for an all-American Surf and Turf.)
Before the main, begin with an appetizer: Smoked Whitefish Cakes with Mustard Vinaigrette, Escargot with French bread toast points, or a Jumbo Lump Crab Tower with fresh salsa and avocado are great starters. And, if one prefers, end the meal with Lemon Meringue or Peanut Butter Pie or an Iroquois Hot Fudge Mackinac Tin Roof.
Not to be outdone, the lunch and veranda menus include sparkling fresh salads, soups, sandwiches, and more. (Like caviar!) Try the Grilled Shrimp & Asparagus Salad, the Open-Faced Crab Melt, the Wagyu Hamburger with Morel Cheddar Cheese, or the American Wagyu Reuben.
On the drinks side, the Carriage House wine list is serious and comprehensive: One can drop a Ben Franklin—or several—on a special vintage from a distinguished winery in Napa, Sonoma, or Washington, or choose from some of the world's most respected vintners. Linger after dinner with a port or Cognac, or choose a fine scotch, bourbon, or small batch tequila for sipping. Nightly piano music is the perfect accompaniment to the evening's end.
When to Visit
Reservations are "highly encouraged," says general manager Suze Oostendorp. "The Carriage House is the premier waterfront dining location on the island, and space fills up quickly." There is seating for 120 indoors and 100 outdoors, but during high season, the restaurant serves about 250 dinners nightly and around 500 dinners during the Chicago Yacht Club Race to Mackinac. (This is one of the best spots to see the finish line of the "Mac.")
The Carriage House offers dinner service May 13 through Oct. 15; lunch service is available May 28 though Sept. 11. For more information, visit iroquoishotel.com or call 906-847-3321. 7485 Main Street, Mackinac Island.
Trending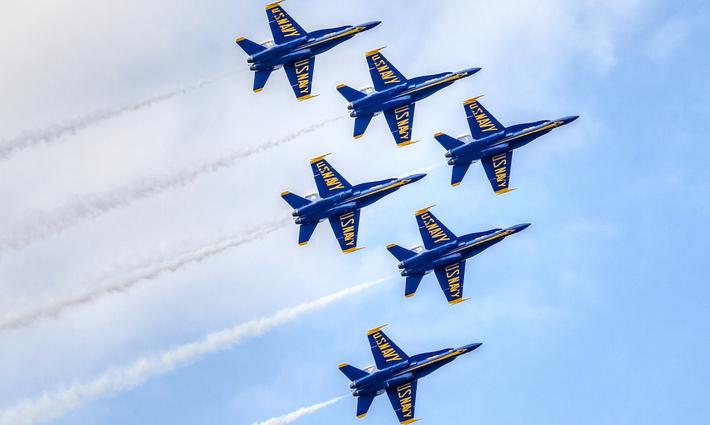 The Wind Beneath the Blue Angels' Wings
Crowds gather along Grand Traverse Bay to gaze into the sky for the biggest beach bash of the year. A voice shouts, &ldquo...
Read More >>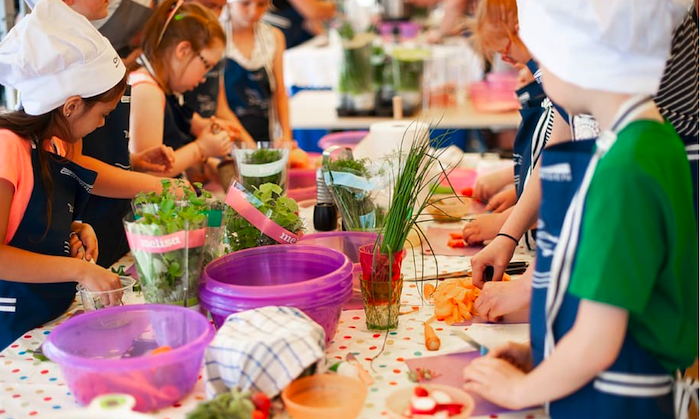 Creative Solutions to Food Insecurity
Food insecurity remains an ongoing concern in Michigan, with the nonprofit Feeding America reporting that in our state, 1 ...
Read More >>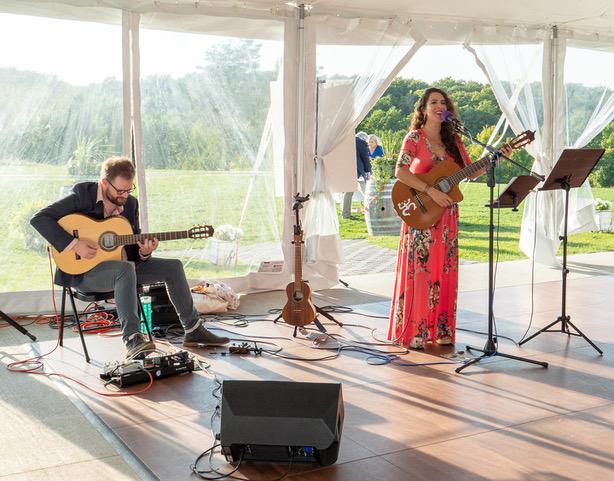 In Gratitude
"In Gratitude," a free community concert, will be held at 7:30pm on June 30 to thank the many donors and suppo...
Read More >>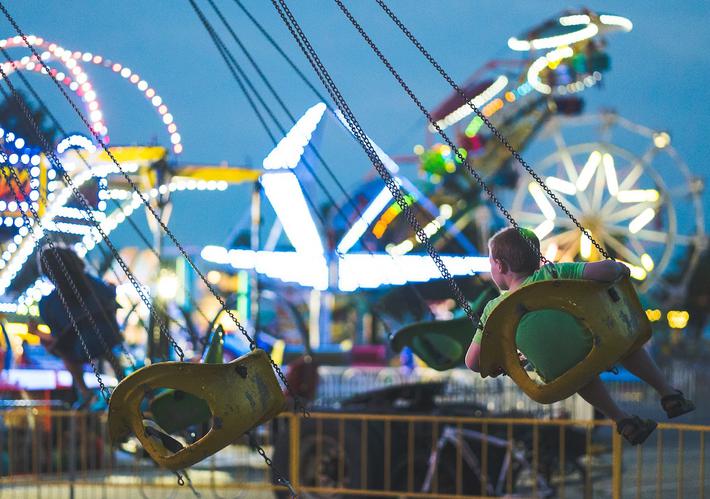 Forest + Festival = Fun
For more than 80 years, folks in Manistee County have been celebrating the Manistee National Forest Festival. This year, t...
Read More >>
↑