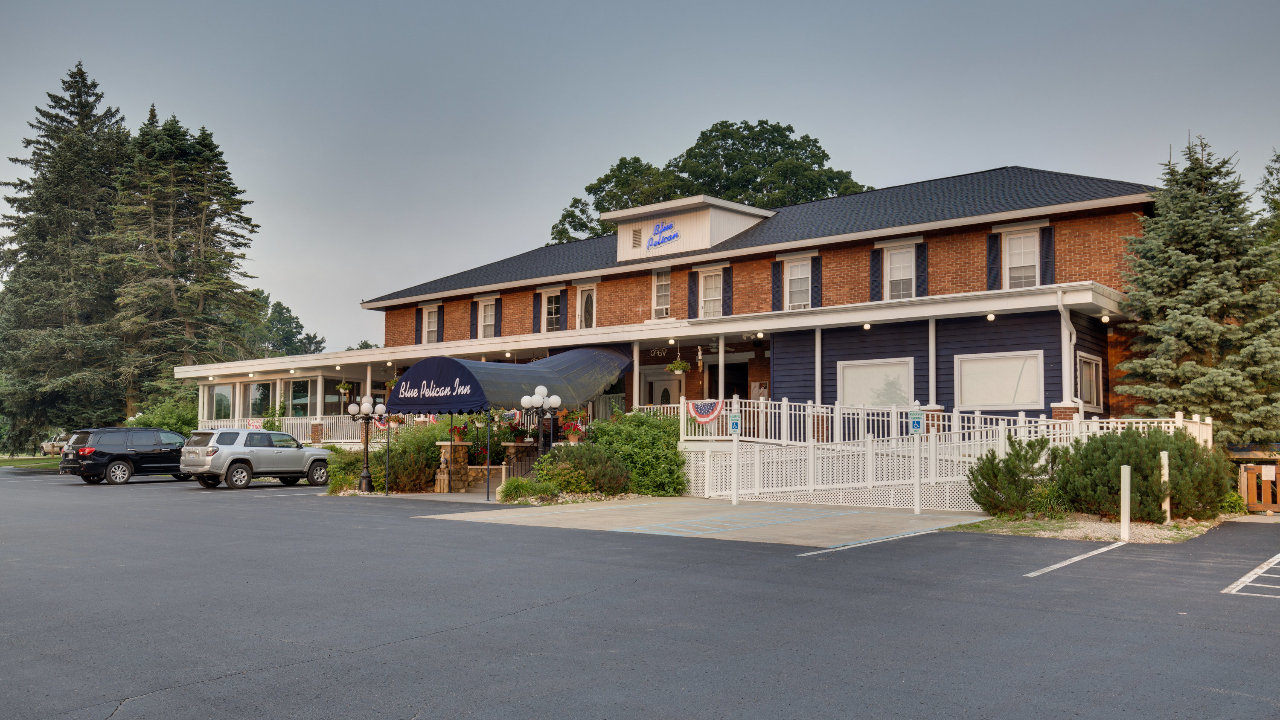 The Sea Bird in Central Lake
The Blue Pelican Inn and Restaurant gears up for the summer season
Chris and Merrie Corbett are experts at spotting a hidden gem. Since starting their first northern Michigan business—Adams Madams boutique in Central Lake—in 2002, the pair has wasted no time in amassing a whopping 10 other area properties.
Their leisure and retail locations include Bellaire's Centennial and The Chief golf courses; a couple of vacation rentals (Valley View Cottage and The Roost in Bellaire); three hardware stores; and recently, Central Lake's Village Market location. With four eateries now under their belts (including The Pelican's Nest and Gabby's restaurants in Bellaire), the Corbetts just keep striking gold.
But the restaurant we're writing about today was nearly halted in its tracks. The Blue Pelican once operated on the corner of West Old State Road and East Torch Lake Drive, but a fire in 2008 destroyed the original location.
When they got the opportunity to purchase Murphy's Lamplight Inn a few months after the fire, the Corbetts simply couldn't stay away. Constructed in 1924, the building was initially geared towards transient labor, like salesmen and local railroad workers. It changed hands several times before the Corbetts purchased it from the Murphys with big dreams for the space.
A Modern-Day Destination
Opened in May 2009 following extensive renovations, The Blue Pelican Inn and Restaurant has gone on to make its mark as a true local treasure. The building encompasses four distinct dining experiences, as well as the pub-style Side Door Saloon, in addition to its seven upstairs guest rooms.
For an evening of upscale, old-world flavor, the inn's original dining room and brand-new kitchen accommodate up to 120 guests. If an open ambience is more your style, the glass-paneled sunroom serves as The Blue Pelican's primary year-round eatery. In warmer months, the covered patio calls, or grab a group of friends for drinks and a live jam session on the 200-person tiki deck. "We really have something for everyone," says Marr.
It's this aim of pleasing every palette upon which The Blue Pelican's menu hinges. Built on the back of new American fare, The Blue Pelican's ever-changing offerings feature everything from East Coast seafood preparations to pub-style handhelds and Tex-Mex.
But those who frequent The Blue Pelican know its first forte was barbeque, complete with a Texas-style smoker. With the recent arrival of executive chef Jeffrey Minkwic, The Blue Pelican is poised to return to those roots. "He wants to take these dishes that we've always been known for and give them a fresh face," Marr says.
Such signature preparations include the wildly-popular Big Bang Shrimp—fried shrimp tossed in a mayonnaise-based "Big Bang" sauce spiked with just a hint of sriracha—as well as the Corbetts' own crab cake recipe. Fresh walleye features, from blackened to hand-battered and fried, are also menu staples, with a crab-stuffed version on deck for summer.
Other obvious standouts include an ever-rotating array of pastas: creamy alfredo for cooler weather or lighter Chicken and Shrimp Florentine with tiger shrimp and panko-breaded chicken breast finished with spinach and sherry wine.
Chef Minkwic also curates The Blue Pelican's proteins. These include hand-cut and seasoned New York Strip and nightly additions like decadent Veal Osso Buco or Parmesan-Crusted Chicken served with whipped potatoes and rich beurre blanc. "We're honing the menu back to what The Blue Pelican is known for, which are those luxury dishes that are still affordable," says Marr.
The Paranormal Pelican
In addition to its weekend renters, The Blue Pelican also houses some permanent guests. Named one of Michigan's most haunted places, the inn is filled with cold spots, mysterious noises, and that Bugs Bunny feeling of being watched.
"People get orbs in their pictures all the time," says Marr, who describes glasses flying off their shelves and objects moving as if by magic. The Blue Pelican's website lists several frequently-sighted ghosts, including a former property manager named Mrs. Gill, a young bride, and a schoolgirl in the attic dormer.
As for the skeptics still among us? A conversation with the kitchen staff might change your tune. "They have a video of the butter hovering off the counter and then dropping to the floor," Marr says.
"It's fun and it's intriguing," she continues, "and if guests are coming for the [haunted] experience, they think it's great."
The Up North Industry
These would-be ghost hunters often arrive with the annual influx of summer tourists. With about 1,000 year-round residents each, the populations of Torch Lake's surrounding towns increase nearly sevenfold in peak season. And while this boom is undeniably good for the economy—"we would see 45,000 people each week in the summer," says Chris Corbett—business plummets when people start to head south. In the already-fragile hospitality industry, this makes finding quality staff a particularly tall order to fill.
The Corbetts, however, know what it takes to keep loyal employees. "You take care of good people," says Corbett. "It's that simple. It's not all about the money, so we try to create a happy environment."
One method to accomplish that goal is to offer a host of intra-company perks. "We do activities and have a nice Christmas party. And everyone has an employee card, so if they go into one of the other restaurants or a hardware store, they get discounts on those resources," Corbett says.
Still, attracting staff is often easier said than done. "We think about all kinds of advertising. I have digital signage, counter advertising, and of course we use the newspaper," Corbett says. Still, early this month, The Pelican's staff stood at just 50 percent of its summer capacity. As such, the Corbetts often rely on part-time help to fill in the holes. "Luckily, we have a lot of high school and college kids that work in the summer, so some of our labor pulls from that," he says.
But in a region as small as Central Lake, relationships remain the most potent marketing tool. "The biggest way for us to get staff or clientele is truly word of mouth," says Marr. It's this engagement with guests and staff alike that sets The Blue Pelican apart. "If we're open, Chris is here every night," she says. "He sits with the regulars; he's here, and he cares. He lives off of those old-fashioned values of a community."
Correction: An earlier version of this article published May 14, 2022, incorrectly described the Blue Pelican Inn property as "about to be condemned" before the Corbetts bought it. The article also mistakenly referred to the ghost of Mrs. Gill as Mrs. Murphy. Northern Express regrets the errors and has made the necessary adjustments to this version of the story.
Trending
Pronouns 101
My first assignment in an online graduate-level class was to provide information about my background, including my pronoun...
Read More >>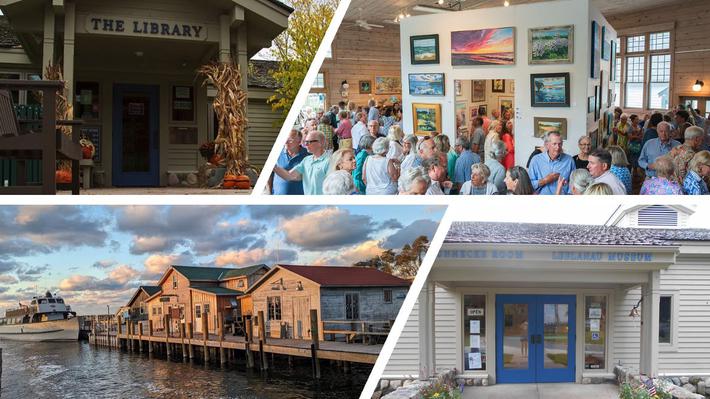 Collaboration Is the Name of the Game
How long does it take to create a cultural center? As few as three years, or as many as 170. Sometimes both. The organiza...
Read More >>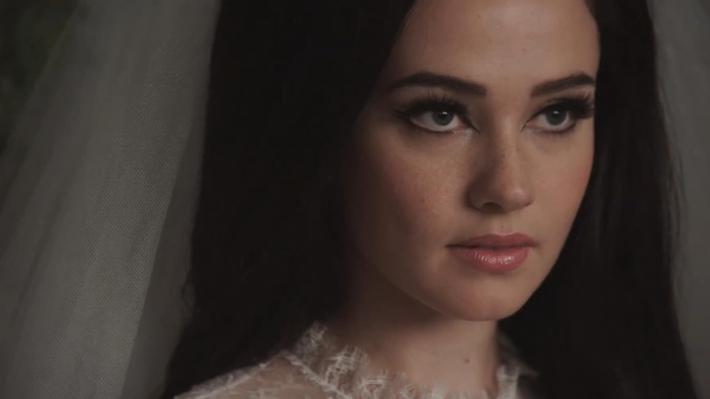 Film Review: Priscilla
While you will certainly be mesmerized by the haunting lead performance from newcomer Cailee Spaeny—and be impressed...
Read More >>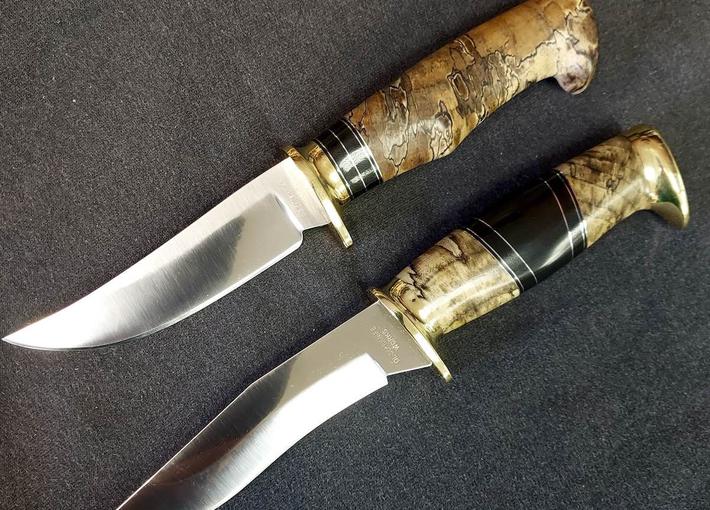 Bespoke Blades
What do you do with a battered ice skate, an old rubber puck, a cracked hockey stick, and a gob of tape? Pitch 'em, ...
Read More >>