Traverse City's Centre Street Cafe
If you haven't yet discovered this somewhat-off-the-beaten-path-but-totally-worth-the-short-detour lunch spot in Traverse City, it's time to get your Google and GPS in gear and put some excitement back on your midday plate.
While it's not easy to pin down the best way to describe what owner-chef Pete Boothroyd is serving up Monday through Saturday at his lively Traverse City eatery, one thing is certain: It's much more than just lunch. The ambience is a bit retro, but there's nothing about the Centre Street Café that's stuck in the past. Other than the diner-esque décor, the most likely reason people get a familiar or nostalgic feeing here is the fact that it is a place where people still come to make human connections in a world where technology dominates so much or our lives, where fresh, innovative and visually attractive food is affordable, where "pretentious" is an unknown word, and where the number-one goal is making and keeping customers happy. "Our goal at Centre Street has always been to create and deliver a diverse contemporary menu that offers unique choices that sometimes go outside the boundaries of conventional fare," said Boothroyd.
FOLLOW THE SIGNS
Centre Street's repertoire is extensive, to say the least, with two to three daily soups, nearly a dozen salads (including two pasta salads), and no fewer than 40 specialty sandwiches and wraps. That said, the menu is easily navigable, with categories divided by street terms. Take a stroll on "Avenue T" for anything turkey, including the wildly popular Smokin' Jo (smoked turkey, turkey bacon, smoked Gouda, onion, Roma tomato, leaf lettuce and mesquite mayo on Jewish rye). Cruise down "Beef Boulevard" to find the extravagant Rabish Radish Pastrami (beef pastrami, capicola, pepperoncini, jalapeños, pepper jack, provolone, red onion, radish microgreens, Sicilian dressing and horseradish sauce on panini-grilled rye). Head for "Henway" if you need a chicken fix like the Pecos Pete (grilled chicken, lime-marinated jicama, poblano pepper jam, pepper jack, red onion, cilantro, arugula and sriracha-lime aioli on a jalapeno-cheddar bun). Stop at the "Green light" to choose from tempting veggie combos like De Gaulle's Galley (Portobello mushrooms, artichokes, sun-dried tomatoes, French mushroom brie, red onion, arugula and lemon-truffle aioli on sunflower rye). Or make tracks to "The Junction" for something altogether different — maybe the 'On Centre' pork belly mac'n'cheese (three cheeses, seared pork belly, sage, cream, scallions, croutons and rigatoni)? Or a lamb gyro, or smoked maple-glazed duck?
Feeling creative? Put together your own sandwich or wrap in the "Middle of the Road" from a large list of possible ingredients. All sandwiches and wraps come with a dill pickle, tortilla chips and Centre Street's own legendary black bean dip (or tomato-jalapeno salsa, on request). All spreads, salad dressings and several of the breads served are all made in house.
Vegetarian or vegan? Centre Street has you covered. "For us, that's never just an afterthought," said Boothroyd." Take our lasagna, for example — which is made with sliced eggplant and other vegetables — it's just a good dish. You can get creative with food that anyone would enjoy, no matter what their dietary preferences or restrictions may be. It's not taking anything away, it's giving them something that is delicious and satisfying. It's the color, the quality, the taste of things that's so important."
GETTING TO THE ART OF IT
Perhaps surprisingly — considering the depth and breadth of his expertise in the kitchen — Boothroyd is a self-taught chef. Cooking as a profession was not in his original career plan. What he did have, however, was an education and experience in management. "I think it was more by accident than design that I ended up in the restaurant business," said Boothroyd. "It was just something that was pulling at me. Of course, I've always loved and appreciated food, but what happened over time is that my palate became much, much better. Sometimes you don't even have to taste things — if you can see it, you can imagine it — you see those combinations, and you can taste it in your head. There's an artistry part of it. That's one of the things that fascinate me. The arts are part of our family — my dad was an opera singer, and my son is a professional musician. I myself have always been very visual — I love art and photography and music." Venturing into the culinary arts was a natural progression.
And of course, his management background has also come in very handy. "That's the other part of the equation — production," he explained." Particularly with lunch, vs. dinner, the window is a lot shorter. There are a lot of working people who come in, and they have limited time, so you've got to have a system that allows you to get the food out quickly without sacrificing the integrity of it. And you have to be willing to upgrade that system if you need to — to listen to your employees if they have suggestions about how it could be done better."
"COUNTER CULTURE"
Although after nearly 30 years in the business (see sidebar) Boothroyd still works regularly alongside his cooks in the kitchen, he also enjoys being out front interacting with customers. Smiling and gesturing toward the counter seating area, he said, "I refer to this space as the 'counter culture.' There is a more immediate contact with people here. I always engage with them, and I will sometimes try to get them to engage with each other if I see where they might have something in common, just as I would do if they were guests in my house. Our clientele is made up of people from all walks of life and all ages, and I feel very lucky to have the opportunity to get to know a lot of them personally, as we are able to do with a smaller place like this."
Though not yet wanting to reveal specifics, Boothroyd hinted that he has more plans in the works for the future, including bringing in more fresh fish. His enthusiasm for his job does not seem to have dimmed a bit in the years since he discovered his real passion. "I've been doing this for a long time," he said, "and sure, I may walk in here some mornings feeling a little tired and think, 'Well, here we go again,' but before I know it, I'm laughing and talking and having fun, and I'm totally re-energized. It's never the same. The great relationships with our customers and the camaraderie with my staff — many of whom have been with me for a long time — never cease to inspire me."
Centre Street Cafe is located at 1125 Centre Street in Traverse City. Open for lunch 10:30am–4:00pm Monday through Friday, and Saturdays 10am-3pm. Dine in or carry out. Catering available. For more information, call (231) 946-5872 or visit centrestreetcafe on Facebook. $
WHAT'S SO SPECIAL?
WELL, YOU DECIDE
You could eat at Centre Street Cafe every day or every week for a long time before you'd run out of menu options. And that doesn't even include the weekly specials: full-on "urban gourmet cuisine" (as Centre Street's website describes them) that often feature Caribbean, European or Asian flavors, among others. In recent weeks, for example, if you just couldn't find what you were hungry for on the regular menu, you might have chosen to sample the coconut-rice crumb breaded Caribbean snapper with mango-pineapple-habanero salsa, served on a bed of Himalayan red rice with coconut and cilantro. Or how about the gluten-free potato gnocchi with applewood-smoked pulled pork shoulder, sweet potato-butternut squash puree (pictured above), and Peruvian mini sweet peppers with a maple-ancho chile reduction and sage. Wait – where are we again? A neighborhood lunch spot? No way. Um, yes way.
WORKING OUT
LITERALLY AND FIGURATIVELY
What would eventually become the Centre Street Cafe started out in 1985 in the same location as a juice and snack bar inside a gym. When the gym moved out at the end of 1999, Boothroyd decided to expand into the whole space, completing a renovation that transformed it into a full kitchen and dining room by 2000. Upgrades and improvements have taken place periodically since then. "There were a few years when I felt like I was falling behind, but I just stayed at it, and it was always evolving and getting better," he said. "I was building up a solid clientele, and I was getting more catering jobs, so that was enough to convince me that I should hang in here and do this."
Trending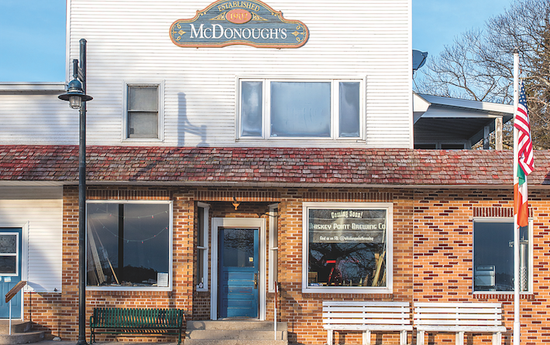 Welcome to Michigan's Most Remote Brewery
After years of planning and honing his beer-making skills, this spring, Patrick McGinnity plans to open Beaver Island's first microbrewery. Opening a craft brewery is challenging. Opening one on a remote island in Lake Michigan that's either a 15-minute plane ride or a two-and-a-half-hour ferry ride from ...
Read More >>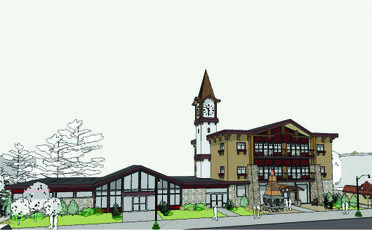 Gaylord: A boomtown Up North
Gaylord native Gary Scott had moved to Indiana, where he and some partners started a business to invest in distressed properties. He was talking to a banker in Detroit about real estate in Bloomington when he asked what kind of deals might be available in northern Michigan. ...
Read More >>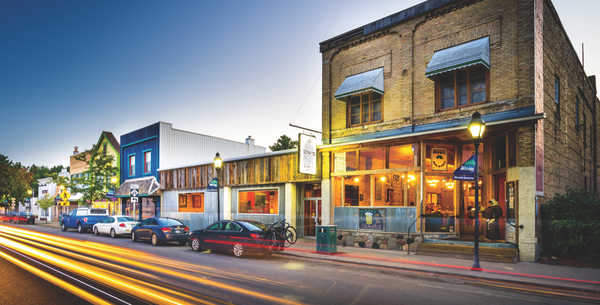 Small Up North Towns on the Rise
Spotlight on Bellaire (pictured)Seems Traverse City isn't the only place in the region making those "Best of" lists. The Antrim County hamlet of Bellaire was recently named to the list of Best Lakeside Towns in the U.S. by Country Living Magazine, alongside the likes of Vergennes, Vermont, Greenville, ...
Read More >>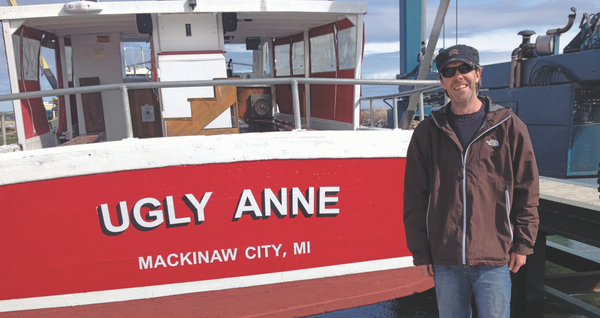 A Wicked Cool Ride Around the Straits
You expect to see boats around Mackinac Island in summer. Sailboats, power boats, cruisers, and the ubiquitous ferries that run residents and guests back and forth across the Straits of Mackinac, sure. But there's a more unusual vessel visible these days — an all-wooden Down East lobster ...
Read More >>
↑