The Insider - Mario Ciccone on the Rise & Fall of Rock & Roll
Dec. 24, 2003
One would think that life would be pretty easy if your sister was Madonna and you had a marketing position with her record label. Just show up to work, rub elbows with celebrities and collect a paycheck.
It doesn't work that way in the music business, regardless of who your sister
is. And Mario Ciccone wouldn't want it that way anyways. Ciccone, a frequent visitor to Northern Michigan, is the national director of merchandising for Maverick Records, a position that requires long hours and at times a lot of travel.
Ciccone's work ethic came by watching his parents. Both are retired and continue to put long hours in at their winery near Suttons Bay.
For music industry executive Ciccone, this is going to be an especially
wonderful holiday season. He gets to combine his love for music with the
beauty of the area, time with family, and reflections of time well spent in Northern Michigan.
Ever since he was a young boy, Ciccone has spent his summers here, vacationing at his uncle Frank Gustafson's cottage on Duck Lake near Interlochen. He knew in his heart that regardless where he ended up on the planet, he would find himself visiting the area often.
He has stayed true to his heart.
Despite living on the other side of the country, Ciccone, 34, finds
himself coming to Traverse City six to eight weeks a year to visit his parents and
many friends, and to fish. He'd visit more often, but work keeps him very busy.
"My parents have always placed a high value on working and working hard,"
said Ciccone. "My parents set the example and we were taught that when you
wanted something you worked hard for it. It is that mindset that I bring to
work each day."
ATTENTION TO DETAL
Ciccone got a taste of how hard his sister works while he was still in
high school.
"I went out on one of her tours one summer. I think there is this sense that
touring is a bunch of fun and games," said Ciccone. "It is a lot of hard
work, both leading up to and during the tour. The attention to detail
and preparation she would put into a tour has helped me today in my approach
with working with new artists."
Originally from Pontiac, Ciccone grew up in Rochester Hills and had his own
aspirations of becoming a professional musician; well, sort of.
"I started playing guitar when I was 15," he says. "I never really had aspirations of being famous or making a lot of dough as a musician. My sister had made it big by this time, but I was a lost teenager with no real ambition. I never
really got serious about music until I was 20, and then it was about making
the music, recording it and performing it and never about the fame.
When I hit 20 I got serious about learning to become a songwriter.
I got impatient with where I was at and being able to have access to a music
scene. That was during the time when Detroit lacked a big music scene like
they have now. I was having a conversation with my sister on the phone one
day and she encouraged me to come to L.A. to check it out for a year and to
see if I could find some people to play with out there. I packed up all my
stuff and along with a drummer friend moved to L.A."
UNDER PRESSURE
At first there was pressure on him -- or at least high expectations -- because of his sister.
"I think there was this assumption that I had some golden ticket," said
Ciccone. "The reality is there are no free passes in this business, you have
to have the goods and be able to deliver on those goods. I think people were
surprised when I would go into the studio and they would say, 'this guy can
really sing and he can really write.' It didn't take long for people to know
this not some sort of experiment in futility, I was serious."
Ciccone is quick to add: "I had to be honest with people and tell them that it doesn't matter who my sister is, it doesn't matter that I know people in the record industry, because when it comes down to it, people who suck just don't make it. You have to have your shit together period. In order to succeed in this business you have to be serious, you have to have well-written songs and you have to be in the right place at the right time."
Things moved quickly for Ciccone.
"Two weeks after arriving, I connected with a guitar player who also happened
to be from Michigan," said Ciccone. "We played a lot around town and wrote
songs. I ended up in a few different bands that first year working with a
lot of different producers and engineers in the studio. Eventually Warner
Brothers gave me a demo deal. I had turned in some rough mixes of my songs
and the A&R guy liked them a lot."
It seemed that Ciccone was on the way to following his sister into the music
business.
"I flew to Toronto and went into the studio, redid the two songs I had sent
them and recorded two additional songs," said Ciccone. "I flew back to LA
only to learn that the label wanted me to remix them again. Essentially they
wanted me to change my songs and I was unwilling to do that."
A CROSSROADS
It was decision time for Ciccone, whether to keep pursuing a career as
singer/songwriter with a recording contract or look elsewhere.
"While my demo deal was happening I was also working at Maverick Records and
had worked my way up in sales. So I had a pretty good feel for how the
industry worked. It came to a point where I had to make a decision.
"I love to make music and I started to see how the industry worked
and I didn't want to be on the performer end of it anymore. I was learning
the industry at a faster pace on the sales and marketing end versus what I
was learning as a musician and songwriter. I made a choice to be on the end
that I am at now because I wanted to be involved in this industry for the
long term helping bands and breaking new bands."
The decision process was made easier for Ciccone because of his family.
"My son was just born and I wanted to have a more stable income. So I had to
make a decision. I was no longer in a position like a lot of new artists
where they just have to worry about their music. I had a family to fend for. It wasn't easy to let go of the musical ambitions I had and it took time to get it out of my system. I know I made the right decision and I am happy to be a part of the business where I work with new
and energetic bands."
THE MUSICIAN'S LIFE
The behind-the-scenes end of the music industry can be just as tough as the
performance and recording end. There are a lot more people who want to be in
the business than there are jobs to go around. Despite Ciccone's
family connection, he didn't waltz in to an executive position with Maverick.
"I started at the bottom of the pole. I actually called Maverick when I knew
I had a child coming, because I had been living the musician's life. I was
delivering pizza, barely making a living, and what money I did make went to
buy guitar strings it seemed," said Ciccone. "I heard through my sister's
manager that there was an assistance job, and they hired me to answer phones
at the front desk for very low pay I might add. After a year of doing that
the guy that ran the street marketing team -- a new concept in the industry at
the time -- came to me and said he needed someone to help him. Three weeks
later I had the job."
Ciccone is glad his sister didn't pull any strings for him.
"By essentially starting at the bottom I have learned this business from the
ground up," said Ciccone. "In this business there are advantages to learning
the business this way, so I feel fortunate to have worked my way up the
ladder so to speak. If anything, having Madonna for a sister meant that I had
to work harder than others to prove myself."
STREET MARKETING
He seemed to be a natural fit in the "street marketing" program. A new
concept developed in the mid-'90s to create awareness of bands at the
street level by implementing "groupies," essentially hard core fans, to promote the bands by passing out posters, stickers and simply "spreading the word."
"It was exciting because every day I was in contact with 50 people around
the country getting updates on their activities," said Ciccone. "I found
myself involved in developing all of the merchandise for the artists, we
didn,t have an art department -- we had to do it all ourselves."
His first band he was assigned was the Deftones, who made their debut with
Maverick in 1997.
"When I first heard them I knew I wanted to work with them, so when they
offered me the street team position and said I would be working with the
Deftones it clinched the deal for me," said Ciccone.
What is Ciccone's take on the music industry of today?
"Music moves in cycles. Look at the White Stripes who hit it big a couple of
years ago. Their style of music was big 25 years ago when they were just
kids. Right now in LA, '80s music is huge again. I am looking at a band right now from Toronto that is fusing a White Stripes sound with an '80s sound. I really believe in the cyclical process of the industry."
MICHIGAN SOUND
While Ciccone enjoys breaking new bands for Maverick he has a special
fondness for people from Michigan and looks to help Michigan musicians
whenever possible. In a project outside of Maverick, he is currently working
to develop Mancelona native Brian Schram.
"When I was growing up, my brothers would tell me stories about how they
would hitchhike to Ann Arbor to see these great blues guys and rockers like
Iggy Pop and the MC5," said Ciccone. "Much of my influences musically came
from my brothers. I came home one day with the first album I ever purchased
AC/DC's 'Back in Black'' and my brother snapped it in half and threw it in the
front yard and gave me a Hendrix album. It was that type of intensity that
my brothers had for music that was driving the Michigan music scene."
Ciccone adds it is a Midwest mindset that has driven so many to be
successful musicians.
"Dylan is from the Midwest. My brother Anthony told me when I was a kid that
it is hard to live here so people have a lot of shit to write about," said
Ciccone. "It isn't the easiest place to live; in the winter you freeze your
ass off and it is humid as hell in the summer and it has always been hard to
earn a buck in the Midwest."
SONGWRITER JOE HENRY
Growing up in the Detroit area as a kid, Ciccone caught the tail end of Seger
and Nugent in their heyday when both of them carried the Michigan music
torch through the 1970s.
"I remember at the age of 16 going to Cobo Hall and seeing Nugent swinging
from the stands in a loin cloth and thinking man this guy is amazing and he
is from Michigan. My parents were really liked Seger and my mom in general has always been into rock music. I think I got a lot of my love for music from my mom and a lot of my musical influences from her and of course my brothers."
In addition to Madonna, Ciccone has a successful brother-in-law in the music
business: Joe Henry.
"It took me a long time to come around to Joe Henry. I didn't understand his
songwriting at first. I am a rock guy and I just didn't get it at first,"
said Ciccone. "Now I sit with Joe and we talk music. It blows my mind that I
am even related to him. Joe has always been about credibility and not about
making money or selling albums. It takes a lot of balls to do that. He is
the real deal and truly committed to his songwriting craft."
HOME AWAY FROM HOME
Why come to Michigan during the winter when he could enjoy some tropical
paradise?
"My family would come to Traverse City every summer and every winter," said
Ciccone. "Being a kid and coming up north it was magical. In the winter the
whole family would go skiing and we go ice fishing. Some of my best memories
when I was growing up came during the time my family spent in Traverse City.
I remember my parents saying that they were going to retire to Traverse City
and I would egg them on to buy property because I wanted to be able to go
there to visit. This area holds such a great space in my heart because of
all of the memories and all the great friendships I have developed there in
the last 25 years."
One of those relationships is with Randy Holtcamp, a Traverse businessman who
Ciccone met in the mid-'90s when his parents were starting their winery.
"A friend of mine, Tom Banghart, who attended Interlochen, is a very
successful sound engineer in the music business," said Holtcamp. "Well he
called me one day and said a guy he was working with was coming to Traverse
City and could I take him fishing. Well that was eight years ago, and Mario and I
hit it off that first day on my boat and we have been friends ever since. He
comes in every year for a week so we can fish the Salmon Classic together."
Ciccone is relishing coming home to Northern Michigan for the month, he
returns with his six-year-old son Silvio. While he will be here for the Brian
Schram's EP release party on December 23 at Union Street.
"What I miss most about Michigan is my family. The other thing I miss is
this place has people with manners," said Ciccone. "Also, the spirit that
exists here. In Michigan the celebration of the seasons and the holidays is
a lot more intense. I also miss the seasons and of course I miss the great fishing with my friends. I try to explain Michigan's beauty to my friends out here in L.A., but you really have to experience the state to understand."
Trending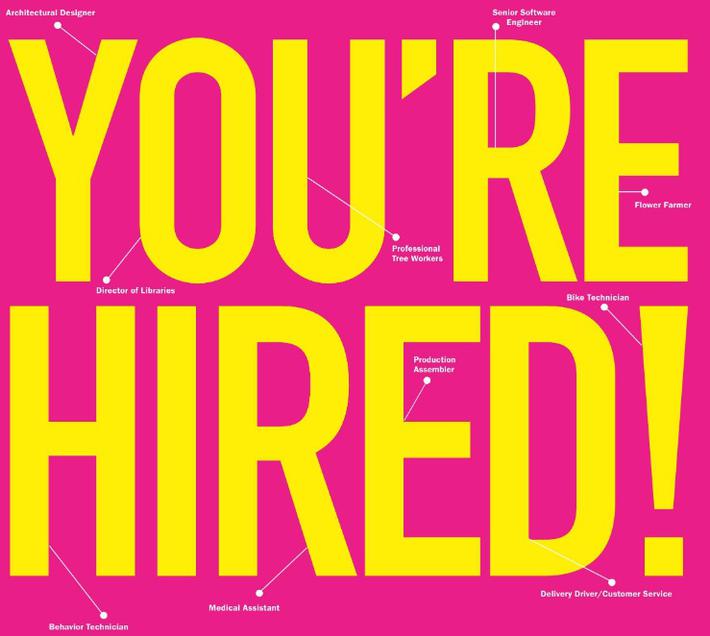 Now Hiring! Up North Jobs
Welcome to our Spring 2022 "Now Hiring" section sponsored by Hagerty! Here you'll find mo...
Read More >>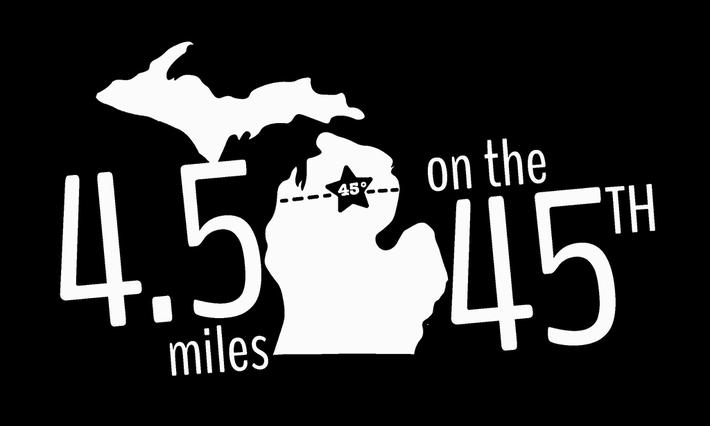 Gear Up for Running Season in Gaylord
Coming soon, Northern Express will be sharing the 2022 race calendar full of running, biking, and paddling races across no...
Read More >>
Hope Springs
After weeks of wet, gray, and chilly "pseudo-spring," we are finally starting to see the real thing. May sunli...
Read More >>
Should Have Seen It Coming
Pro-choice advocates should have seen it coming; Roe v. Wade has been a goner since Donald Trump nominated three Supreme C...
Read More >>
↑