Spin Session: New sounds from local musicians
Nov. 15, 2006
Keeping up with local musicians and their CDs often involves a personal voyage of discovery. While many performers in the area tend to have at least a home-recorded CD to offer, for most, the sale is usually made to fans from the bandstand during a break in the show.
Call it direct marketing at its most direct. Here's a roundup of some of the latest CDs released by local musicians:

One Tune At A Time
by Peacemeal
Their news release says it best: "For many years, Maureen Scott, Dale Scott and Tim Joseph have used their music to promote peace, justice, and good times on this fair planet."
That commitment is reflected in their new album, which is packed with a blend of virtuoso acoustic performances and socially-conscious themes.
Launched more than 20 years ago by Maureen and Dale Scott of Harbor Springs, Peacemeal has gone through several incarnations through the years before settling on the current lineup with the addition of Tim Joseph of Brethren in northern Manistee County in 1994. Blessed with three-part harmonies, the band is a mainstay on Northern Michigan's square- and contra dance scene in addition to concerts and folk festivals.
Peacemeal is deep into old time string music and folk, with Tim performing on acoustic guitar and claw hammer banjo; Marueen on hammered dulcimier, claw hammer banjo and Appalachian-style fiddle; and Dale on guitar and harmonica.
Interesting to note, at a time when pop musicians such as Rod Stewart and Robert Plant are recording classics written decades ago, Peacemeal are moving down the same path, with an obscure twist. Their CD includes many songs from the 1800s and early 1900s, several of which address issues such as racism and labor rights.
Here, for instance, you'll find a cover of "Waterbound/Boatsman," a song written by Dan Emmett in the 1840s. Emmett was something of a pop star in his time, composing tunes such as "Old Dan Tucker" and "Jimmy Crack Corn," which are still familiar today.
Bob Dylan recorded a similar album of little-remembered folk tunes in the early '90s called "Good As I Been To You," but Peacemeal goes a step further by reintroducing tunes that are all but lost, such as "Lynchburg Town," a song believed to be of African-American origin from the 1840s, and "Hector the Hero," about a hard-ass Scottish major who battled heathens on behalf of the British Empire, written in 1903. Does anyone recall "the great cakewalk dance craze" of the 1890s? Learn about it here with a recording of "At a Georgia Camp Meeting" written by Kerry Mills in 1897.
The CD also offers contemporary songs, such as "Soweto Gold" and "The Go Slow Waltz" by Dale Scott and a song about the environmental catastrophe of the lumber era, "When the Boys Went Through" by Tim Joseph. And Maureen's vocals stand out on the Nancy Griffith number, "I Wish It Would Rain."

Wallyworld

by Mark Boardman
Mark Boardman brings a wide-ranging career as a professional musician to Cadillac, and that level of expertise manifests itself on this album of 15 original songs.
Born in Blackpool, England in 1963, Boardman's youth was spent in New York, L.A., Florida and Montreal. At the age of 21, he moved to Dallas and launched a career in TV and film, serving as an editor and composer for clients such as Home Depot, Mortal Combat, the U.S. Marines, Pepsi, Coke, American Airlines and many more. He was introduced to the six-string 15 years ago when his brother James gave him a Silvertone electric guitar.
Boardman is a shredder in the mold of Steve Vai and Joe Satriani, but with a laid-back approach that's more thoughtful and less frenetic. Some of his licks recall the old-school stereo guitar sounds of Boston. He has some exquisitely sublime passages which take the electric guitar into the "tone poem" territory of the romantic composers; listening to his music invites epic imagery.
He's backed on this all-instrumental effort by drummers Todd Sorenson, Simon Phillips and Beta Monkey, with Gale Hess on violin. Our only complaint: it would be great to hear his exceptional musicianship tied in with some vocals. Mark Boardman says he's currently shopping for bandmates. If he can find some up to snuff, you'll definitely want to put his act on your "must hear" list.

A Guy Walks Into a Bar...

By Mike Ridley
One doesn't often think of Indian River as being the comic capital of Northern Michigan, but it certainly is by dint of the fact that it's where musical comedian Mike Ridley hangs his hat & guitar.
Mike made his reputation as a funnyman at venues such as Mark Ridley's Comedy Castle in Royal Oak where this live CD was recorded (the club is owned by his brother and is a must-visit destination whenever you're downstate). The concert was a benefit for Jack's Place, a program which helps autistic children and their parents at Oakland University in Rochester.
The CD is vintage Ridley, with a selection of 16 skits including: the benefits of a "Rubber Doll" as a girlfriend; an homage to the strip joints of "8 Mile" sung to Petula Clark's "Downtown"; and a medley of "Just Bustin' Wind/Escanaba Dreamin'" to the strains of "Dust in the Wind" by Kansas and "California Dreamin'" by the Mamas & Papas.
Ridley also reinvents funny fight songs from universities across Michigan: here's a sample of Wayne State U's, sung to the sound of The Eagles' "Take It Easy":
"I'm a runnin' down Cass, trying to cover my ass, pimps and hookers everywhere...
Four that wanna know me and two that wanna... whoa!
One that wants to touch my hair.
The classes are easy, the campus is sleazy..."
You get the picture -- rowdy stuff on a CD "for immature adults only." How many times are you likely to give this CD a spin? Dunno, but it will sure make you want
to see Mike Ridley's act when he performs in Northern Michigan. For updates, see
www.mikeridley.com.

Water In This Desert

By Paul Tegel
The sound on this CD is fabulous, especially through the headphones. Paul Tegel has crafted an atmospheric album of contemporary acoustic songs, blessed by his rich baritone and thoughtful constructions on a deeply resonant guitar.
A resident of Elk Rapids, Paul has lived in the area for 30 years. He's currently getting some airplay on WNMC-FM and his CD is available in local stores including Borders, Sound Design in TC, Ye Olde Music Shop in Elk Rapids and cd baby online.
Tegel's vocals are reminiscent of the husky, introspective strains of Mark Knoffler of Dire Straits fame. His phrasing is exceptional, holding back just enough to tease the listener's ear for more. Check out his take on the traditional song, "The Cuckoo," for a masters class in building dramatic tension. His own songs spin visions of portents, as in "There's a Big Storm Coming This Way."
Performing on vocals, guitar and keyboard, Tegel gets an assist from Mike Marois on electric guitar and Dave MacDonald on bass, drums, keyboards and backup vocals. Scott Zylstra of Frontier Recording in Copemish deserves credit as a fourth musician for his recording wizardry on this CD, which is simply lush with sound.
"This is definitely a Northern Michigan project," Tegel says, "from the cover photo of East Bay, to the artwork by Joanie Braun of Elk Rapids, to the graphics by her daughter, Jenny Thomas, of JT designs of Traverse City."
It's hard to find fault with this top-shelf CD -- it's a real keeper. Our only wish would be a few faster tunes to add contrast. But that's quibbling, because this is a CD to be proud of.

Coffee Tunes

By Jay Webber
This is something of a "greatest hits" disc for Jay Webber, who includes some of his most popular songs from years back along with new selections. It features 10 tunes on the quieter side, specifically intended for the laid-back coffee house vibe of the CD's title. But hold the caffeine, because the theme here is one of self-reflection at life's crossroads.
In that respect, it reminds us of the specially-produced CDs being offered at Starbucks outlets in urban areas. The paper-only wrapper invites a pick-up-and-play impulse, and Webber is market-savvy enough to plan on offering it through Northern Michigan coffeehouses in addition to the usual outlets.
Based out of Leelanau County, Webber hit the road several years ago to pursue a career in music, performing original, acoustic songs at resort cities along the Florida coast. He's since returned to Northern Michigan and has been mostly performing along the lakeshore coast over the past couple of years in addition to capitalizing on the house concert trend.
Old pals and sidekicks are back for an assist, including Patrick Niemisto on mandolin/guitar, John Kumjian on conga/guitar/piano, and Zack Light on bass. The project was recorded at Niemisto's Holy Wah! studio in Maple City.
This is vintage Jay Webber and a great introduction to his music. Jay has a solid gold voice equal to the best of contemporary acoustic artists. Here, he's chosen to exercise his soul-searching side on songs such as "Light to Shine" which is a thoughtful piece on the ups and downs of following your dreams.

Grace Exhaled

Angela Josephine
Local fans of the Christian music genre have been tuned-in to Angela Josephine for years. The Traverse City singer/songwriter has performed widely in local coffeehouses and on Christian radio and is most likely the best-known artist in her genre in Northern Michigan.
This is her second album featuring an acoustic rock and soft pop sound. The CD is receiving great reviews from the faith-based music network. And no wonder, since the musicianship is first-class across the board and Angela's vocals match the poetry of her sincerely-felt songs of faith. There's also plenty of pop swing on the disc to keep the tempo up and feeling good. It's no stretch to consider Angela the Amy Grant of Northern Michigan.
The album is superbly packaged and the liner notes come with some of Josephine's own paintings. Clearly a great deal of thought and work went into producing "Grace Exhaled" and its musicians deserve a shout-out. They include: Moe Loughran and Greg Blankenship on background vocals; Chris Omartian on drums/percussion; Wade Jaynes on bass; Jamba Castro on piano; Shane Martin on acoustic guitar; producer John Pisciotta on electric guitar; Paul Nelson on cello; Deanne Whalin on violin and Paul Sekora on keys.


So Long Gone
Rusty Blaides
This is a much-anticipated album of honky-tonk originals by a supergroup of Northern Michigan musicians who've tossed their collective hats in the ring to recreate the classic country sounds of Hank Williams, Johnny Cash and Bob Wills.
Bandleader and principal songwriter Mark Camp on rhythm acoustic guitar and lead vocals rides tall in the saddle with sidekicks Joe Wilson (of Steppin' In It) on pedal steel guitar, Don Julin (of Neptune Quartet) on mandolin/lead guitar/banjo, Kiven Gills (of The Dopes) on bass and David Collini (of several jazz ensembles) on drums/piano/accordian. Adding an assist on several cuts are Jack Dryden and Andy Evans on bass and Bill Vits on bones.
The sound of "So Long Gone" is vintage, old-school country, like what you might have heard tuning in the dial on your Chevy while driving through Chattanooga in 1948. The 14 songs here are a dead-on homage to the "tear in my beer" school of honky-tonk songwriting.
Camp and the band are at their best with the upbeat "Baby Blue," which includes backup vocals and songwriting that bridges the gap between country honk and pop. The only thing missing from this album is the edge of Rusty Blaides' live show -- events which prompt standing ovations and big grins from the band for their lead instrumental breaks. For that, check out their CD release party at Union Street Station on Wednesday, Nov. 22.

Live at Poppycock's

Neptune Quartet
Weekend nights at Poppycock's restaurant in downtown Traverse City have become a "must" for those seeking a cosmopolitan, bistro experience. Here, mandolinist and impresario Don Julin has created an intimate scene for those in search of grown-up music to wrap up the night, featuring a potpourri of performers that skew toward jazz, blues and worldbeat sounds.
The flagship of that experience is Neptune Quartet, whose performances manage to sound excitingly improvisational, yet tight. The players, including Julin on effects-assisted mando, Angelo Meli on guitar, Crispin Campbell on cello, Glenn Wolff on bass, and an assist by singer Mike Gauthier, are top-drawer musicians individually; but put them together and you get a wardrobe of sounds that mix and match exotic themes. The result is far afield from what one might expect of a traditional string quartet -- this is an act of national caliber performing for a lucky few at their hideout in faraway Northern Michigan -- deserving of bigger venues such as Interlochen's summer festival.
Julin & Co. have wisely recorded a live album, underscoring the acoustic intensity that pulls in the crowds in the first place. Plus, it must be said, too much polish on a local CD tends to cut many Northern Michigan bands off at the knees. No such problem here, however, where the sound is rich and the vitality of the music is upheld. On tunes such as "The Optimist," you can even hear the crowd and the clatter of dishes in the background -- a sweet touch that adds rather than subtracts.

Check out Neptune Quartet at Poppycock's this Friday-Saturday, Nov. 17-18.

Trending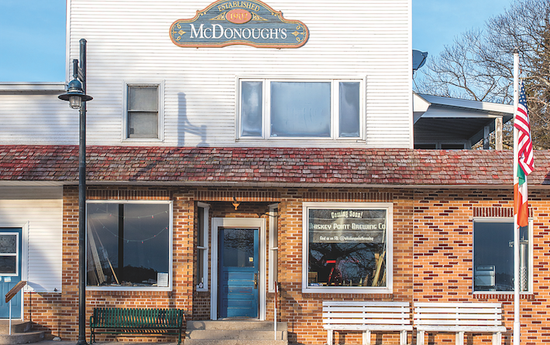 Welcome to Michigan's Most Remote Brewery
After years of planning and honing his beer-making skills, this spring, Patrick McGinnity plans to open Beaver Island's first microbrewery. Opening a craft brewery is challenging. Opening one on a remote island in Lake Michigan that's either a 15-minute plane ride or a two-and-a-half-hour ferry ride from ...
Read More >>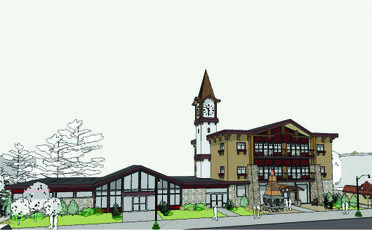 Gaylord: A boomtown Up North
Gaylord native Gary Scott had moved to Indiana, where he and some partners started a business to invest in distressed properties. He was talking to a banker in Detroit about real estate in Bloomington when he asked what kind of deals might be available in northern Michigan. ...
Read More >>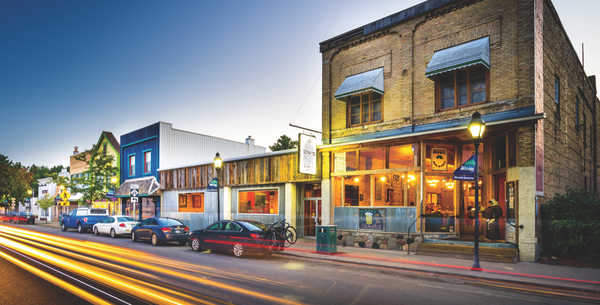 Small Up North Towns on the Rise
Spotlight on Bellaire (pictured)Seems Traverse City isn't the only place in the region making those "Best of" lists. The Antrim County hamlet of Bellaire was recently named to the list of Best Lakeside Towns in the U.S. by Country Living Magazine, alongside the likes of Vergennes, Vermont, Greenville, ...
Read More >>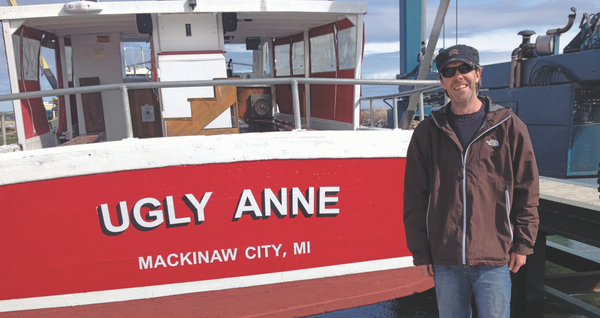 A Wicked Cool Ride Around the Straits
You expect to see boats around Mackinac Island in summer. Sailboats, power boats, cruisers, and the ubiquitous ferries that run residents and guests back and forth across the Straits of Mackinac, sure. But there's a more unusual vessel visible these days — an all-wooden Down East lobster ...
Read More >>
↑