Local Music: Stovepipe Stover
April 8, 2016
MEET THE MUSICIAN
A drumset strapped to his back, a guitar in his hands, the occasional harmonica and a voice somewhere between Bob Dylan and Spoon's Britt Daniel, Justin Stover, aka Stovepipe Stover, performs as a one-man band, dividing his time between Traverse City and Grand Rapids.
"I come from a musical family, which is nice," Stover said. "I started to write songs in high school, played in a few bands, then started doing solo performances in college, around 2003, and I've been writing and performing since then. I'd say over the last couple of years, this has looked more like a career."
His sound is a mix of left-of-center folk, punk and country; his favorite musicians include Tom Waits, Springsteen, Neko Case and Grand Rapids performer Olivia Mainville.
"Honestly, my hero Tom Waits has the kind of life I'd love to have," Stover said. "I mean, I wouldn't want to lose my own personality, but he's got something that I think all musicians want; he's never had to cater his music to please anybody but himself. He also does movies, theater, composes scores and he's a great husband and family man. That's the kind of life I want."
YOU MIGHT HAVE HEARD

HIM Stover got his start playing in Maine, where he grew up, and then in downstate Michigan before he began making his way Up North.
"Honestly, I've not really been able to figure out how the northern Michigan music scene ticks yet," he said, "but I've come to see this as a blessing in disguise; one place might show no interest, so I've had to look elsewhere and, as a result, I've played in some flat-out weird places."
Those include leading a parade with a fireeating stilts walker during a festival for a cow ("weird, but I absolutely loved it"), doing a gig in Frankfort where the opening act was a clown and sharing a show with a Wayne Newton–like crooner who sang murder ballads.
"Just"¦ bizarre opportunities," Stover laughed.
He also loves to busk in the classic tradition, performing impromptu gigs right on the sidewalk, which has helped people hear his talent; his tenacity has resulted in gigs at places like Horizon Books, Northport Brewing, Left Foot Charley and Stormcloud Brewing Co. in Frankfort, where he always leaves the crowd impressed with his instrumental versatility and gritty, candid vocals.
HIS INSPIRATION

The inspiration to become a one-man band hit Stover back in the "˜80s.
"I saw a one-man band on (the LeVar Burton kids' show) Reading Rainbow," Stover explained. "He had a whole drum set with all kinds of weird instruments attached and made incredible music, like a full band would – but it was just him. It also had a circus-like element to it. Ever since I saw that, I wanted to be a one-man band."
He was able to kickstart this dream much later, after meeting Pete "Farmer" Kaynor, who builds one-person band instruments with his wife.
"Turns out he [Kaynor] was moving to Traverse City around the same time as me, so I helped him set up his shop and very quickly became immersed in the world of one-person bands," Stover said.
He found himself leaning toward music that, at first, sounds traditional, but soon veers off-kilter.
"I like stuff that can go from predictable to pandemonium in a matter of seconds," he said. "I do cover music to pay the bills, and I enjoy it, but I love writing songs – nothing is better."
CURRENT PROJECTS

With five albums completed, Stover performs as a one-man band the majority of the time, but brings together some musician friends to play as a full band three or four times a year. He's in the middle of putting together his summer performance schedule and just released the first installment of what will be a three-part album series called Love in the Time of Satanic Panic.
"It's a concept album set in the "˜80s," Stover said, "inspired in part by crazy horror films, the ones that are so bad you enjoy them. I've always loved movies like The Exorcist and also things like magic, seances and ouija boards. I'm not sure if I believe that they are even "˜real,' per se, but they are fascinating and make for great songwriting opportunities."
WHAT'S IN A NAME

His one-man band name was an easy choice; he simply adopted a nickname that's followed him most of his life.
"I guess the "˜stove' in my last name just makes people think of a stovepipe," he chuckled. "My friends from Maine called me Stovepipe and then, when I moved to Michigan, people quickly did the same thing without even knowing it was already a nickname!" So, in a hypothetical magical world, if he actually was a stove, what kind of stove would he be?
"I would like to become a stove that connects to my vinyl record player," he said thoughtfully. "Like, you could put on a record and then a nearby fireplace would create a fire that matches the mood of the music."
FUTURE STOVER

Stover's next big gig is at Grand Rapids' Pyramid Scheme in May, when he'll take the stage as opening act for singer-songwriter and Archers of Loaf frontman Eric Bachmann, "one of my all-time favorites," Stover said.
In September, he'll embark on a Midwest/ East Coast tour with friend and fellow collaborator Mat Churchill, another downstate talent. All summer long, you'll be able to track him down at a wide range of venues across northern and mid-Michigan, from bar gigs to festival performances. And if you're looking for a musician to play at a house show, Stovepipe Stover's your man; he's a champion of smaller, more personal venues as a solid means of supporting indie performers and diversifying the indie music scene.
"I'd say, if I had to pick one type of show that I especially like, it's house shows," he said. "If you do house shows or want to, hire me. I honestly think house shows will be the savior of independent music."
For more information on Stovepipe Stover, visit stovepipemusic.com or find him on Facebook.
Trending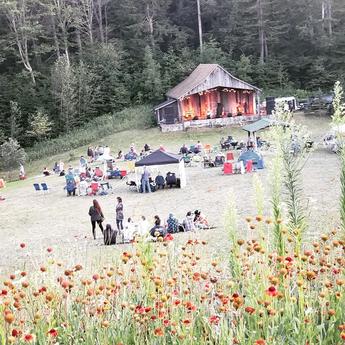 Farmfest: The Show Will Go On
Virtually every music festival is off the schedule for 2020, from Lollapalooza in Chicago to Coachella in Indio, Californi...
Read More >>
It Ain't Over Till it's Over. And It's Not Over.
There's a huge disparity between the well-being of white and Black families in America. Median Black household wealt...
Read More >>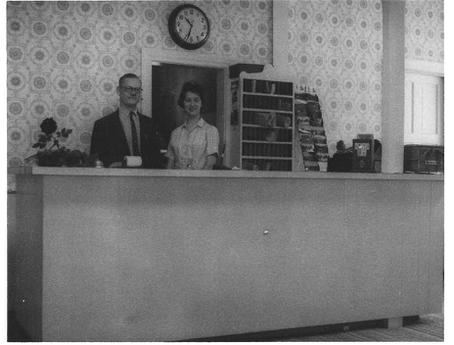 The Couple who Turned One Hotel into an Up North Hospitality Dynasty.
Stafford Smith is known as one of the region's foremost hospitality professionals, with iconic Northern Michigan pro...
Read More >>
Line 5 on Trial
Times were different when Line 5 was stretched underwater across the five miles of the Straits of Mackinac in 1953. The pr...
Read More >>
↑