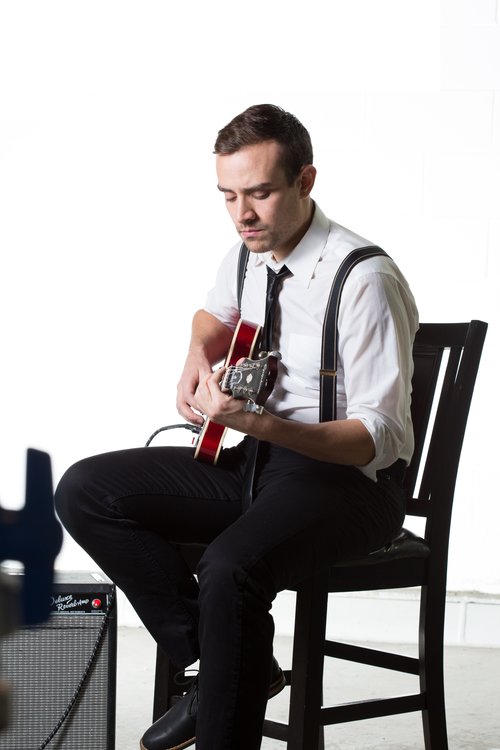 Benjaman James
LOCAL MUSIC PROFILE
MEET THE MUSICIAN:
Traverse City's Benjaman James started playing music in sixth grade band, taking on the trombone and even giving up varsity football to pursue his music. He continued to hone his skills in college, performing in the Michigan State University jazz orchestra and other college ensembles. By his second year of university, he found himself studying abroad in Australia. He learned guitar at this time as therapy for an injured hand, later busking on the beaches of Sydney to further hone his performance skills. After graduating from MSU with an engineering degree, he returned to Traverse City and formed the local band Old Mission Collective.

YOU MIGHT HAVE HEARD HIM:
While with Old Mission Collective, James was known as Benjaman Bennetts; the band played at a plethora of local venues and events, although James was often the only consistent member in the ever-shifting lineup. He also performed with other local outfits as a session trombonist in his off hours. Transitioning back Up North was something of a challenge, as he found the music scenes in Lansing and Traverse City to be polar opposites.
"TC has a wonderfully eclectic music scene," he explained, "but most musicians here are focused on making money. I'm focused on growth and opportunity, so sometimes it's easier working with musicians from downstate – they're usually okay playing a few free shows because they consider it an investment."
Now stepping out on his own, James is hoping to diversify his sound, find more ambitious local musicians to collaborate with as well as his downstate crew and express his music on a more personal level. "I love the place of an artist in a community," he said.
HIS INSPIRATION:
James grew up in a small household that was constantly filled with music and is influenced and inspired by pretty much everything he hears. "The melting pot of what I personally listen to definitely shows up in my own music," he said. "I grew up listening to stuff like MC Hammer and Run-D.M.C., then later jam bands like the Dave Matthews Band. So it's a real mix of singer-songwriter pop with dance music, funk and hip-hop. Right now, I'm listening to a lot of Lettuce, Allen Stone and L.A. singer-songwriter Theo Katzman."
His jazz trombone background, the musician added, has inspired him to always carefully structure his music, starting with tune and lyrics and then working out the supporting instruments and arrangements. "I want listeners to feel the same groove and message of the song that I put into it," he said.
CURRENT PROJECTS:
He's just entering the promotional phase for his new solo album Growing Pains, which he's been working on for the past year, recording at Troubadour Studios in Lansing and Runyan Media in Bellaire. "It's been a little tough splitting time between studios and musicians," James said. "But I'm trying to keep a regular backing band – right now we have six members, some from Traverse City and some from MSU."
He debuted the album at December's Christmas tree lighting in Traverse City and then at a release party at Rare Bird Brewpub, also in TC, an event that he said felt like "coming home." And he's already snagged some great Michigan support for the album from Local Spins in Grand Rapids and several radio stations including NPR, WYCE and WNMC in Traverse City. Growing Pains is stuffed with funky, soulful pop tracks, from the danceable "Check, Please" to the memorable duet "Maybe" with Chloe Kimes and the pensive "30."
GROWING PAINS:
The title of the album, according to James, is very literal. He "found" the name while on a flight back to Traverse City, just after getting the masters back from the recording studio. "There are definitely parallel themes running through the album," he explained. "So I was sitting there on the plane trying to decide what to call it, and I was thinking about all the experiences I went through – finishing college, getting a job, moving back to Traverse City, losing personal relationships and trying to support my professional life while maintaining other relationships." When he looked over at his seatmate's book on the plane and saw that the chapter she was reading was called "Growing Pains," he decided – fortuitously – that was it.
FUTURE BENJAMAN:
"The main goal right now is to bring my full band to all the shows," James said. "When we started, we were playing small shows and coffee shops, squeezing the band into tiny restaurants and such to get exposure. Now we've got great people and places supporting us, so I'm making really structured set lists with transitions, so it's a full experience for the listener, not just something thrown together." He's also working to get an EP out before this coming summer.
"We're promoting Growing Pains right now, but there will be more!" he said. "This album focuses on my personal growth, to reflect hope and inspire others, and parts of it also speak out against inequality in the world." Ten years from now? "I'd love to be opening for bands and people I look up to," he said, "but right now, I'm playing fun shows and having good relationships, so life is pretty okay."

Find out more about Benjaman James at his official website, Benjamanjamesmusic.com.
Trending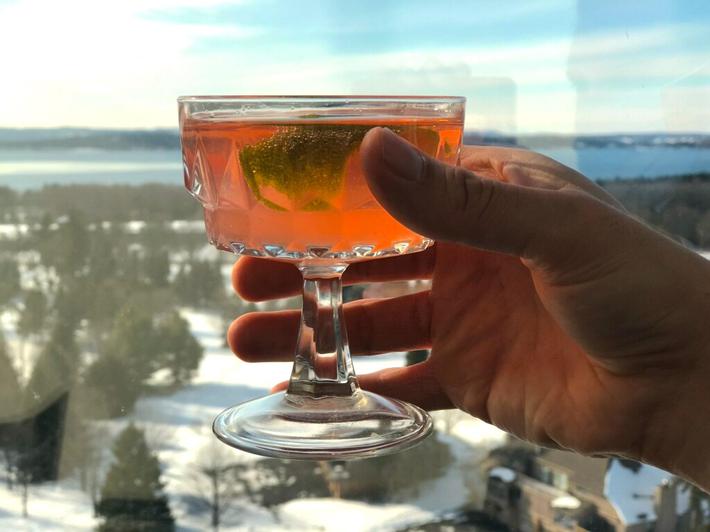 Tiny Pink Bubbles
Hey, ladies, do we have the pink drink for you: Aerie's Tiny Pink Bubbles. With a taste and body as delicious as its...
Read More >>
The Power of Our Example
Every new president faces a daunting array of problems, but 2021 will go down in the history books: Our country is under s...
Read More >>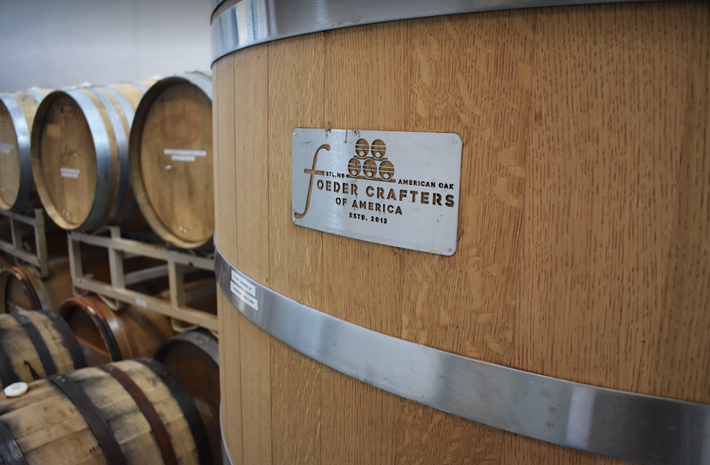 Getting Wild with the Foeder
Drinkers with a discerning eye may have noticed a couple interesting-looking wooden containers in the back of Traverse Cit...
Read More >>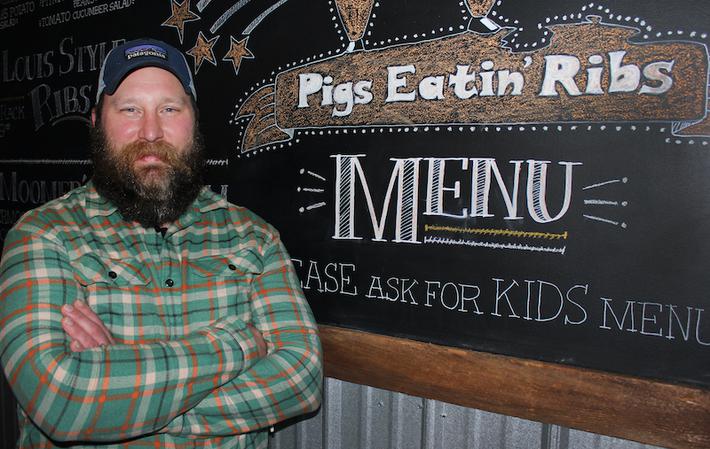 Charlevoix's Pigs Eatin' Ribs
By 2008, Charlevoix Chef Adam Kline had seen and tasted enough. The Northern Michigan food scene had stagnated, he said, i...
Read More >>
↑