Old Dominion & Aubrie Sellers Bring Nashville to Cherry Fest
Nashville is a magnet for songwriters, many of whom toil away for years before reaching any level of success. For the five members of the country music band Old Dominion, it was their early success as individuals that spurred them sideways in a completely different direction.
Trevor Rosen, Whit Sellers, Geoff Sprung, Brad Tursi, and frontman Matthew Ramsey are the talents that make up the band, a contemporary country outfit with flourishes of pop, rock, and even hip-hop. The bandmates have penned songs for a wide range of other artists: Ramsey co-wrote "Chainsaw" for The Band Perry; Rosen also wrote songs for The Band Perry, as well as for Chris Young and Blake Shelton ("Sangria"); and Tursi has written for Kenny Chesney and Tyler Farr, as well as for the ABC TV drama series Nashville. All of the friends had collaborated for years, so playing their music together as one unit was a natural next step.
"I think every songwriter, or most of them, on some level have a desire to get a record deal and be an artist," Rosen said. "But with that said, the band was somewhat unintentional. We played shows mostly as a way to showcase the songs and make a few extra bucks, and when we started to have success as songwriters that brought attention to the band."

By that time, the musicians had played together so often that they had developed a distinct sound and, to their own surprise, had become a pretty good band at that. "It was just a product of those stars aligning," Rosen said. They released an eponymous EP in 2014 and followed that up with the debut studio album, Meat and Candy, on RCA Nashville.
Writing for so many different artists had infused the quintet's own band project with a lot of range and possibility, and combining their extensive talents gave them the ability to pull off just about anything, audio-wise. The band's sound as Old Dominion combines the best elements of the genres that influence the individual musicians; they pull storytelling from traditional country music, vocal phrasings from hip-hop, and pacing from modern rock music.
"Our music and our sound is just a product of us sounding like us, and playing and recording music that we like," Rosen said. "We've listened to and lived all different styles of music in our lives, and all of those inspirations can't help but be a part of us and find their way into our songs."
But it's not Old Dominion's intention to sound dissimilar to its Nashville peers. "It's just that we aren't afraid to sound different," he said. "If we like the song or the sounds we make, whether they push an envelope or not, then that is what we do, unapologetically."
Old Dominion's new album has just wrapped production and is due out on Aug. 25. The new songs, according to Rosen, showcase a definite progression for the band.
"I think when you play and write together as much as we have, your sound naturally evolves a little," he said. "In the end, we throw anything and everything on the table when we write, and the album ends up being a collection of our favorites. This new album has some flavors of Meat and Candy but also some flavors that are deeper lyrically or different sonically, yet somehow it still sounds very Old Dominion — whatever that means!"

"Song for Another Time," from their first album, is one of Old Dominion's most popular tracks to date, and one that Rosen looks forward to playing live. "When fans are singing the chorus of it back to us as loud as they can, that's pretty special," he said. "The hits are fun to play, because you can feel the energy and excitement from the crowd. There's also a pretty rocking song we play called 'Can't Get You,' which we haven't released yet, but even though most of the fans aren't familiar with it, it always puts a shot of energy into the show."

The band's current schedule has it on the road with Miranda Lambert for much of the summer. This fall, Old Dominion joins country singer-songwriter Thomas Rhett's tour through America and Europe. But for now, Rosen's most energetic about returning to Michigan. He's a Michigan boy himself, having grown up in Woodhaven, Mich., a southern suburb of Detroit, where he learned piano and guitar and played in the Detroit rock trio Unfair Superpowers before moving to Nashville to pursue his songwriting.
"I grew up in Michigan and spent a great deal of time all over the state, so I can't wait to be back," he said. "Michigan is one of the most beautiful states, especially northern Michigan, so I get excited and proud to show off that side of my home state to my bandmates."
Four Quick Questions with Aubrie Sellers
With her debut album, New City Blues, only released last year, it's been an impressive climb for Old Dominion's opening act. There's a little sharpness to many of her alternative-country songs — the lyrics are often surrounded by barbed wire, and the sounds are sometimes closer to Seattle grunge than Nashville. But her skills at mixing these diverse influences on tracks like "Sit Here and Cry" and "Liar Liar" are what's getting her rave reviews from critics and fans alike. Let's find out more about Aubrie Sellers.
Who inspired you to develop your unique 'garage country' sound?
"I grew up on traditional country and bluegrass, and some of my early favorites were George Jones, Ricky Skaggs, Ralph Stanley, Steve Earle, and Dwight Yoakam, but I also grew up in the Internet generation and had so much music at my fingertips. I was drawn to so many different things from old blues like Robert Johnson to a lot of '60s and '70s rock, so garage country came from all of these having an influence on me. They have a lot more in common than people might think – they were all originals, raw, and full of soul."
What do you think the most compelling trait is of contemporary or progressive country, as opposed to traditional country music?
"I'm a huge fan of traditional country music, and I think the roots of the genre should be respected. But I think trying to copy what has already been done can end up being a very stale imprint of something that was once forward-thinking. The artists who stand the test of time are the ones who were unique and weren't chasing trends or replicating what came before them."
Tell us about your recent trek opening up for Miranda Lambert.
"The Highway Vagabond tour [Jan. 2017–March 2017] is the first major tour where I was put on the bill, my first time playing arenas. I had so much fun, I didn't want it to end. I'm so thankful that Miranda took me out. I have always loved her records, and it was a blast being able to watch her every night. It feels great when an artist you love and respect puts their faith in you like that."
Is there anything in particular you'd like to see while you're here in Traverse City?
"I'm super excited to come back to northern Michigan, I've played there several times, and I've spent time at Lake Michigan, and it's beautiful. I hope we have some time to go see it again while we are there!"
Old Dominion will be in concert at the National Cherry Festival in Traverse City with opening act Aubrie Sellers on July 8 at 10pm. For tickets and more information, visit cherryfestival.org.
Trending
Very Busy Very Fast
This isn't going to be easy. President Joe Biden and his thin congressional majority are walking into troubled times both ...
Read More >>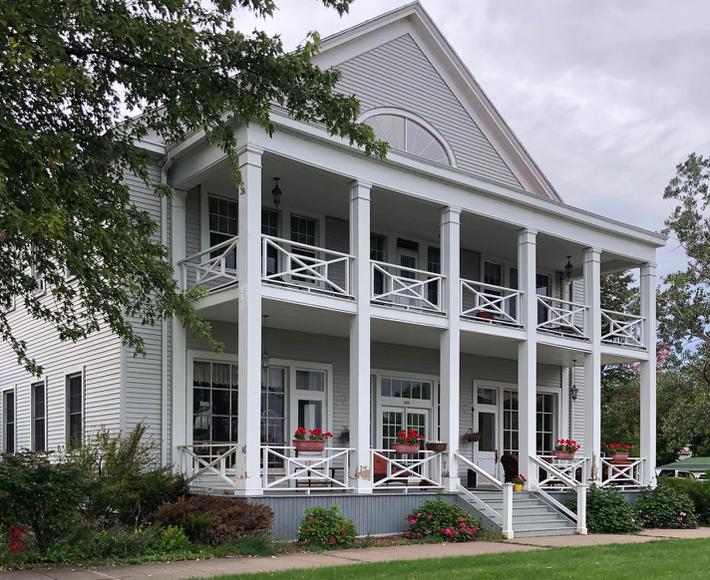 Thunder Bay Inn
Former playground to Henry Ford and part of a famous film and novel based on a real-life murder in the town, the courtroom...
Read More >>
Forty Acres' Spa Day Martini
Myriad methods of cocktail creation are on display at bars around the world. There are flaming drinks, compotes laden with...
Read More >>
He's Gone, Now What?
Wounded and fearful, America watched the 45th President leave the nation's capital. On a hastily arranged stage at a...
Read More >>
↑