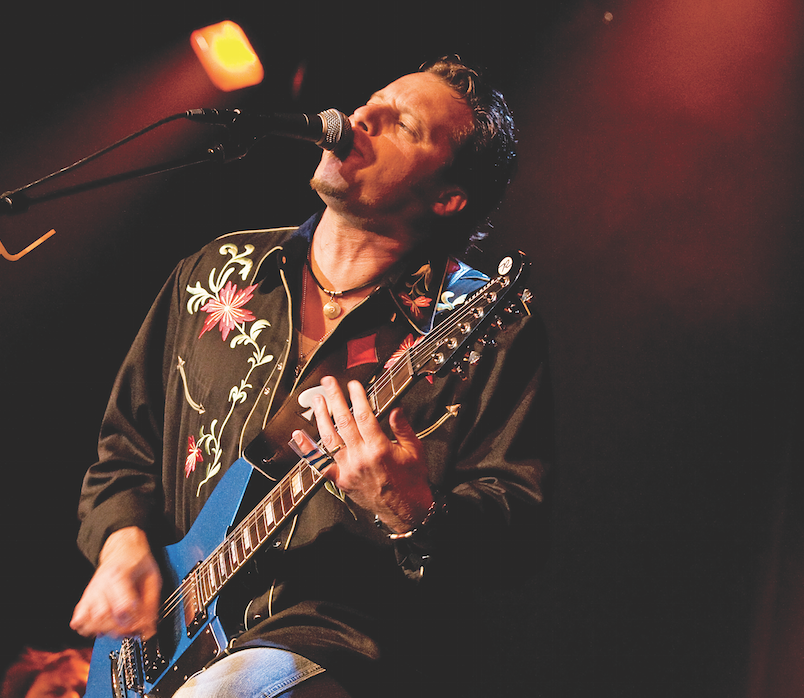 Traverse City's Jeff Bihlman
The Emmy-Award-Winning Musician Behind TCFF's Live Music
If you've ever watched TV shows like All My Children, Sons of Anarchy, or the new series The Gifted — or if you've ever danced the night away to rockin' tunes by The Bihlman Brothers — then you've likely heard musician Jeff "Jabo" Bihlman, music director for the Traverse City Film Festival (Bihlman also helmed the music for the fest's 2016 and 2017 editions.)

We caught up with Bihlman to see what he's been up to recently, as the 2018 TCFF approaches and his own career continues to grow.

HOME & AWAY
Bihlman got his professional start as bandleader for electric blues guitarist Son Seals in the '90s, and has since added a long list of accomplishments to his name, including work as a guitar instructor at Interlochen Center for the Arts summer camp and at the National Guitar Workshop.

He's won several Michigan Emmy Awards for his television production music and has snagged plenty of kudos for his latest band project, Grinder Blues, on which he collaborates with his brother, Scot Bihlman, and King's X frontman Dug Pinnick.

And he's also newly returned to Traverse City, having resumed his residency here after six years spent playing music in Las Vegas. Bihlman Brothers are fresh off of a European tour, which they undertake once a year to keep its overseas audiences — who love the classic American rock at the root of the Bihlman Brothers' sound — happy.

"We tour heavily in Europe as people there are so enthused about our music," Bihlman said. "In my opinion, live touring has slowed down a lot in the U.S., but people over there will take a chance on going out to hear a new or unknown band."

Bihlman works simultaneously with both the Bihlman Brothers and Grinder Blues. Now that the Europe 2018 tour is behind him, he's turned his attentions back to Grinder Blues; the band is at work developing some new originals for a fall release.

"We're already working on it, we're just still talking about exactly how to release it," Bihlman said. "We've been talking with Mike Varney [founder of Shrapnel Records] and also an Australian label, Golden Robot Records, but everything's so different these days in the record industry. Back in the day, you'd pour your soul into an album, and then put all the work into promoting it. These days, it's more about singles, so we're trying to decide if we should do a CD album, download cards, or what."

ON-SCREEN OPPORTUNITIES
Bihlman's work for screens is substantial arm of his career. Years ago, he started working with a publisher in New York to get the Bihlman Brothers' music on the soap opera All My Children.

That opportunity spurred him to look further into licensing — essentially, contracting out the use of his music, usually Bihlman Brothers songs or his own solo guitar-based instrumental compositions — to various media, such as TV shows, streaming series, or movies.

"Once I realized how big a part of a music career music licensing could be, I put more focus on it," he said.

Bihlman signed a deal with Warner/Chappel music publishing company years ago, but when the contract expired, he chose not to renew.

"That was a cool experience, but we wanted to take our catalog [of music] back over, and now that we have control over it again, we're actually doing better with it," he said.

He still works with Warner/Chappel on occasion but as a freelance musician, either providing prerecorded tracks or composing specific tunes that match up with visual cues happening on the TV or movie screen.

ROCKIN' ROUTES
Despite his screen-music success, Bihlman has no interest in putting either of his bands on the back-burner. In fact, he said he's eager to take it to the next level with video.

"Physical CDs are disappearing, even up here," Bihlman said. "Videos are the big thing now — they're critical. So many people are just releasing a song or two as single videos. And downloadable digital music is the wave of the future. I even did a panel on that at last year's Traverse City Film Festival."

"It seems weird putting out five grand to make a music video where you used to put that money into an album," he added, "but that's just the way it is now."

Grinder Blues took that route for their its big single, 2015's "Burn the Bridge," which is available on YouTube and Vevo.

"We shot the video out in California with a professional company, and I have to say that made a huge difference," Bihlman said. "The videos really fuel music sales. So we've got to roll with what's going on now. I definitely have a lot of music, and I want to do something with it."

For more information on Jeff "Jabo" Bihlman and his bands, The Bihlman Brothers, and Grinder Blues, visit jabobihlman.com, bihlmanbros.com, grinderblues.com, and reverbnation.com/thebihlmanbros.
Trending
Very Busy Very Fast
This isn't going to be easy. President Joe Biden and his thin congressional majority are walking into troubled times both ...
Read More >>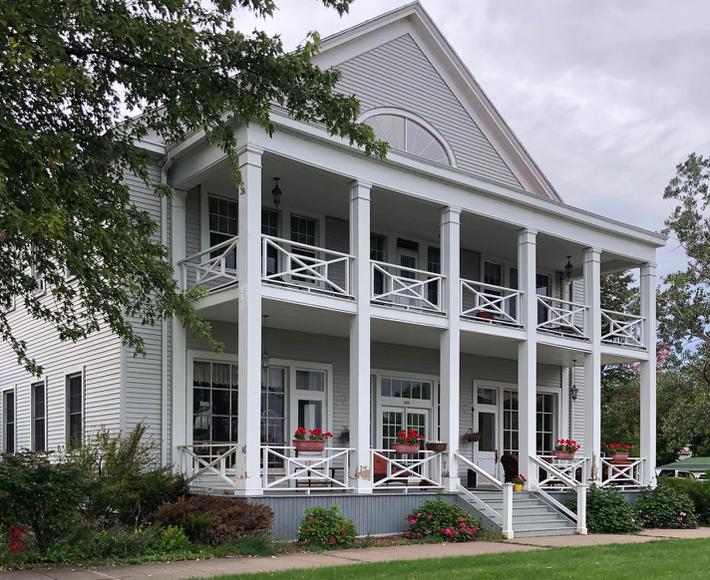 Thunder Bay Inn
Former playground to Henry Ford and part of a famous film and novel based on a real-life murder in the town, the courtroom...
Read More >>
Forty Acres' Spa Day Martini
Myriad methods of cocktail creation are on display at bars around the world. There are flaming drinks, compotes laden with...
Read More >>
He's Gone, Now What?
Wounded and fearful, America watched the 45th President leave the nation's capital. On a hastily arranged stage at a...
Read More >>
↑