China's Second Great Leap Forward — Over the U.S.?
Guest Opinion
President Xi Jinping says it is time for China to "take center stage in the world." While President Trump has focused on forcing near-term changes to China's behavior, China has a much longer-term strategic vision that aims to returning it to the position of global influence it held prior to the 19thcentury.

In a lifetime, China has gone from a "Third World" country to the second largest economy in the world, with nine of the world's top 20 companies. China's progress remains rooted in its communist five-year plan, the latest of which focuses on its Made in China 2025 campaign. This seeks to have Chinese firms dominate six key sectors — pharmaceuticals, automotive technology, aerospace, semiconductors, information/data, and robotics — by channeling substantial investment into these sectors.

Will the country be successful? Hard to say, since the absence of capitalist incentives deprives China's strategy of the innovation and competitiveness inherent in a global marketplace. In fact, China's state-controlled system might actually slow its advance, limit Chinese firms' ability to operate on a global scale, and open opportunities for other nations' companies to outperform Chinese competitors. Perhaps investment decisions made by western tech entrepreneurs will out-compete the work of Chinese bureaucrats.

Politically, with Xi Jinping's near-unanimous "election" to another five-year term and the end of presidential term limits, his regime can only be expected to become increasingly authoritarian. China's ongoing crackdown on dissidents and minorities will intensify. In the tech sector, that authoritarian streak shows up in China's longstanding paranoia about foreigners. Whereas 75% of tech workers in Silicon Valley are foreign born, nothing like that openness to foreigners exists in China.

On the other hand, Chinese commercial doctrine mandates that any advances made by industry must be shared with the Chinese state and military. This requirement empowers China's drive to collect data on consumers. It is also embedded in China's questionable trade practices and its industrial espionage campaign. The complaints of President Trump and other leaders about China's stealing of intellectual property are well founded. The demand that the U.S. and other firms foreign to China "share" their technology as a condition of doing business in China is at the heart of recent actions by many nations, led by the U.S., to attempt to exclude the Chinese tech superstar, Huawei, from participating in the buildup of our 5G data network.

Beyond technology, China is increasing its global reach through its Belt and Road Initiative (BRI). BRI aims to link China with the rest of the world through investments in 152 countries.It consists of road and rail projects connecting China to Central and South Asia, as well as maritime links between China and Southeast Asia, the Arab States of the Persian Gulf, North Africa, and Europe. BRI is not a Marshall Plan. Democracy and human rights are not considered. Rather, it is a vehicle to provide loans to foreign leaders of any stripe to finance projects that complement China's objectives.

For example, China loaned Kenya $3.2 billion to construct a new rail line linking the port of Mombasa to Nairobi. China subsequently negotiated an additional $3.6 billion loan to finance an extension of the new line to Lake Victoria. But countries that fail to make their loan payments have found themselves making concessions to China. In Sri Lanka, China financed a major port reconstruction — one of 35 such port projects. When Sri Lanka defaulted on its loan, China demanded as payment control of the port and its environs for the next 99 years.

We need to consider how best to meet this challenge. First, we might look at why there is no western competitor to China's BRI. Like most other free-market economies, we lack a multinational foreign investment strategy. Creating one would require a level of cooperation with our allies that seems unlikely these days.

Another critical element underpinning China's strategic vision we must pay attention to is China's overhaul of its education system. China is aiming for 50 million undergraduates by 2020 (up from 10.5 million in 1999). Since 2001, 1,022 newuniversities have been created in China, and the country is investing in 40 world-class universities, like Peking University, by 2050.

Again, as an authoritarian state, China is dictating that education be the nation's topmost national priority. Deficiencies of the past have been identified. The state-run system now demands increasing flexibility and creativity (versus the historically top-down approach). Faculty and administrators who cannot, or will not, execute the new approach are dismissed.

A coherent educational strategy is also interwoven into the BRI. China seeks to leverage inroads it makes through BRI to influence academic systems across Asia. The University Alliance of the Silk Road will bring together 130 universities on five continents. The objective is to increase the number of Ph.D. students coming to China; move from a teacher/tutor to a student/learner approach; focus on applied technologies and sciences; and synchronize the needs of the industrial/commercial complex with the available competencies of students.

As investment in U.S. infrastructure and U.S. education declines, and teachers advise college students to avoid the teaching profession, the U.S. faces a huge challenge. We are still No. 1, but China is catching up fast and has clear, strategic plans for overtaking us. We must respond.

Jack Segal and Karen Puschel co-chair the International Affairs Forum (IAF), whose next event features Tom Watkins, former Superintendent of Michigan Schools and frequent visitor to China, on Thursday, April 18, 6pm at Milliken Auditorium at Northwestern Michigan College's Dennos Museum Center. The event is free. More info: www.tciaf.com

Trending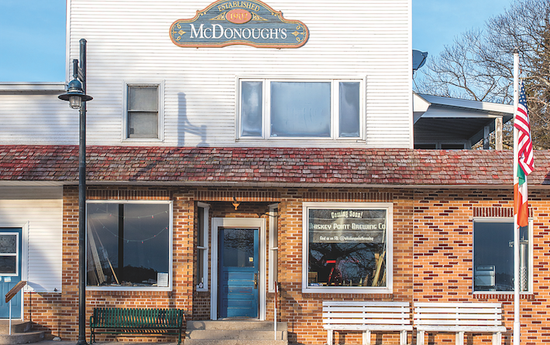 Welcome to Michigan's Most Remote Brewery
After years of planning and honing his beer-making skills, this spring, Patrick McGinnity plans to open Beaver Island&rsqu...
Read More >>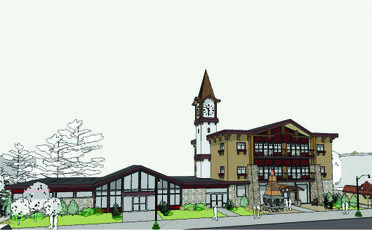 Gaylord: A boomtown Up North
Gaylord native Gary Scott had moved to Indiana, where he and some partners started a business to invest in distressed prop...
Read More >>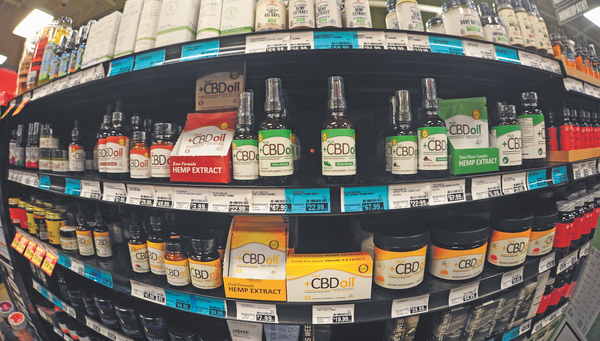 CBD Laws: Dazed and Confused
The sign outside of Family Video in Kalkaska lets drivers know the store has more than just movies. The sign reads: &...
Read More >>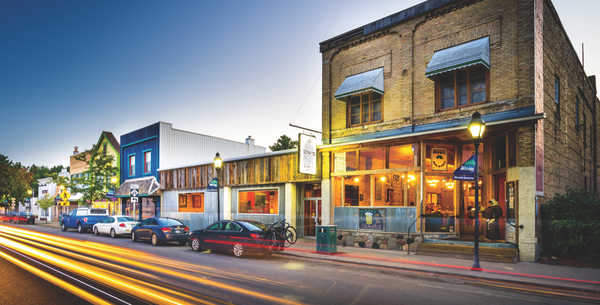 Small Up North Towns on the Rise
Spotlight on Bellaire (pictured)Seems Traverse City isn't the only place in the region making those "Best...
Read More >>
↑