Short-sighted and Spending Big in Antrim County
Four Antrim County Commissioners bravely stood up at a recent meeting and voted for a resolution to postpone moving ahead with building plans for a new jail. Unfortunately for the taxpayers, the motion failed 4–4, and the commissioners continue with plans to build the jail.
The four commissioners who voted against the delay need to stop pushing their pet project forward and be transparent to the taxpayers who are funding it. They should also continue to direct and encourage the County to move forward with alternatives to jailing citizens, especially since the County's crime rates are decreasing.
Commissioner Dawn LaVanway, who made the resolution to delay building the jail noted that there had never been a formal vote to move forward with the plan. Yet County Administrator Pete Garwood is already looking for a facilitator for a special meeting. "Lots of behind the scenes stuff going on," LaVanway told me. "People in Antrim County need to start attending meetings and holding theie Commissioners accountable."

My own commissioner Jason Helwig recently met with me and told me that "no one in his area of Mancelona wants a new jail." He said that he was surprised that there was discussion at a recent Commissioners meeting about filling new jail beds by importing prisoners from other areas. "Does Antrim County really want to become the Bed and Breakfast Center for criminals?" he wondered.
Chairman Ed Boettcher's excuse for moving forward is that the county has already "invested" $530,000 on the project. (The not-so-wise investment to which he was referring was the purchase the Merit Bank building, without any plan for its intended use, in 2017. The county neglected to maintain the building, and the pipes broke that winter. This "investment" now needs to be torn down.
There is another good reason LaVanway and the others want the construction to be delayed: The Antrim County Sheriff Department's annual report indicates that the jail is not as busy as it has been in previous years. The total inmate bookings went down from 904 in 2017 to 839 in 2018.
In fact, Sheriff Bean has stated that his desire for new facilities is "not a case of inmate overcrowding, but department operations. He said the department needs more office space … and room for storage."

"Why would we spend $13 to $20 million on a jail to satisfy a need for office space and storage?" asked Gary Knapp, founding chair of the State Community Corrections Advisory Board, in an open letter sent to the Country Board of Commissioners.

He explained that, on top of these millions, taxpayers would have to pay large amounts for financing and debt servicing. This would require selling bonds and passing a countywide millage.

Taxpayers will also have to fund operating costs to a new jail once it is built. A 1992 study by the Corrections Compendium, the peer-reviewed, research-based journal of the American Correctional Association,found that often communities end up paying for expensive corrections facilities and then can't afford to operate them.

An even bigger problem is that more people end up in jail in the years after a jail expansion. In other words: Build the jails, and they will come.
As Jack Norton, a research associate at the Vera Institute of Justice explained at a symposium entitled "Ending Mass Incarceration Where it Began,""The expansion of carceral capacity at the county level at the very least removes the incentives for criminal justice system actors to find alternatives to incarceration."

It's bad enough that we imprison more people than any other nation. While the United States has only 5 percent of the world's population, it has nearly 25 percent of its prisoners — about 2.2 million people, according to a report published in Psychology Today.

In fact, the report found that one out of every 100 American adults is incarcerated, a per capita rate that's 5 to 10 times higher than other democracies.

Knapp explained in his letter to commissioners that the Michigan Community Corrections Act provides funding to Antrim County to develop and implement alternatives to costly jail construction while still providing for public safety.

"As our law enforcement community understands all too well, our jail also houses people who the community would be better served by referring to mental health, substance abuse, education, employment, or pre-trial diversion programs for a fraction of the cost associated with maximum security jail construction," Knapp stated.

In addition, now that marijuana is legal, the number of people jailed should continue to decrease. In fact, what if we stopped arresting people for "victimless crimes?" Prohibition does not deter behaviors such as recreational drug use, gambling, or sex between consenting adults. Libertarians such as myself believe that we should have freedom to control our own behavior as long as it does not harm others.

In conclusion, Antrim County Commissioners should delay the building of a new jail based on lower crime statistics and should not shoulder taxpayers with the expenses for both building and operating a new facility.
Instead, police should stop jailing people who commit "victimless crimes," and the County should make more effort to encourage and create alternative programs for those who do need help. These programs would be less expensive and far more beneficial for our society.
(Voting to delay building the jail wereCommissioners LaVanway, VanAlstine, Watrous and Helwig. Voting against the delay were Commissioners Boettcher, Bargy, Ricksgers and Heeres. Commissioner Marcus was absent.)

Donna Gundle-Krieg, owner and broker of DEK Realty in Mancelona, is the chairperson of the Northwest Michigan Libertarian Party (NWMLP). (231)-350-8507, dokrieg@gmail.com
Trending
Dinghy's Smoked Barbeque Ribs
Dinghy's Restaurant & Bar in downtown Frankfort was hit particularly hard by the pandemic restrictions. "W...
Read More >>
Not a Clue
Surely politicians wouldn't be so clueless that they'd lie about COVID-19 deaths or take a vacation during a statewide eme...
Read More >>
Respecting the River
Forever, the Grand Traverse Band of Ottawa and Chippewa Indians (GTB) has regarded the water — and the Boardman/Otta...
Read More >>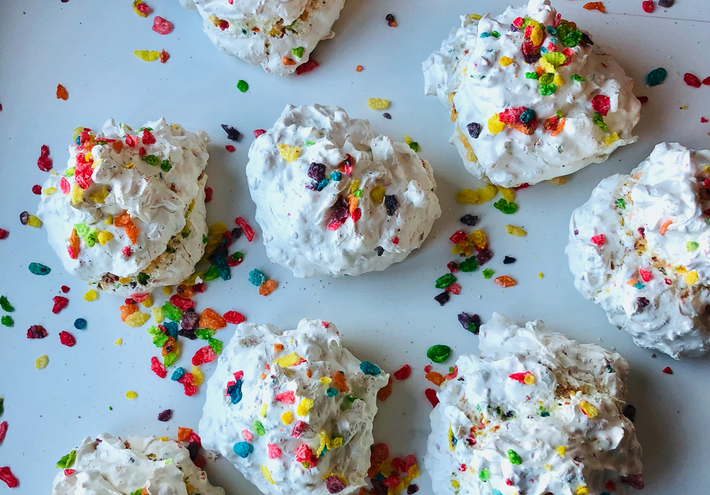 7 Batches Made in Heaven
Let's be honest: Picking the best cookies in northern Michigan is an impossible task. There are so many "right...
Read More >>
↑