Fall TV
Aug. 31, 2005
The Fall TV season is upon us, and it can be summed up in three categories: 1) I see dead people; 2) the aliens are among us; and 3) I'm a has-been celebrity in a new reality show. Nevertheless, if you've been dying to learn what's inside "the hatch" on the Lost island, who the father of Gabrielle's baby is, or how soccer moms can make big bucks selling pot, the time has come. Here's a sample of what's happening on the small screen this fall:

NEW THIS FALL:

PRISON BREAK
Fox, Mon. 9-10 p.m., premieres Aug. 29, 8-10 p.m.
If you think "24" stretches the boundaries of logic, wait til you see this doozy. Michael Scofield (Wentworth Miller of "The Human Stain") is a desperate man in a desperate situation. His brother, Lincoln Burrows (Dominic Purcell of "Blade: Trinity"), is on death row and scheduled to die for a murder he didn't commit. So what does Michael do? Why, hold up a bank and get himself incarcerated alongside his brother, of course. It's no surprise that Michael is a structural engineer with blueprints for the prison, and has hatched an elaborate plan to break Lincoln out and prove his innocence. If you like tense, violent, improbably entertaining adventure, this should keep you occupied until "24" returns in January.

WEEDS
Showtime, Mon/Wed/Fri, 10-11 p.m., premieres Aug. 24
Hey, mon, got any good smoke? Not exactly the kind of thing you'd envision coming out of a soccer-mom's mouth, but stranger things have happened. After her husband dies, Nancy Botwin (Mary-Louise Parker) wonders how she'll support and raise two young boys on her own. She finds good work as – what else? – the local pot dealer in the pristine L.A. suburb of Agrestic. Guess working at Borders didn't pay enough. Also stars Elizabeth Perkins and Kevin Nealon.

THE E-RING
NBC, Wed., 9-10 p.m., premieres Sept. 21
It was just a matter of time before real-life world politics would intersect with prime time. And who better to do it than Jerry Bruckheimer (executive producer of just about everything on TV these days - rapidly approaching David E. Kelley territory)? Benjamin Bratt and Dennis Hopper star in this Pentagon-based series, where angst-ridden intelligence officers make critical decisions in the war room to be carried out by special ops guys on the battlefield.

ROME
HBO, Sun. 9-10 p.m., premieres Aug. 28
Hey, Rome wasn't built in a day, and neither was this epic series, one of the largest co-productions deals ever (HBO and the BBC). The year is 52 B.C., and Rome is the wealthiest city in the world, a cosmopolitan metropolis of one million people and epicenter of a sprawling empire. It's an intimate drama of love and betrayal, masters and slaves, husbands and wives, centered around two brothers amidst the fallout of Gaius Julius Caesar's conquest of Gaul. Like sands through the hourglass, so are the days of this Roman empire....

THE APPRENTICE: MARTHA STEWART
NBC, Wed., 8-9 p.m., premieres Sept. 21
Let's see. Famed media mogul breaks the law and ends up in the slammer. Next move? Why, her own TV series, of course. In this spin-off of "The Apprentice," the tasks will be centered around Stewart's area of expertise: media, home renovation, entertaining, design, merchandising, technology, and style. And oh yeah, how to survive and thrive in prison! The elimination process will feature two of her most trusted colleagues. I'm guessing her former broker, Peter Bacanovic won't be on that list.

BEING BONADUCE
VH1, Sunday, 10-10:30 p.m., premieres Sept. 11, 10:30 p.m.
What if you found out that your former-child-star husband was a drug addict, a cheater, and that he only married you to sleep with you? That's the question for this new reality show about the marriage between Danny Bonaduce and his wife, Gretchen. Is it true love or psychosis? Only time – and ratings – will tell.

BONES
Fox, Tues. 8-9 p.m., premieres Sept. 13
Forensic anthropologist Dr. Temperance Brennan (Emily Deschanel) works at the Jeffersonian Institution, writes novels on the side, and has an uncanny ability to read clues left behind in a victim's bones. Consequently, law enforcement calls her in to assist with murder investigations when the remains are so badly decomposed, burned or destroyed that the standard I.D. methods are useless. Sounds like fiction, but it's actually inspired by real-life forensic anthropologist and novelist Kathy Reichs. Gee, let's hope we get to see as many decomposed bodies as they show on "CSI" and "Cold Case". Also, fans of "Angel's David Boreanaz can see him here as Special Agent Seeley Booth, a former Army sniper who mistrusts science and scientists when it comes to solving crimes.

CLOSE TO HOME
CBS, Tues. 10-11 p.m., premieres Oct. 4.
Life in suburbia getting you down? Hey, maybe there's a crime lurking in those quiet and tranquil streets. That's the premise of this new series, which stars Jennifer Finnigan as a young, aggressive prosecutor (and new mother) who tries cases that take place in her own backyard. Also stars Kimberly Elise ("Diary of a Mad Black Woman"), John Carroll Lynch ("The Drew Carey Show") and Christian Kane ("Friday Night Lights").

COMMANDER-IN-CHIEF
ABC, Tues. 9-10 p.m., premieres Sept. 27
Ah, finally! Geena Davis AND a female Prez all in one show. Davis plays Mackenzie Allen, a mom with twin teenagers and a six-year-old at home, and an ambitious husband at the office. And oh yeah, she's about to become the first female President of the United States. Will national security win out over soccer practice? Will cabinet meetings run into homework time? And how will all this affect her relationship with her hubby? No matter. Just seeing the Oscar winner on the small screen will be a treat.

CRIMINAL MINDS
CBS, Wed. 9-10 p.m., premieres Sept. 22, 10 p.m.
Oh boy! Another show about people exploring the criminal mind! This one stars Mandy Patinkin, Thomas Gibson, and Shemar Moore as an elite squad of FBI profilers who analyze the country's most twisted criminal minds, anticipating their next move before they strike again. Each member of the team brings their unique area of expertise to the table as they pinpoint predator's motivations and identify their emotional triggers in order to stop them. Hmmm...wonder if they'll take on Tom Cruise...

EVERYBODY HATES CHRIS
UPN, Thurs. 8-8:30 p.m., premieres Sept. 22
Ever wonder how Chris Rock got to be where he is? Me neither, but apparently, the creators of this show think SOMEone is interested. Inspired by the real-life childhood of the comedian (who narrates), this show tells the story of a teenager growing up as the eldest of three kids in Brooklyn during the 1980's.

THE GHOST WHISPERER
CBS, Fri. 8-9 p.m., premieres Sept. 23
I see dead people...er, I mean, Jennifer Love Hewitt sees dead people. In this drama inspired by the life of famed medium James Van Praagh, Hewitt plays Melinda Gordon, a young newlywed with the ability to communicate with the dead – only sometimes those messages aren't exactly cut and dried, which leaves a lot of questions for the left-behind loved ones. Also stars David Conrad ("Profiler") and Aisha Tyler ("CSI").

SURFACE
NBC, Mon. 8-9 p.m., premieres Sept. 19
The aliens are coming! The aliens are coming! Well... they might be and they might not be. In this drama, a new form of sea life begins showing up all over the earth. These seemingly innocent creatures are beautiful, and kids love to play with them. But is there something more? Could they be...Scientologists perhaps? Jay Ferguson, Rade Serbedzija and Carter Jenkins star.
MY FAIR BRADY
VH1, Sun. 9:30-10 p.m., premieres Sept. 11
"Here's the story...of a man named Brady...who is living with his supermodel girl ... ." Yes, it's true, folks. It was bound to happen sooner or later. Christopher Knight (whom we all know and love as Peter Brady) and Adrianne Curry, the first-ever "America's Next Top Model," are in love and living together. And yes, they're the subject of a reality show as the cameras follow them 24/7 (isn't this the seventh sign of the Apocalypse?). But Chris, 47, wants Adrianne, 22, to prove that she's independent and can mature beyond her wild ways before becoming wife material. Only fights, tears, sex, and yes, a special appearance by Florence Henderson will tell if this relationship will move forward or self-destruct.

RETURNING THIS FALL • SPOILER ALERT

LOST
ABC, Wed. 8-9 p.m., Season 2 premieres Sept. 21
At long last, we'll find out what's inside that hatch, as will the three survivors who venture inside [insert creepy Twilight Zone music here]. As for the guys on the raft, those who survived (that's right - survived) are separated from the main group for the first third of the season. The arrival of Michele Rodriguez (she's been out there leading a Tom Hanks-ian castaway existence) will turn the Jack-Kate-Sawyer triangle into a romantic trapezoid. And Adewale Akinnuoye-Agbaje ("Oz") will join the cast as Emeke, a Nigerian man living on the island. Hmmm...me thinks he knows something about that Beechcraft plane full of heroin and the bones of those Nigerian drug smugglers...

DESPERATE HOUSEWIVES
ABC, Sun. 9-10 p.m., Season 2 begins Sept. 25
Things will get even hotter for the residents of Wisteria Lane this year. We'll learn that Alfre Woodard's character, a former concert pianist, is now involved in something dark and spooky. Bree I.D.'s Rex's body, while John sits in jail, a few cellblocks away from Carlos. Lynette has a series of job interviews at an ad agency, which go quite well. Also, Richard Burgi ("Point Pleasant") has been upped to regular status in his role as Karl Mayer, the philandering ex of Susan (you might remember the bath-towel-in-the-car-door scene). Rumor has it his character will become romantically entangled with Edie. And oh yeah, Gabrielle gets a new gardener.

ALIAS
ABC, Thurs. 8-9 p.m., Season 5 premieres Sept. 29
"My name isn't Michael Vaughn." Well then, what is it? After Sydney and Vaughn survive the crash, she learns that the man she's known as Michael Vaughn is under investigation and suspected of being a double agent. She questions whether their business and personal relationship over the years has all been a lie. Pregnant with his baby, she's determined to uncover the truth. Meanwhile, because of Jack's past betrayal by Irina, he begins to worry that his daughter may suffer the same fate. He'll also have to deal with the fact that he will soon become a grandfather (and he still hasn't gotten that whole "dad" thing down). Sloane will do some soul-searching of his own, as he makes an unholy alliance in his desperate fight to find a cure for Nadia, who's still in a coma. New agents will be introduced and a nefarious organization will come to light in Sydney's life as she fights to protect her unborn child.

SMALLVILLE
WB, Thurs. 8-9 p.m., Season 5 premieres Sept. 29
The hit series kicks into gear as both Clark Kent (Tom Welling) and Lex Luthor (Michael Rosenbaum) rocket closer to their respective destinies. Clark heads off to college, enrolling close to home (and sweetheart Lana), but still heeding the call of his Kryptonian destiny. Lex Luthor, meanwhile, continues battling for control of his father's company as he comes to realize his own destiny, one bent on power, destruction, and revenge. James Marsters ("Angel") will play Milton Fine, better known to comic readers as the Superman villain "Brainiac". Former "Dukes of Hazzard" co-star Tom Wopat is also on track to make a guest spot on the series, where he'll reunite with fellow "Dukes" alumnus John Schneider. It's understood that he'll play a senator with undisclosed ties to Schneider's character.

EVERWOOD
WB, Thurs. 9-10 p.m., Season 3 premieres Sept. 29
Word has it that the Season 3 will start off with a wedding and a big airport kiss! Meanwhile, Nina is fed up with the customers of her restaurant, expecting everything to be like it was years ago. Bright goes to see Hannah at Nina's house, but Jake opens the door. Awkward! Dr. Brown helps 17-year-old Ethan with a certain man-problem, caused by his antidepressants; Ethan winds up in the hospital because of it. And Ephram ends up back in Everwood as a piano teacher to 13-year-old Kyle, an annoying brat. Justin Baldoni joins the cast as a med student who sends Amy's heart racing. Best known as the crazy date rapist from CSB's cheesy "Spring Break Shark Attack," Baldoni is more than just another pretty obstacle for star-crossed lovebirds Amy and Ephram. He's half Italian and half Jewish! There goes the neighborhood.

GREY'S ANATOMY
ABC, Sun. 10-11 p.m., Season 2 premieres Sept. 25
Hoo boy! Wait until Meredith finds out that Doc Shepherd's MIA Misses is getting a job at the hospital. Let the fireworks begin! Turns out the doc's wife, Dr. Addison Montgomery (Kate Walsh) is a world-class neonatal specialist who's called in to perform delicate surgery on a pregnant woman carrying conjoined twins. Of course, she quickly agitates the entire Seattle Grace Hospital staff. You go, girl.

HOUSE
Fox, Tues. 9-10 p.m., Season 2 premieres Sept. 13
Sparks fly when House's ex-lover, Stacy Warner (Sela Ward) enters the picture. Big problem: she's married. And House saved her hubby's life. But things get complicated when Stacy is hired as legal counsel at the hospital. And...since House has ended his flirtation with Allison...well, we'll just see if he and Stacy end up fogging up the windows of his new 'Vette...

VERONICA MARS
UPN, Wed. 9-10 p.m., Season 2 premieres Sept. 28
The central mystery this season will be a whodunit, with the ill-fated character biting it in the Sept. 28 premiere. Joining the cast are Steve Guttenberg and Charisma Carpenter ("Angel"). Carpenter plays Kendall Casablancas, a sexy trophy wife and stepmother to brothers Dick and Cassidy "Beaver" Casablancas, two of Veronica's rival, affluent schoolmates. Guttenberg will play Woody Goodman, a charismatic major league baseball team owner and leading candidate in the local race for mayor of Neptune, CA. To show his support for the community, his daughter (Krysten Ritter) transfers from her private school to Neptune High. Also, Tessa Thompson has been tapped to play Veronica's new African-American pal, Jackie Cook.

CURB YOUR ENTHUSIASM
HBO, Sun. 10-10:30 p.m., Season 5 premieres Sept. 25
Rumor has it that creator-star Larry David has imposed a gag order on the cast not to divulge anything about this popular series' 5th season, but co-star Richard Lewis says fans won't be disappointed. "It's almost like Larry had a Jewish opium dream," says the comic. "I don't know how he came up with this stuff." Me either. Let's just hope he keeps coming up with it. Not much on TV these days to rival this quirky show.

Trending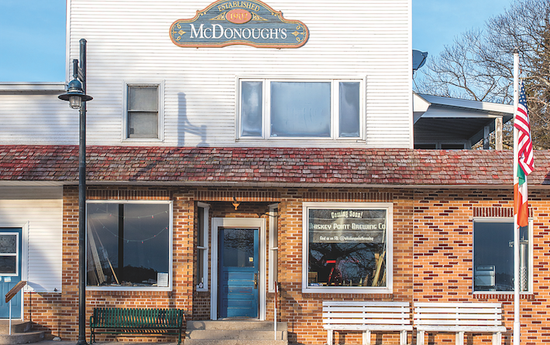 Welcome to Michigan's Most Remote Brewery
After years of planning and honing his beer-making skills, this spring, Patrick McGinnity plans to open Beaver Island&rsqu...
Read More >>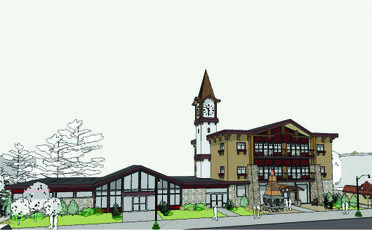 Gaylord: A boomtown Up North
Gaylord native Gary Scott had moved to Indiana, where he and some partners started a business to invest in distressed prop...
Read More >>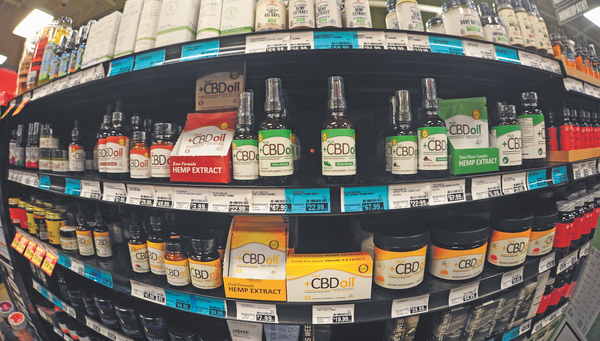 CBD Laws: Dazed and Confused
The sign outside of Family Video in Kalkaska lets drivers know the store has more than just movies. The sign reads: &...
Read More >>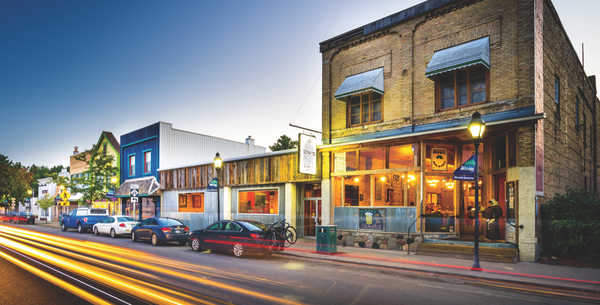 Small Up North Towns on the Rise
Spotlight on Bellaire (pictured)Seems Traverse City isn't the only place in the region making those "Best...
Read More >>
↑