Ski Empire: Boyne Mountain celebrates its 60th anniversary
March 22, 2009
Ski Empire
By Carina Hume 3/23/09

A passion for skiing, a little bit of luck, and the determination and money to make it work. That's what Everett Kircher possessed. A former Detroit car dealer, Kircher's vision of a ski club in Northern Michigan began with a one-dollar purchase of 40 acres near Boyne Falls.
Sixty years later, Boyne Mountain is a mega-resort anchoring nine sister resorts in locations as far away as British Columbia, and the Kircher name has its place in skiing history.
In 1947, Everett Kircher and partnersJohn Norton and Jim Christianson formed the Boyne Ski Lodge company. With the purchase of a chairlift from Sun Valley, Idaho, the ski club would introduce the first chairlift in the Midwest, hoping ski enthusiasts would travel north instead of west for their fun.
"Everett Kircher bought a used lift in 1948 in Sun Valley and installed it on the Hemlock slope," explains Ed Grice, Boyne Mountain's general manager since 2005. "That lift was the first chairlift in the world transporting skiers at Sun Valley."
Detroit Youth Hostelers helped clear trails during the summer, including Hemlock, Aurora, McLouth, Victor – named after Victor Gottschalk – Everett's first ski instructor and Boyne's first director of skiing, and Pierson after Michigan Senator William Pierson who donated the original land. The resort opened during the holidays of 1948, with a grand opening on January 9, 1949.
As the ski club's success grew, Kircher moved to Northern Michigan full-time and became sole owner of the former hobby turned full-time business. General managers Chuck Moll and Art Tebo each spent years as Kircher's right-hand man.
Boyne's successful ski school taught enthusiasts the most modern techniques, thanks to well-known instructors, Stein Eriksen – the world's first ski superstar – and Othmar Schneider.
In 1964, Boyne installed the very first four-place chairlift – the Meadows lift – which was finally replaced this season with a higher-speed conveyor-load lift. In the 1970s, Boyne added golf to its offerings and patented the Highland Snow Gun, still one of the premier guns used for snowmaking today. The area's first high-speed chairlift was installed in 1992 and the Disciples Ridge expansion added 12 runs and another chairlift in 1995.

60-YEAR CELEBRATION
Boyne Mountain's formal 60th anniversary celebration in January included nearly 600 people, authentic German food and music, old-time period skiwear, Little Traverse Figure Skating Club skaters, a torchlight parade and fireworks.
"At the anniversary celebration, one of the neat things to see were the several generations who've been enjoying Boyne – the grandchildren, parents and grandparents all together," says Grice.
"We had folks from all around the Midwest, and (filmmaker) Warren Miller from Montana as our special guest." Many of Miller's skiing movies were filmed at Boyne Mountain and his friendship with Everett continued until Everett's death in 2002.
Everett's son Stephen became Boyne Resorts' president of eastern operations that year, and his wife Molly has commemorated Boyne's 60th anniversary with a book: "Boyne: People, History, Memories."
The book is filled with pictures and text depicting Boyne's history, as well as the history of skiing through the present day.
"It's just phenomenal how neat this book is and the history it shows," says Grice. "[Molly] didn't have a lot of time to put it together; we had a lot of archival material and she just started going through boxes – picture by picture. The book shows how the sport has evolved from being only a handful of ski resorts in use to where we are today."

OPPORTUNITIES AT BOYNE
As for Boyne celebrations, Grice has one of his own. He began his career at Boyne Mountain nearly 35 years ago as a dishwasher and busboy, and worked his way up. "I've worked in hotel maintenance, bartending and all the different things there are to do in the resort business," he says. He appreciates learning "from really a great businessman who invented many things" when remembering Everett.
"Being around here as many years as I've been, there's a great deal of pride to see how [Boyne's] grown. It's neat to see what it means to the community, to jobs we supply to the area, to recreation opportunities we supply to local kids in schools. Since Boyne's infancy, we've done Thursday afternoon ski programs for Boyne Falls students."
Expansion and improvements are always in the works at Boyne Mountain, as evidenced by openings of the Mountain Grand Lodge, Solace Spa and the Avalanche Bay water park in May 2005. Next up is Helga House.
"We're always looking at improving what we've got," says Grice. "[Helga House is] going to be our teaching center for children; not only ski school, but an adventure camp for children in summer."
Grice's philosophy about working at Boyne is simple:
"We're here as caretakers; we need to make it better for the next generation, the people who take over, also for our customers. We need to continue to improve, meet goals, set new goals so people can continue to enjoy Boyne for generations."

MICHIGAN'S CHALLENGES
El Niño's effect on the country's weather has proved challenging for a ski resort these last 10 years. "We've had a kind of a one-two punch," says Grice, referring to the economic downturns combined with Michigan's unreliable weather patterns. "We've also had some very unfavorable winters of trying to do business in the state of Michigan." But Grice is confident that Boyne Resorts continue to satisfy.
"In spite of the economy we're still having a very good year; we see that as continuing," says Grice. "We always see opportunities for another chair lift here or ski run there or condo here; we think that we're pointed in the right direction, and our customer base – by how popular we are – is telling us that."
"Boyne is the total experience, in our minds," says Grice. "We have our tag line for Boyne, 'What are you up for?' and that can be skiing, golf, the water park at Avalanche Bay – Michigan's largest indoor water park – Solace Spa, hiking, biking, après-ski nightlife. There's something for everybody here; that's been our goal, and we've been achieving that."

For more information about Boyne Mountain, call 231-549-6000 or visit
www.boyne.com. To purchase "Boyne: People, History, Memories," visit www.skigolf.com or any Boyne Country Sports location.




Trending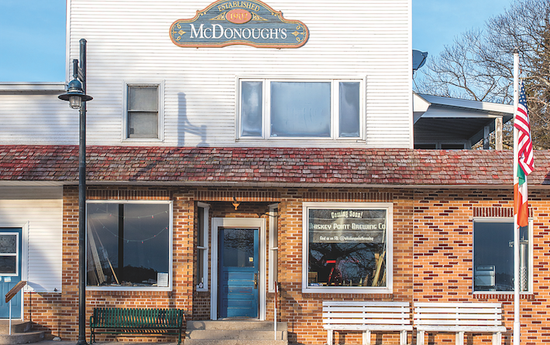 Welcome to Michigan's Most Remote Brewery
After years of planning and honing his beer-making skills, this spring, Patrick McGinnity plans to open Beaver Island&rsqu...
Read More >>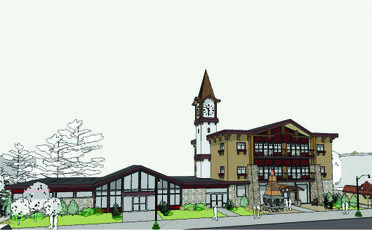 Gaylord: A boomtown Up North
Gaylord native Gary Scott had moved to Indiana, where he and some partners started a business to invest in distressed prop...
Read More >>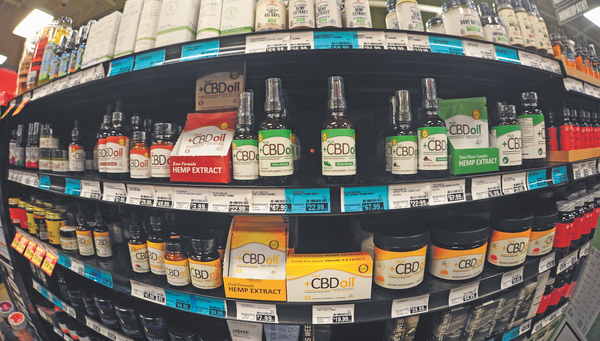 CBD Laws: Dazed and Confused
The sign outside of Family Video in Kalkaska lets drivers know the store has more than just movies. The sign reads: &...
Read More >>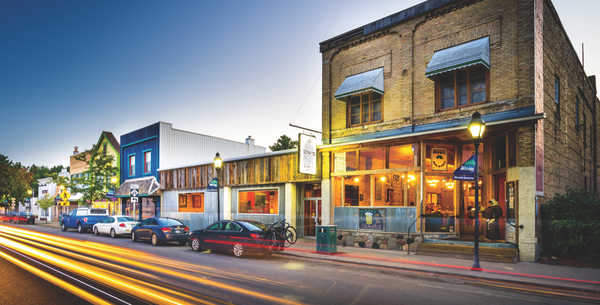 Small Up North Towns on the Rise
Spotlight on Bellaire (pictured)Seems Traverse City isn't the only place in the region making those "Best...
Read More >>
↑