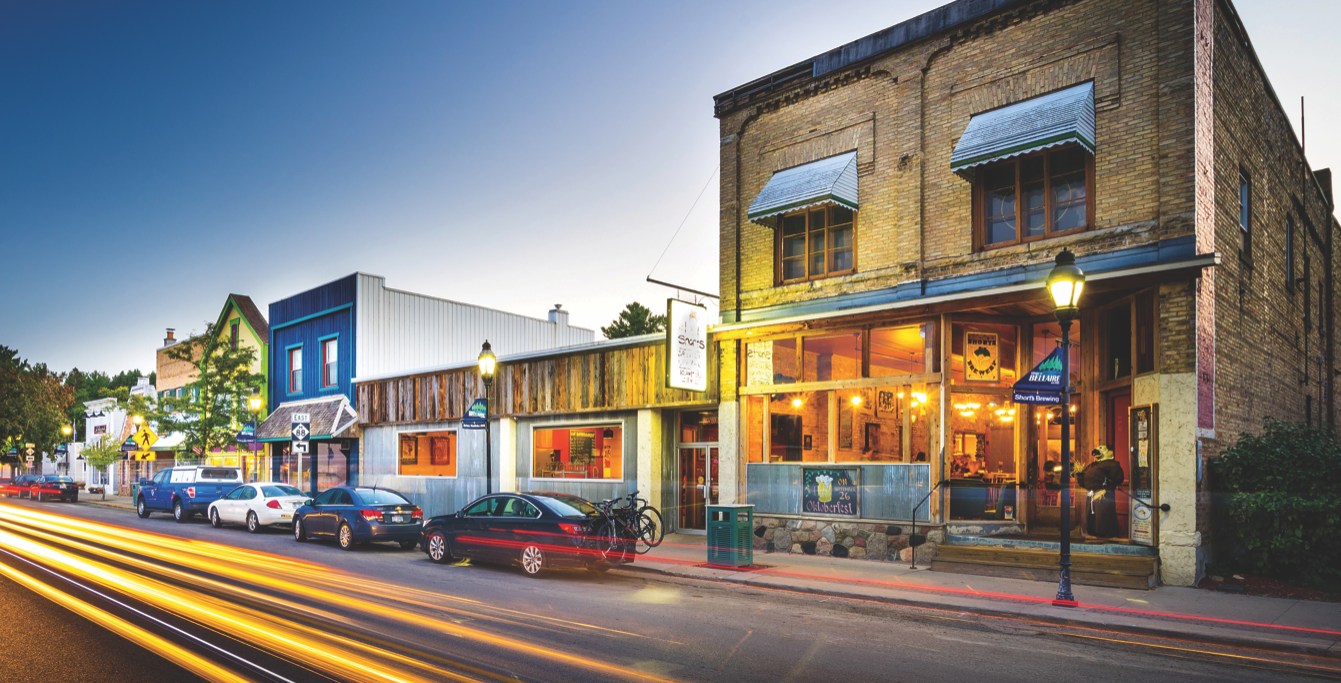 Small Up North Towns on the Rise
Have you been to Bellaire or East Jordan lately? They're not what they used to be.
Aug. 25, 2018
Spotlight on Bellaire (pictured)
Seems Traverse City isn't the only place in the region making those "Best of" lists. The Antrim County hamlet of Bellaire was recently named to the list of Best Lakeside Towns in the U.S. by Country Living Magazine, alongside the likes of Vergennes, Vermont, Greenville, Maine, and Devils Lake, North Dakota.

"We are a four-season destination. We get people out in nature," said Rachel Krino, the assistant director of the Bellaire Chamber of Commerce. That's certainly true. There are a host of nearby golf courses. Fall brings color to the area, visible from numerous hiking trails. Winter features a host of snow sports, while spring heralds the advent of summer with flowers and morels.

But back to that lake thing. While Bellaire itself is not actually on a lake, it is a waterfront town by virtue of the Intermediate River running through the middle of it, connecting Intermediate Lake and Lake Bellaire. They are all part of the Chain of Lakes, a dozen lakes connected by rivers and streams that culminate where Elk Lake meets Lake Michigan. "We've got a lake for every day of the week," said Krino with a laugh.

And the lakes bring people in. "The area triples in size in the summer," said Jim Richardson, a Realtor with Coldwell Banker Schmidt in Bellaire and at Shanty Creek Resort. He said the area's recreation and waterways are huge attractions for both visitors and those who choose to move to the area. "We had the best winter we've had in 10 years [in real estate sales], and we're looking to do the same for summer."

He said the rural character and small town life, combined with the area's natural features make it attractive. Plus it is a convenient to many of the region's other cities and their attractions. "It's out of the way, but you can go anywhere. It's centrally located," said Richardson, noting from there you can get to Traverse City, Petoskey, Charlevoix, or Gaylord in an hour or less.

In fact, the area encompassing Bellaire is getting some national recognition. Shanty Creek, the sprawling 5,000 acre resort, has won accolades from the likes of Golf Magazine, Travel & Leisure, Condé Nast Traveler, Ski Magazine and AAA.Lake Bellaire and Clam Lake were named among Michigan's 20 Most Beautiful Lakes by Vacation Idea Dream Vacation Magazine. Surprisingly, Torch Lake didn't make the list; instead, it was named one of Michigan's 20 most beautiful lakes for couples.

And it is the entire area that is benefiting from and touting the recognition. "We are the Bellaire Chamber of Commerce, but we work with all the communities — Alden, Eastport, Central Lake," said Krino. The hotels and amenities of Shanty Creek host thousands of guests each year, but a variety of other lodging — the Bellaire Inn, Stone Waters Inn, and All Seasons Motel — and attractions are drawing substantial traffic, too.

"We have eclectic shops," said Krino. The Bellaire Smokehouse smokes meat and fish onsite, and the market also sells a selection of micro-brews, wines, cheese and dry goods. The Flying Pig offers restored and reclaimed furniture. Uniquely North features home furnishings, art, clothing and other lifestyle items. Paddles & Pedals includes gear for biking, hiking and paddling.

"We have amazing food," she added. "Toonies Fish and Steakhouse makes everything by hand. Ruth Anne's Bakery makes cakes, cupcakes, and cookies that are to die for. Market M-88 does French pastries and scones. There's Torch Lake Cellars. Hello Vino is our new wine bar. Bee Well Meadery, Mammoth Distilling [ in Central Lake] and Short's."

Ah yes, Bellaire can hardly be mentioned without noting Short's. Since opening in 2004, it's become synonymous with Bellaire. "He has done so much for this town," said Richardson of Joe Short, from supporting civic improvements to environmental causes and sponsoring recreation (see sidebar on Paddle Antrim). "I know people who drive from Leland on a regular basis."

Krino said she emphasizes the quality of life in Bellaire, starting at home. "I grew up in Pittsburgh, and I try to tell my young sons how lucky we are. You can swim in the lakes, ski just down the road. They have no concept of what they're growing up around."—RB

Spotlight on East Jordan
When the largest employer in a tiny city announces that it will build a new plant out of town, it's reasonable for a community to be concerned about the future.

But that didn't happen in East Jordan (population 2,350) when EJ, formerly the East Jordan Iron Works, which employees some 600 workers, unveiled plans to construct a new state-of-the art foundry operation some 13 miles out of town, according to City Administrator Tom Cannon.

"We were a bit surprised when they made the announcement," said Cannon. "But, when we learned the details, that they were only moving 13 miles out of town, and no jobs would be lost, we were excited. It's not like they were moving to Gaylord or Traverse City. Most companies would never build a $126 million plant only 13 miles from an existing one, but EJ is a family owned company and committed to our community. "

EJ's commitment to remaining downtown is typical of the spirit of East Jordan, according to Cannon, an Escanaba native who came to town in 2014 to serve as the city's parks and recreation director. A year later he became city administrator.

"We're definitely a community that cares for each other," said Cannon. If someone is sick and needs a spaghetti dinner to help out, the whole town shows up. We held a gathering to outline 12 community projects, and more than 100 people showed up during a rainy Saturday in the summer. I'm never concerned about if we're going to have [public] input."

Kaila Thomas, owner of the South Arm Market, echoes those sentiments. "I love our small little town," said Thomas, who opened her deli in May. "Everyone cares about each other. Everyone is so kind to each other. Business people look out for each other."

Thomas is living proof of that.

The 2005 East Jordan High School and Central Michigan University grad had a long-time dream of opening her own deli, which she felt her city really needed.
Last fall she was encouraged by another business owner to enter the city's GreenLight Business Model Competition, which invites local entrepreneurs to pitch their business idea to a panel of judges who award the winner $10,000.

Thomas won, then went on to nab another $15,000 in the Northern Lakes Economic Alliance's Grand Event pitch night in Petoskey. That influx of cash was importance to the fledgling eatery where business has been steady since its May opening.

When Cannon took over as city administrator, his first project was developing a master plan for the city. One of the top priorities in the 2015 plan was building a new wastewater treatment plant to replace an aging lagoon system that's served the city for many years. The $5.6 million project will be completed by the end of summer.

"It's important, but not sexy," said Cannon. "And we didn't have to have a rate increase to get it done."

A more high profile project was the 2016 construction of The Cannonball Building, a new brick structure at the corner of Mill and Main Street, which now houses Blue Smoke, a BBQ restaurant, owned by Adam and Jill Kline, owners of Pigs Eatin' Ribs in Charlevoix. Blue Smoke features Southern-inspired cuisine cooked over open flames. Guests can enjoy sweeping vistas of Lake Charlevoix and the Jordan River as they enjoy beverages from the restaurant's bar.

The building is also home to North Perk Coffee shop, which also has locations in Petoskey and Boyne City, and Thomas's South Arm Market, which features sandwiches, salads and wraps, along with bulk deli offerings of meats, cheese, and pastas.

For a small city, East Jordan features an impressive collection of parks, beaches and arts events. There's Sportsman's Park downtown, which houses a farmers market on Thursdays. Tourist Park Campground and Beach offers three modern cabins and 12 tent campsites on the shores of Lake Charlevoix. East Jordan Community Park is a 40-acre recreation facility, complete with soccer fields, baseball/softball diamonds, and disc golf. Elm Pointe is an 11-acre park on the south arm of Lake Charlevoix. It's the site of the East Joran Portside Art & Historical Museum, which houses artifacts from the lumbering era. At 310 Main Street, the Jordan River Arts Council displays works from area artists throughout the year. The gallery is housed in the former historic Carnegie Library, built in 1919 and home of the JRAC since 1989.

With its place as a vibrant community secure, the city has more growth on the agenda, according to Cannon.

"We have three city parcels that we'd like to have developed," he said. "A hotel would be nice, maybe with some mixed-use projects." Other potential projects include a new streetscape plan, a pedestrian bridge across the Jordan River, and revamping of the city's marina, which features 27 seasonal slips and 27 transient slips.

Big dreams for a small town? Maybe, but given the path East Jordan's been on in recent years, continued progress is not only possible, it's simply part of its people's plan. Said Cannon: "We're a blue-collar community that really takes an interest in our future."—AP
Want to know the next little town developers are eyeing? Click here to find out what's changing in Cadillac.
Trending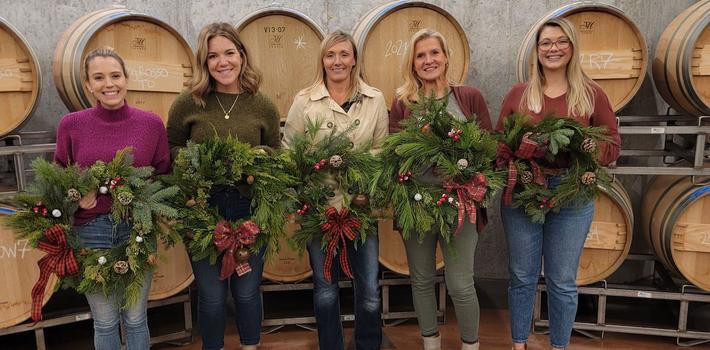 Wine & Wreaths at Mari
If you like wine and wreaths, you'll want to head to Mari Vineyards on Old Mission Peninsula. A 90-minute wreath-mak...
Read More >>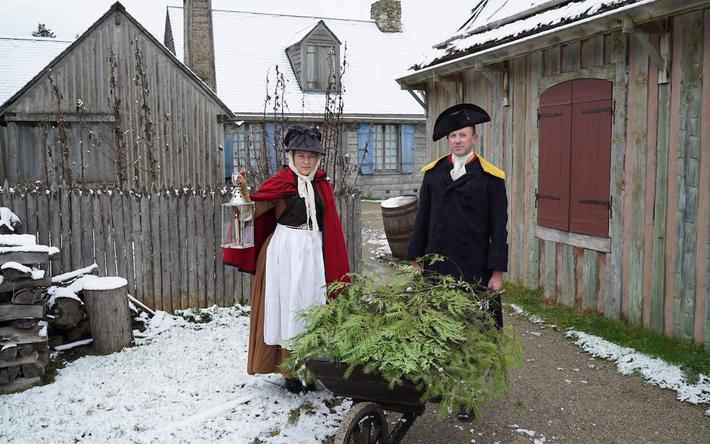 A Colonial Christmas
Christmas is coming to Colonial Michilimackinac in Mackinaw City on Dec. 9. Storytellers will bring to life the stories of...
Read More >>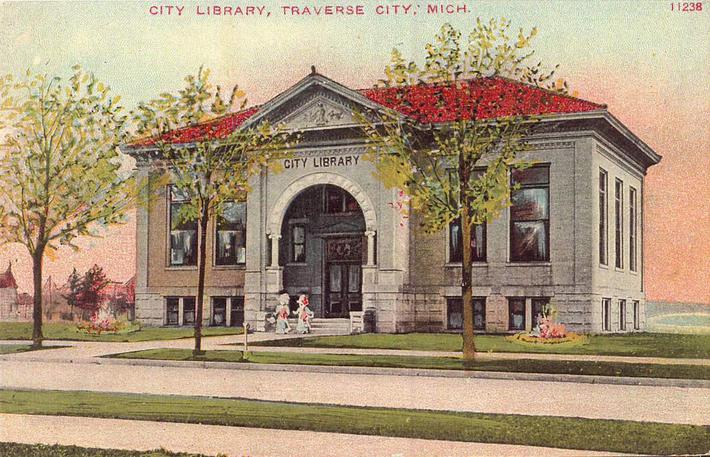 A Literary History of TADL
Next year, the Traverse Area District Library (TADL) will celebrate 155 years of lending books and knowledge in northern M...
Read More >>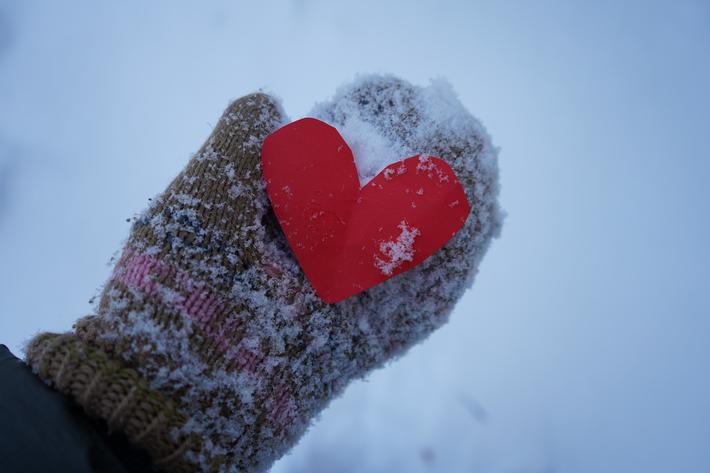 Merry Mittens
The Mitten Real Estate Group of Traverse City is helping make the season bright by kicking off their first Mitten Drive, w...
Read More >>