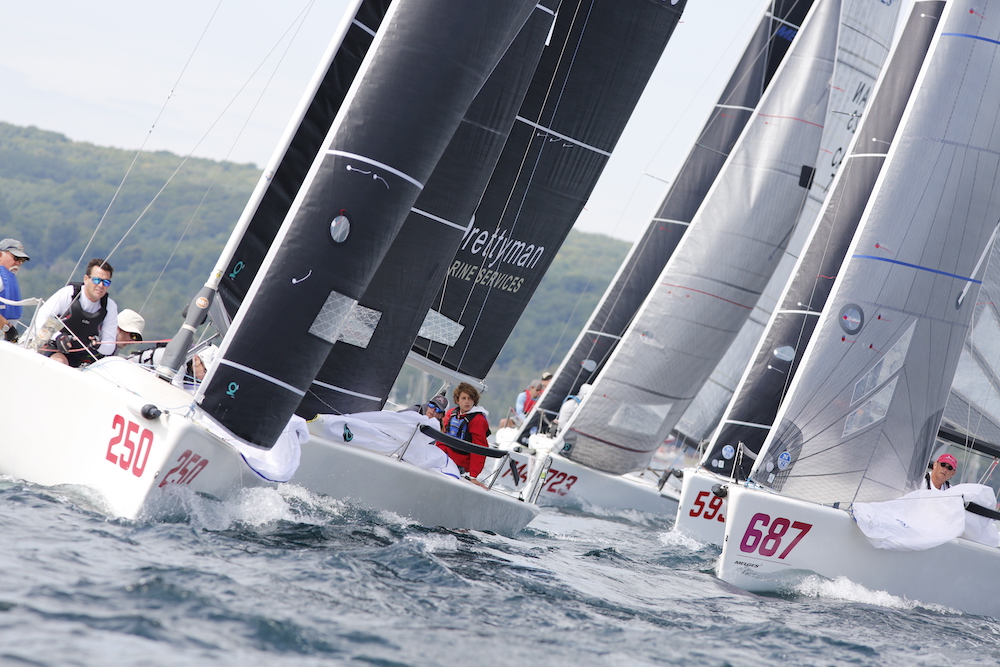 Smooth Sailing
A growing fleet of Melges 24 boats — one of the biggest in the country — attracts sailors of all stripes
On Wednesday nights, the waters of West Grand Traverse Bay churn with Grand Traverse Yacht Club teams racing for inter-club glory.
The eye-catching boats – a fleet of 14 Melges 24s – are known for their easy set-up and high performance on both inland lakes and big open water.
The fleet has attracted professional sailors and enticed younger sailors to jump onboard these weekly races, held every Wednesday from June-September.
According to Melges 24 Fleet Captain Scot Zimmerman, the fleet began when some sailors at the Grand Traverse Yacht Club noticed how competitive the sailboat was.
It wasn't long and a couple of the members bought a Melges and started racing.
"The fun and excitement I think just bred broader and broader participation," Zimmerman says.
Mike Dow described himself as one of the "original" Melges boat owners. The boats have numbers on their bows that help the race committee identify the boat. His boat, Flying Toaster, is number 613.
Around 1994, according to Dow, Mike Fisher and Steve Trippe had the first Melges 24s in town.
"Of course, we all took rides on it," Dow says.
Two years later Dow bought his own boat and has gone on to become one of the top sailors in the fleet, even winning the recent Melges 24 Grand Traverse Invitational.
Over the years, the Melges fleet, which sails out of the Grand Traverse Yacht Club, has fluctuated in size. But thanks to a healthy used boat market a couple years ago, Dow and Zimmerman say that the fleet has grown.
"There were used boats available at a reasonable price," Zimmerman says. "And you can take that used boat and immediately be competitive in this really high-caliber class. The entry point was really good."
Nowadays, it's hard to find a used Melges, he says.
"Today, there are very, very few used boats available," he says. "The market has completely dried up because of the resurgence of the class."
A used Melges 24 can run anywhere from $20,000 to $70,000.
GTYC's fleet sits at 14 boats that sail regularly on Wednesday nights in the summer, making it one of the largest standing weekly fleets in the country, according to Zimmerman. All told, there are only about 860 Melges boats in the world, he added.
Dow says one of the appeals of the Melges is that it is a one-design boat, which does not require handicapping when being scored.
"It's a very light boat with a lot of sail area — sports car-like," Dow says. "Going fast is fun. That's a big part of it."
Another appeal of the boat is its versatility. The Melges can be sailed on inland lakes and the open ocean.
"It's a good all-around boat," Zimmerman says. "But I think there's a really strong racing culture that's always been present here and I think it's really growing at the moment."
The Melges is sailed by a crew of three to five. It was built in the early 1990s by the Melges Boat Works company, owned by America's Cup sailor Harry "Buddy" Melges.
"It became one of the most popular one-design sport boats in the world," Zimmerman says.
The GTYC has hosted sailboat racing for all classes on Wednesday nights for decades, according to Zimmerman. The one-design Melges has been a welcomed addition, he added.
On a recent August Wednesday evening, about two dozen spectators watched from shore enjoying oysters and cocktails on a small patch of grass in front of GTYC. On the horizon, a line of Melges 24s sailed downwind with brightly colored spinnakers pulling them to the finish line.
Much of the Melges fleet is kept at the clubhouse that sits on West Bay. After racing, the boats return to the clubhouse where they are hauled out and sailors swap sailing stories over drinks.
Getting a large fleet like the GTYC's Melges on the water each week can be a challenge, Zimmerman says. As many as 70 sailors can be needed but getting them all on board isn't always possible.
"There's always crew problems or someone gets sick or they've got work. And so, what happens is there's generally a need for fill-in crew," Zimmerman says.
Sometimes, the fill-in crew can be racing royalty that happens to be visiting the area, he says.
"And, lately, some of our fill-in crew have been Olympic gold medal sailors and Volvo Ocean Race sailors," he says. "Some world-class sailors that happen to be in the area and want to come sail with us. It's kind of amazing."
In spite of the occasional drop-in superstar sailor, Zimmerman described the Melges 24 class as a "grass-roots kind of fleet," with a diverse group of sailors, both young and old.
"Oftentimes the fleets are very heavily male," he says. "And we have a significant female presence in the fleet with many boats that sail with a couple of women, which hasn't historically been normal."
Zimmerman sails with two females — his wife, Liz, and daughter Katy — on board the family's boat, Bad Idea.
"It is unusual to have married people on board a boat," Liz Zimmerman says, who grew up in Leland and learned to sail from a young age. "What is different about this fleet is that we have women on almost every boat and in critical roles. Katy trims our spinnaker, which is very unique in the fleet. It is a very physical boat."
Liz met her husband while attending high school at Traverse City Central, but didn't start dating until college.
"His mom had boats, so we sailed a lot the first couple years of dating — not racing, just for fun," she says, whose dad was a member at GTYC.
Liz stood on the dock as boats were being hauled out on a recent Wednesday sailing night. It was the last sailing session before competing in the Melges 24 Grand Traverse Invitational. Her daughter was unable to make the Wednesday night sail due to prior engagements.
"Wednesday nights are a warm-up for bigger events," Liz says. "It is also an opportunity to practice and learn routines."
Every year the class hosts a national event here in the U.S., and then a world championship is hosted every year, moving from Asia to Europe to the U.S. on a multi-year cycle.
On August 21-22, the Melges 24 Grand Traverse Invitational was hosted by the GTYC with 21 boats competing. It was the seventh stop on the ranking series. GTYC sailors took several top spots, including Dow in first place and Zimmerman in third. Fred Rozelle took second place, Kent Sisk was in fifth and Steve Pirie came in fourth.
"We had a great regatta," Dow says. "The team sailed well together, and we made minimal mistakes. Gregg Diehl was on bow, Jamie Olsen was in the middle and Bob Clark trimming."
The sailors will now compete at the 2021 U.S. Melges 24 National Championship on September 15-19 hosted by the Crescent Sail Yacht Club in Grosse Point Farms, Michigan.
Peyton Diehl hasn't missed a Wednesday night sail all summer. Last year, she started sailing more seriously on GTYC Commodore Bill Babel's Melges 24 Blue, Red and Grey — named after The Who song. She was unsure how they finished on Wednesday night, but the boat came in 19th in the following weekend's Melges 24 Grand Traverse Invitational.
"We are super fun crew," Diehl says, who sails competitively for Hope College on a 420. "We like to win, but it is never super tense. We just have good times out there."
Diehl likes sailing with a bigger crew on the Melges, opposed to the two-man 420 boat she sails at college. Ultimately, she has become a better sailor after competing on the Melges, she says.
"It is fast-paced," Diehl says, whose roles ranges from "rail meat" to trimming the spinnaker on the boat. "It is a lot more complicated. We switch around and learn new things."
The last Wednesday sailing night will be held Sept. 26.
Scot Zimmerman says he is optimistic about the growth of the Melges 24 fleet and points to youth programs, like Traverse Area Community Sailing and local high school teams. He also says Wednesday night sailing will only help the development and longevity of the sport.
"I think we go out, we're really competitive and it's a lot of fun," he says. "I think people go, 'Gosh, why wouldn't I go jump on that boat for an hour or two with some people that are just out there having a lot of fun.'"
Trending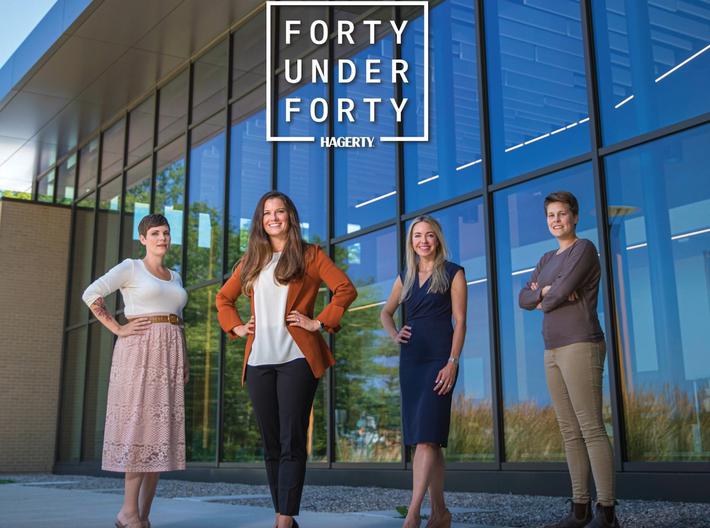 Nominations Now Open for the Hagerty/TCBN 40Under40
For 17 years, the Traverse City Business News, sister publication to Northern Express, has been celebrating the young move...
Read More >>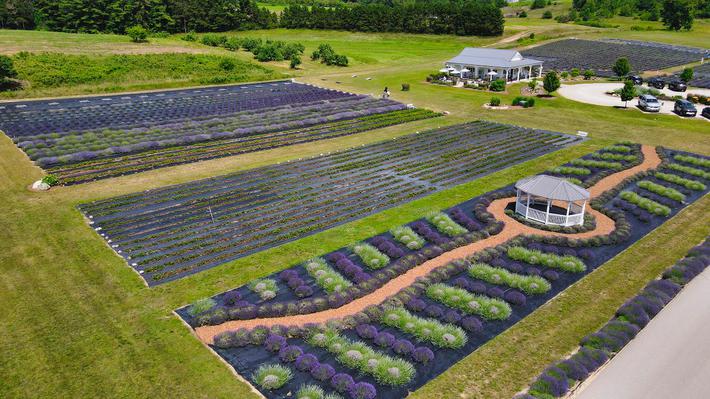 A Secret Garden
Sshh! This one is for your eyes only. The Secret Garden at Brys Estate has opened for the season, and it's time to c...
Read More >>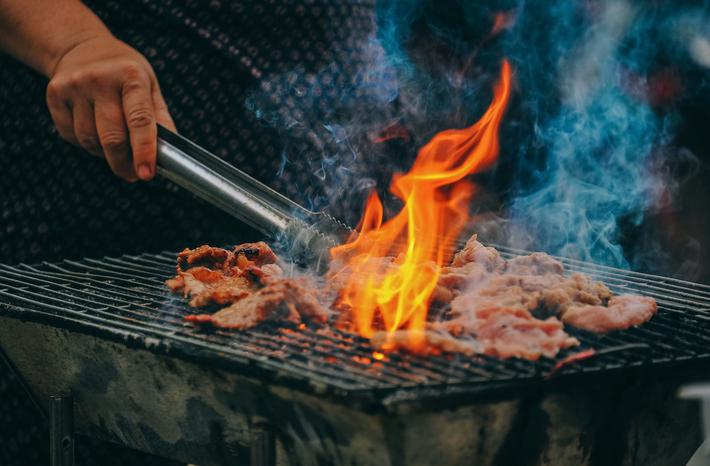 What's Cooking at Shady Lane
Celebrate your dad at Shady Lane Cellars' Father's Day Cookout. Offering a brat and Gruner Veltliner pairing f...
Read More >>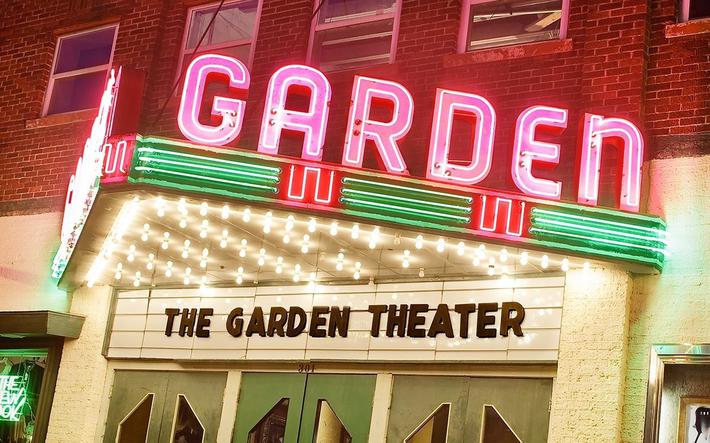 48 Hours in Frankfort
Roll the cameras—the Frankfort48 Film Contest is full of action this weekend! The contest is the trial grounds for t...
Read More >>