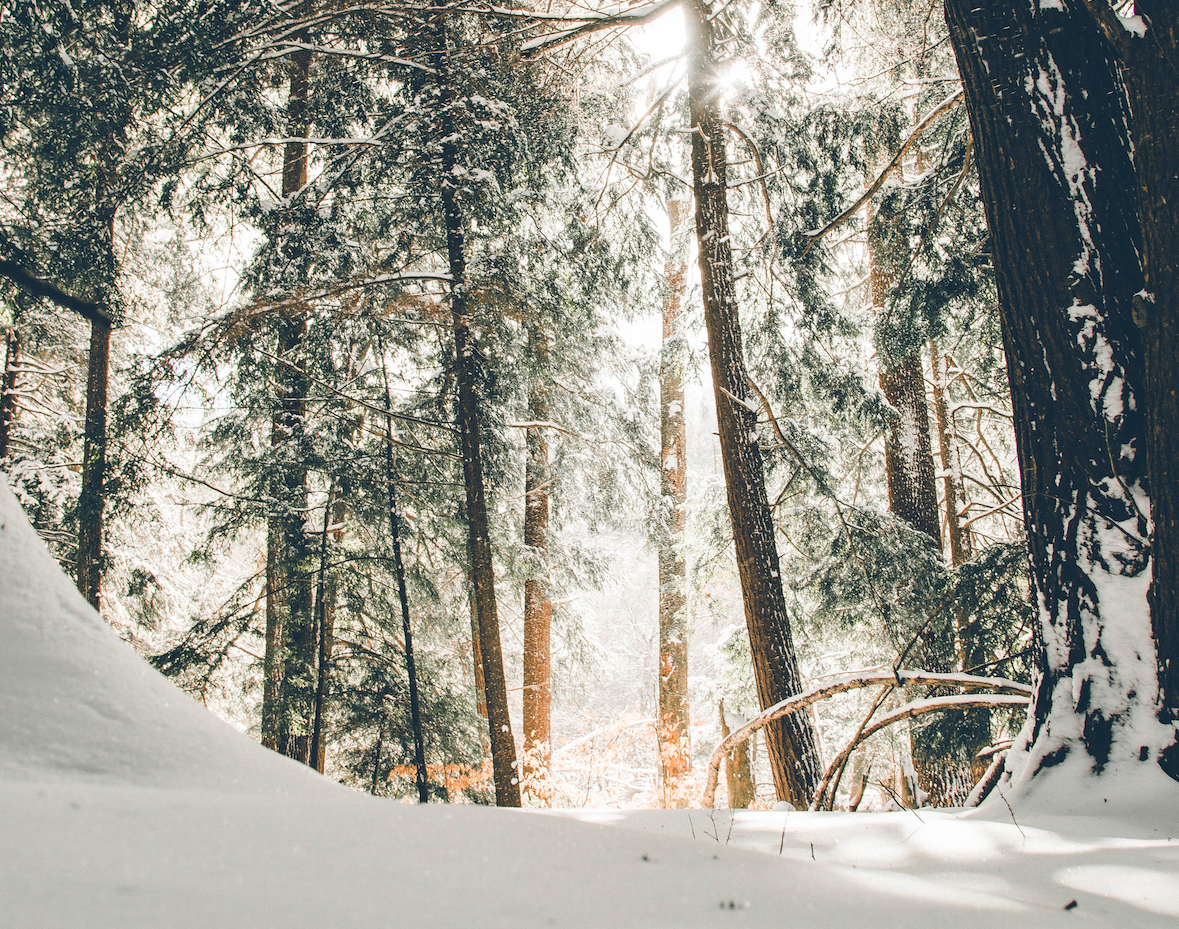 Winter Sojourn
Low-key weekend getaways
The hygge part of our hearts longs to do winter hibernation-style, with seemingly endless early nights spent curled up — books, candles, couch — at home. But in a region where winter (if not thy winter body) is a wonderland, there comes a moment when even the most couch potato-ey among us feels the urge to explore, to seize the snowy day, to arrive back at the office Monday morning proclaiming proudly, Yes, there is a world beyond the couch-to-cubicle commute, and I know because I went there, and I reclined in it.

Listen, winter-loathers: You need not be the bro that can pull a fakie 180 off the rail to relish this season. You can just as easily (OK, far more easily) embrace its long and frosty march toward March by setting out for a new horizon, one visible from a different but equally comfortable couch.
Here, we share four of our favorite winter getaways, all of which are worth getting to whether staying in and doing nothing, or staying close and doing a little something, is all you can do.
Stafford's Crooked River Lodge and Suites
We love this place in summer, with its massive, cartwheel-ready back lawn, nightly campfires, and complimentary kayaks. But walk into the vaulted timber-and-stone lobby in winter, and you won't yearn for summer's sunshine for a second.
Upstairs, indoor explorers will find a (sorta) secret loft outfitted with a pool table, board games and card tables, cozy sofas, and shelves of books. Back downstairs, guests can dip into the heated indoor pool or hot tub, cozy up by the lobby's massive fireplace — or scoot just outside the back door for a good old-fashioned stargazing sesh beside the bonfire.
You likely won't want to leave this timber-frame nest a minute, but if you must, there are snowshoes aplenty (just ask at the front desk), and the lodge sits right next to a snowmobile rental shop and trails, plus is just minutes from downtown Petoskey and Harbor Springs's boutiques, eats, and galleries galore.

Until Jan. 27, Crooked River Lodge offers a Winter Getaway Package for four, for two nights, at $229+. It includes breakfast each morning, $40 in Dining Dollars (redeemable at any Stafford's Dining Location), and a welcome goodie bag. Sundays through Thursdays Feb. 13 through March 3, couples can enjoy a single night, breakfast, champagne and chocolate, plus $30 in Stafford's Dining Dollars for $152+. www.crookedriverlodge.com.

Hotel Walloon
You might say the posh yet cottage-quaint Hotel Walloon serves as anchor to not only the wee Village of Walloon but also to so much of what we love about winter Up North.

Just a quick arm-in-arm stroll brings you to a smattering of village shops, an always-free ice-skating rink on the shores of Lake Walloon, and, of course, the much-loved Barrel Back Restaurant.

From here, you're also a quick drive to Boyne Mountain, The Highlands, Nubs Nob, and the nearby towns of Boyne City, Petoskey, Harbor Springs, and Charlevoix, and their surrounding wineries. But then again, why go anywhere? Hotel Walloon boasts a huge, hot, and glass-framed (read: wind-blocking) outdoor tub and one of the most magical public living rooms in which we've ever spent three hours. (Lobby adjacent, with a massive fireplace, plush furniture, a well-tended bar, and a staff who fully welcomes guests who cuddle up with cocktails, post hot tub, in their complimentary robes. Yes, tried and verified.) www.hotelwalloon.com
The Highlands Harbor Springs
Consider the former Boyne Highlands — now named, simply, The Highlands — the pretty girl next door who grew up to strut high-fashion runways. This winter, the wholesome Harbor Springs resort you've long known as the largest ski area in The Mitten (435 skiable acres!) and the highest vertical terrain (with mile-long runs!), gave northern Michigan a sexy new reveal: 87 rooms in its iconic Main Lodge have been expanded and updated in a refined, ultra-luxe yet comfy-cozy style (think: plush bedding, wooden wardrobes, marble bathrooms, Euro-style toilets, smart refrigerators, Nespresso machines … ).

It also installed super-fast lift-ticket scanning at every single lift, five new mega snow guns, and 135 sets of new Head Bys ski and boot packages for rentals; Zipline Adventures, fat-tire snow-biking, and Sno Go Bikes are available, too.

But for folks looking for a less adrenalin-charged weekend respite, be ready to swoon: This month, the Highlands brought back its Aonach Mor Moonlight Dinners, in which you and yours take a sleigh ride up to the resort's North Peak and enjoy a three-course family-style dinner (with live acoustic tunes and candlelight aplenty) inside an intimate cabin retreat. The $135 cost per person includes the sleigh rides up and down the mountain, three-course meal, non-alcoholic beverages, taxes, and 20 percent gratuity. Only seven dates remain: Jan. 22 or 29, or Feb 5, 12, 19, 20, 26. www.highlandsharborsprings.com
Hotel Frankfort
The painted lady of downtown Frankfort, the Victorian-styled 17-room Hotel Frankfort gives you all the intimate B&B-escape feels while perching proudly in the heart of one of the North's coolest small shoreside towns.

Idle away an afternoon dreaming and scheming inside Betsie Bay Furniture's multitude of chic styled rooms. Nosh and sip some stellar craft brews inside Stormcloud Brewing Company's pub and taproom (or an outdoor "Thunder Dome" igloo). If it's a Saturday this month or in February, try to nab a spot in Stormcloud's group curling lessons. Sunday? Drop in at noon for some ice time; it's just $10 a person.
Hit the rest of Main Street's shops or stroll west to watch Frankfort Beach's famed sunset or — if the waves are right — go earlier to catch the bravest (and likely coldest) bunch of sweet-water surfers this side of the Mississippi.

At day's end, before tucking into your uniquely decorated room (several with jacuzzi tubs), tuck into Hotel Frankfort's outstanding in-house restaurant for delights like Drunken Mussels, Boursin Chicken Breast, Lobster Bisque, and one of our faves — Red Velvet Cheesecake. Nightly rates (for non-jacuzzi rooms) start as low as $78. Bonus for slopes folks: Crystal Mountain Resort & Spa's ski hills and countless other winter adventures and activities are open and just 20 minutes away. www.thehotelfrankfort.com

*Photo above by Donnie Rose, Unsplash
Trending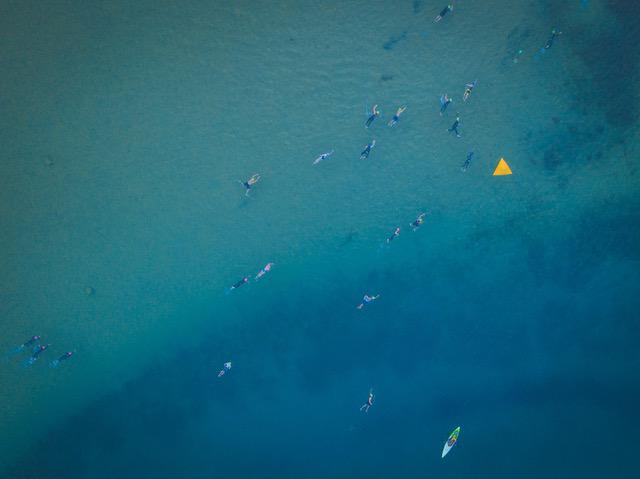 Swim, Bike, and Run in TC
The Traverse City Triathlon is back on Sunday, Aug. 21, with Olympic and sprint-distance races beginning in Bowers Harbor ...
Read More >>
Forty+ Years of Fabulous Art
Frankfort may be a sleepy town come winter, but in the summer, the little spot on the water is hopping. And for 46 years, ...
Read More >>
The Past in Motion
Where can you find 1,000 tractors? What about 600 antique engines? Dozens more old and cool cars and trucks? This weekend,...
Read More >>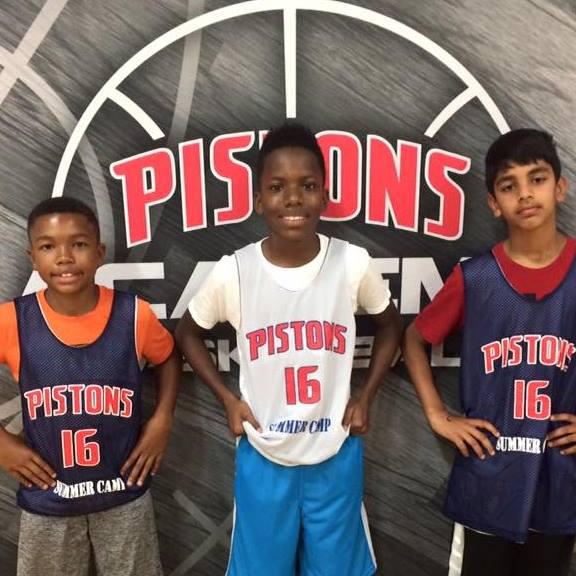 De-troit Basketball!
Is the next point guard for the Detroit Pistons living under your roof? Or do you just want to get your kiddo out of the d...
Read More >>