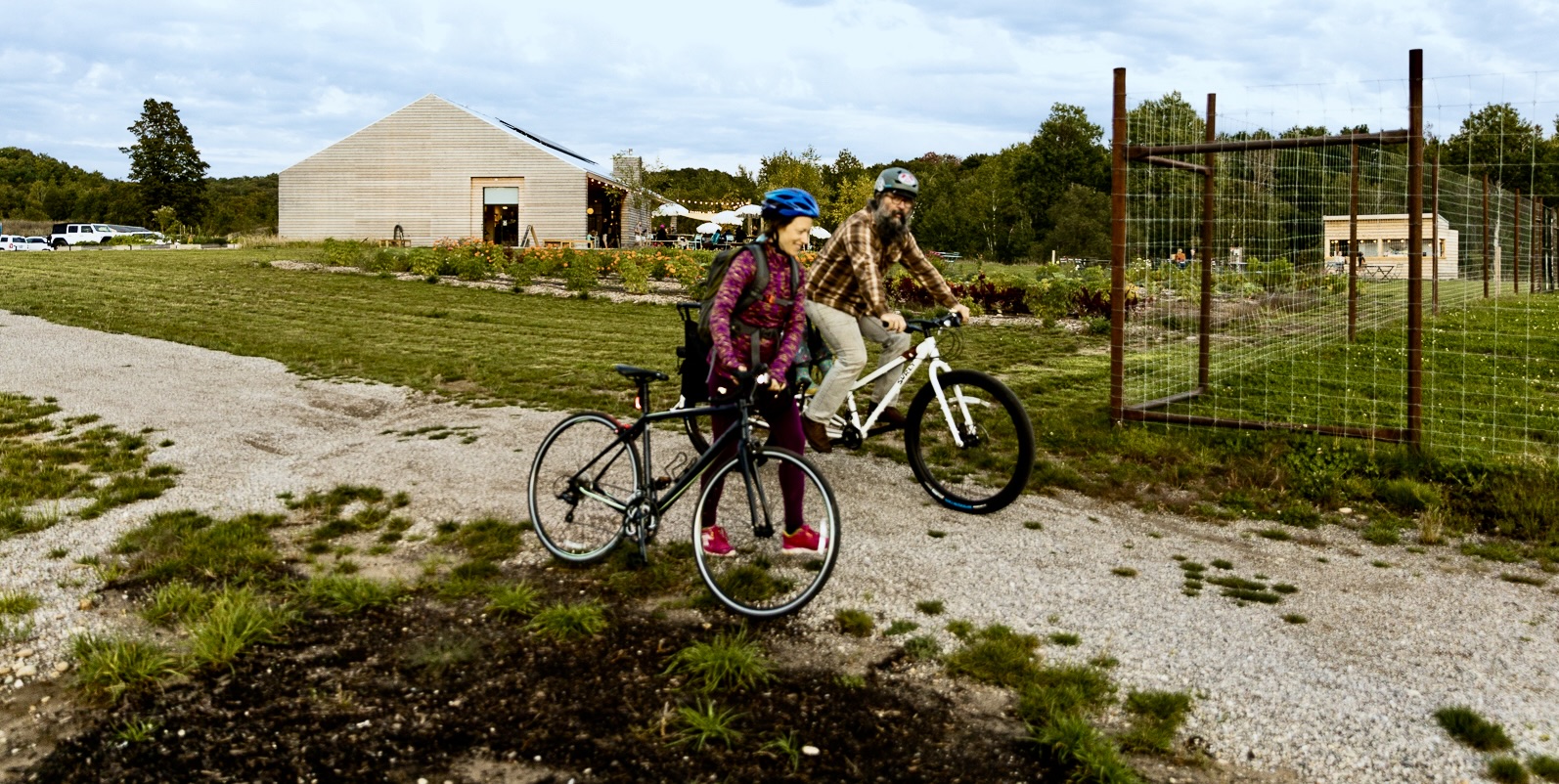 Trailside Eats: Where to dine when you're out and about
Not much tastes better than a meal you didn't have to cook; especially when it's served with a side of fresh air. For those with an appetite for the outdoors, here are four of our favorite trailside stops—all of which are athletic gear and gym shoe-friendly—and the local routes that lead to them.
TART Trail – Stone Hound Brewing
When beer industry veteran and self-proclaimed biking junkie Brent Faber started scouting Traverse City taproom locations, he knew his spot would be off the beaten path: something far enough from the brewery-packed center of town to avoid butting heads with other businesses, but still easily accessible to cyclists and pedestrians. His answer arrived in the form of a refurbished laundromat.
Opened in early 2021, Stone Hound Brewing is situated mere steps from the eastern end of the TART Trail in Williamsburg and only about a mile from the VASA Pathway. With a whopping 13 taps to choose from, many of which have been named for local trails, Stone Hound's extensive beverage menu runs the gamut from bright IPAs to stouts and often includes a cider or seltzer. Thanks to an unfussy interior and community-style seating, the brewery has little to distract from its patrons' main business: drinking beer.
Pick your poison at the stone-studded bar, a token of the brewery's name, before playing a round or two of pinball or catching a game on one of three big-screens. On sunny days, the spacious outdoor patio offers uninterrupted views of East Bay.
But just a brewery this is not. Stone Hound visitors can also take advantage of a fully plant-based pub menu, courtesy of Rad.ish Street Food's kitchen takeover. Tuck into an order of light and crispy jackfruit-stuffed taquitos before igniting your body's energy stores with a portion of Mexican street fries. Deliciously starchy and loaded with pico de gallo, guacamole, vegan cheese, and salsa, this shareable app pairs perfectly with a pint for the ultimate post-trail pick-me-up. Or, take your lunch to-go with a full-to-bursting, all-veg burrito. Trust us—even die-hard carnivores give this vegan eatery the thumbs up.
North Country Trail – Audie's Restaurant
Spanning eight states from Vermont to North Dakota, the North Country Scenic Trail (NCT) is the longest on the National Trail System's list. Of its 4,800 miles, nearly 1,200 are in Michigan.
No NCT trek would be complete without a stop at Audie's Restaurant. A local favorite since the Mackinac Bridge was completed, the restaurant's downtown Mackinaw City spot lies along the North Country Trail near mile-marker 548. Cyclists following the trail from the south intersect the restaurant on North Nicolet Street, about three blocks from the Mitten's tip. (The next five miles don't come with snacks, so better fuel up while you can!)
Owned and operated by the Jaggi Family since 1974, Audie's is known amongst tourists and townies for its from-scratch kitchen and creative daily specials. With slightly different offerings in three distinct dining spaces, the extensive menus feature flavors for every palette. For a hearty lunch to last for miles, look no further than their Mighty Mac sandwich. Get your fix of protein (turkey and grilled ham) and carbs (the famous pepper-parmesan French bread) alongside melty cheddar and Creole mustard sauce. Choose from fries, coleslaw, or cottage cheese to round out your meal.
If you're rolling off the trail in time for dinner, indulge in the rustic Chippewa Room. Start with a cup of Baked Swiss Onion Soup—complete with crispy-golden croutons and topped with a layer of bubbling cheese—before treating yourself to a plate of Planked Whitefish. This distinctively Up North dish is presented on a maple slab with duchess potatoes and seasonal veggies. Finish with a few house-made desserts before taking on the next leg of your journey.
Cherry Republic Public House – Sleeping Bear Heritage Trail
After a day spent exploring the Sleeping Bear Heritage Trail, Cherry Republic's Public House is a one-stop shop for hungry athletes. Situated about halfway between Alligator Hill and Crystal River Trailheads, the flagstone-paved path to the pub is less than a mile from the Heritage Trail's Glen Arbor terminus.
Opened in May 2018 in response to an increasing café demand, the Public House is only one piece of Cherry Republic's sprawling campus. Composed of the timber-framed Great Hall—that's the original Cherry Republic retail space—and the on-site winery and soda bar, the complex also includes an outdoor ice-cream parlor, an assortment of garden games, and the pièce de résistance: an Olympic-sized pit-spitting arena.
The Public House is the literal cherry on top. The menu features lunch and dinner selections—many of which showcase the company's retail products—and patrons can enjoy a meal in the 40-seater dining room or take in the English-inspired gardens from the outdoor deck. Snack on the signature smoked Whitefish Chowder, complete with potatoes, veggies, and bacon, before tucking into a to-die-for burger. For that quintessential stone-fruit experience, the Cherry Bacon Marmalade Burger is a must, or, for a little workout-fueling fire, the Smokey Serrano Pepper Burger packs the perfect amount of heat.
Wash it down with a wine or soda pop tasting, or sip a cherry-inspired brew at the outdoor taproom. For those with a sweet-tooth to satisfy, the bakery counter covers all of your bases, including homemade cherry pie. There's no leaving hungry here!
*To access Cherry Republic's campus, follow trail-markers on east M-109 through downtown Glen Arbor, and head south on South Lake Street for about 500 feet.
Leelanau Trail – Farm Club
At Farm Club on the Leelanau Peninsula, the farm and the table are one in the same. Co-owned by culinary veterans Gary and Allison Jonas (The Little Fleet) and Nic and Sara Theisen (Loma Farm), Farm Club opened its doors in July 2020 as an access point for farm-grown food without the barrier of upscale dining.
Situated on 35 pristine acres from which the kitchen sources most of its produce, Farm Club is located just off Mile 7 of the Leelanau Trail. Guests can access the property directly, thanks to a bikeable boardwalk courtesy of Traverse City nonprofit SEEDS. Complete with an on-site bicycle "fix" station—where patrons in need can tend to their wheels—Farm Club's distinctly pastoral space combines a streamlined, earth-toned dining room with plenty of picnic-y outdoor seating. Order at the bar and take a table inside, or let the QR codes on the lawn do the work; either way, it's all full service.
While the menu is constantly changing in accordance with the season and product availability, the Beans and Broth appetizer is a protein-packed must for any active visitor. Featuring rotating varieties of heirloom beans, this flavorful dish has a broth base of garlic, thyme, and extra virgin olive oil and is accompanied by house-made bread.
For something a little more substantial, the Farm Board is a year-round favorite. A duo of ever-rotating dips with bread and a variety of vegetables, this shareable app easily becomes a meal with soft cheese, sausage, or smoked trout add-ons. Pair it with something from one of the bar's 10 taps or a refreshing pink rose lemonade and return to the trail with a full tank.
Trending
Pronouns 101
My first assignment in an online graduate-level class was to provide information about my background, including my pronoun...
Read More >>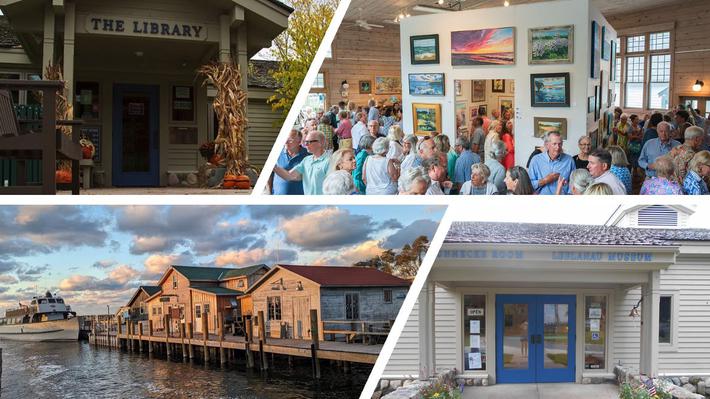 Collaboration Is the Name of the Game
How long does it take to create a cultural center? As few as three years, or as many as 170. Sometimes both. The organiza...
Read More >>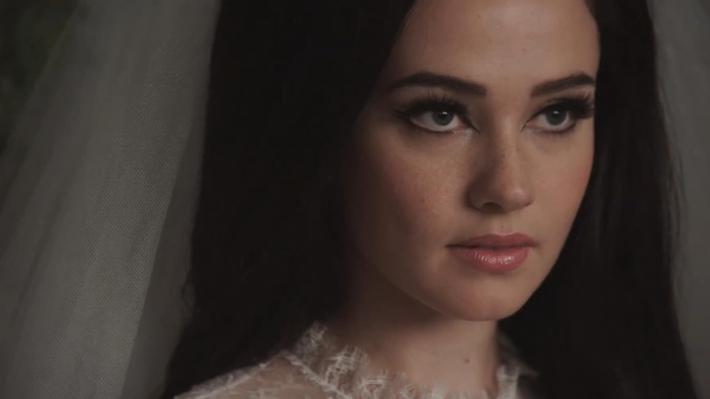 Film Review: Priscilla
While you will certainly be mesmerized by the haunting lead performance from newcomer Cailee Spaeny—and be impressed...
Read More >>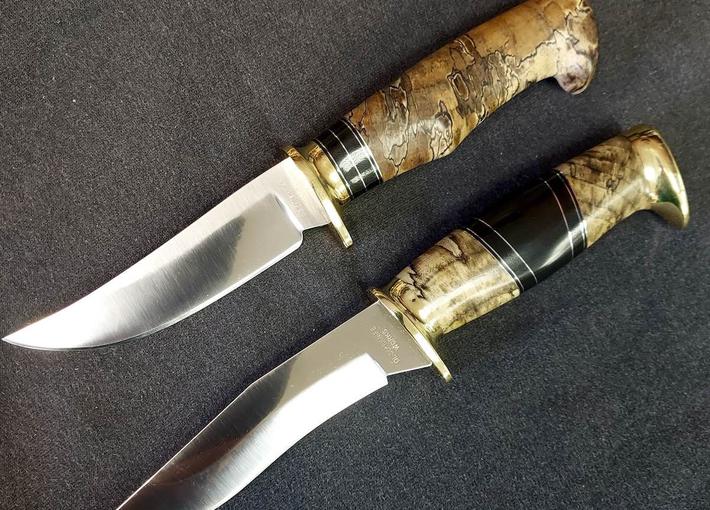 Bespoke Blades
What do you do with a battered ice skate, an old rubber puck, a cracked hockey stick, and a gob of tape? Pitch 'em, ...
Read More >>