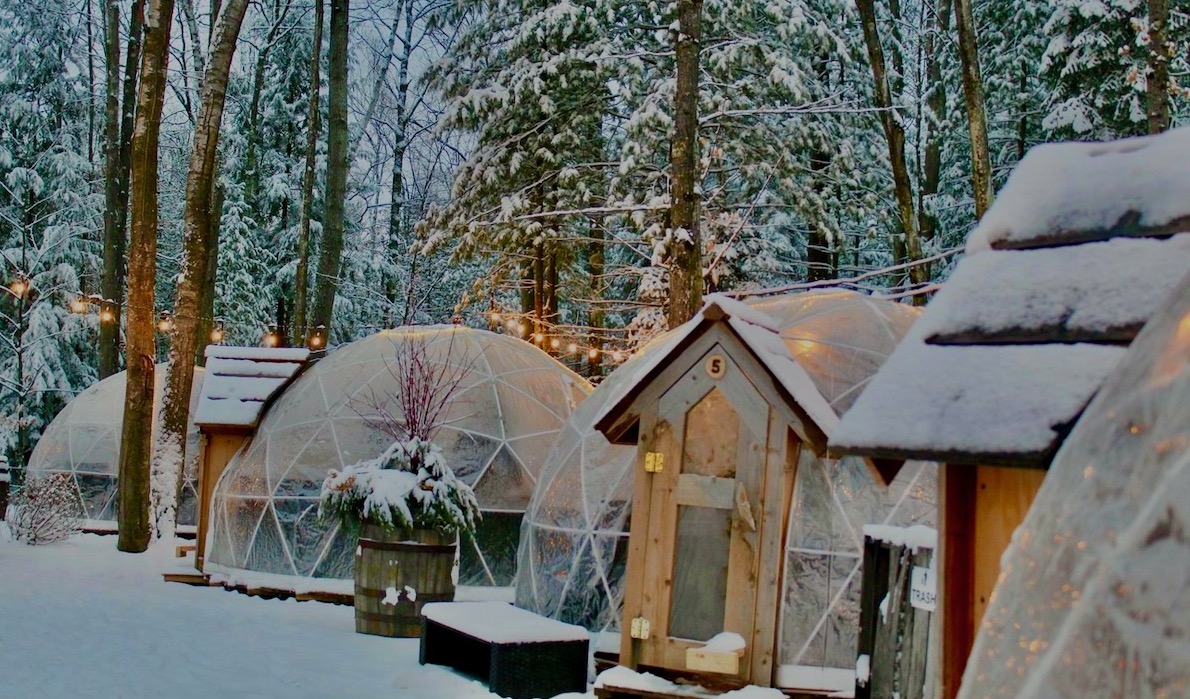 Is Winter Outdoor Dining Here to Stay, or Are We All Headed Back Inside?
Will our cold comfort (food) last?
Outdoor dining—snow, rain, or shine—went through the roof during the first year or two of the pandemic. But now, with most eateries going about business as usual, patrons seem to be fair-weather fans of al fresco dining. So what's the plan for all those yurts, igloos, and covered tables that served as our dining rooms when we couldn't be warm and cozy inside?
Northern Express checked in with three local leaders in outdoor dining—Hop Lot Brewing Co. and Beer Garden, Iron Fish Distillery, and Little Traverse Inn—to talk seasonal service trends and get the scoop on what's in store for the colder months.
Hop Lot Brewing Co. and Beer Garden
As the OG hot spot for winter igloos, it's safe to say Suttons Bay's Hop Lot knows a thing or two about outdoor seating. Opened in 2015, the brewery grew its now-iconic igloo "village" from four original units, which co-owner Steve Lutke first installed as a quick solution for extra space. "We [purposely] built this place to be small so that people can enjoy the outside," he explains, "but no one's going to sit exposed, even by a fireplace, when it's freezing."
Those four little igloos quickly gained momentum with the beer-drinking public. "They were unique at the time, and people wanted to sit and enjoy them," Lutke says. "So, we just kept building [more]." Fast forward to COVID's arrival, and the brewery was hedging against the loss of its indoor service altogether; in fact, Lutke notes that the state was even offering grants for outside alternatives. Suffice to say, the igloos just fit. "[They] have become an attraction themselves," he says, "and [we want] to hold on to that."
Since then, Hop Lot's tacked on six more huts, for a total of 18 inflatable units. Each igloo accommodates up to eight guests and comprises a standard furniture set. This year, the brewery upgraded its outdoor heaters from portable units to industrial four-seater furnaces, which warm each space to upwards of 60 degrees, even in sub-zero conditions.
Those interested in the igloo experience can book a spot up to two weeks prior, and though reservations aren't required, Lutke strongly encourages them, especially for weekends and holidays.
Other winter additions at Hop Lot include four upgraded fire-pits—all of which are timber-framed and flank the taproom at the front—as well as a more efficient (not to mention aesthetic) igloo arrangement. "They're more clustered in the sense that it forms a little igloo village. It's much better from a service perspective," says Lutke.
As for the upcoming winter, the taproom has no plans to reduce their outdoor service. In fact, Lutke remains optimistic for a season that paces with previous years, though he admits business trends have been hard to predict.
"We're back at it full swing, [and implementing] the things we've learned," he says. "We have so much to offer, and we're just going to be ourselves."
Find Hop Lot Brewing Co. and Beer Garden at 658 S. W. Bay Shore Dr., Suttons Bay. (231) 866-4445, hoplotbrewing.com
Iron Fish Distillery
Expansion was imminent at Iron Fish Distillery long before the pandemic hit. "In the age of Iron Fish right now, we're [experiencing] exponential growth," says Director of Retail Operations Dominique Gentle. "Setting up additional space is something we would have had to do anyway."
The tasting room, predictably, serves as the distillery's central hub, where guests can mingle as they please or linger over an egg-white cocktail. Its limited capacity, though, especially when reduced by half, required staff to get creative in order to continue service.
Consequently, Iron Fish brings the warmth of their indoor bar outside by means of a giant party tent and adjoining patio. This community space is new to this year and replaces a handful of private tents (10-12, Gentle estimates), as social distance requirements wane. "[We wanted] to have a space where everyone can be together, if they want to," she explains.
Iron Fish repurposed the tent from its summer special events equipment and winterized it with a heater alongside picnic table seating. It's a rustic, outdoorsy vibe, Gentle says, that's cozy even in inclement weather. As an added bonus, the tent has also provided enough space to reintroduce live music, a mainstay of the distillery.
Additional outdoor dining options include four personal dining tents (known as Base Camp Iron Fish), which can accommodate two to eight guests and require booking in advance, as well as open-air fire pit seating and an enclosed porch for private parties.
Gentle, however, emphasizes that much of the stillhouse's outdoor seating arose from necessity rather than client demand. She explains, "We were one of the only places in the area that could have people dine [during the pandemic]."
Nonetheless, it took only about a year for the bar to receive more inside service requests. In response to that growing trend, Iron Fish has big plans to expand its tasting room in the coming year, which will include removing a wall and creating new space for some distilling equipment.
There's also a speakeasy-style space in the works for curated events like cocktail classes and whiskey tasting. "We're just trying to teach people about spirits and what we do," says Gentle, "and we're lucky to finally have the space for it."
Iron Fish Distillery is located at 14234 Dzuibanek Rd., Thompsonville. (231) 378-3474, ironfishdistillery.com
Little Traverse Inn
Like so many other members of the area's hospitality industry, outdoor dining was Little Traverse Inn's answer to pandemic-fueled operation restrictions. Innkeeper and owner Graeme Laesk, however, wasn't keen on igloos or tents. "There's really no privacy [to a structure like that], and you couldn't insulate them," he explains.
Instead, he, along with a few friends and neighbors, opted to build five tiny houses to serve as the eatery's outdoor dining room throughout the last two winter seasons.
Each space had its own Michigan theme, complete with antiques and local artwork (including some by Laesk's wife), and could accommodate up to six diners. More importantly, the huts' from-scratch construction let Laesk and his team insulate them, as well as outfit each one with power and its own set of working lights.
"I referred to them as our ice shanty village," he says, "because, what's more Michigan than ice shanties?"
Throughout the pandemic's peak, the shanties' extra capacity—each of which saw about five daily seatings—allowed Little Traverse Inn to stay open when other spots were closing their doors. Once restrictions were lifted, though, the Inn, which hangs its hat on creating a "community living room" ambiance, felt a palpable shift as diners headed back inside.
In fact, Laesk estimates that shanty use, though still a novelty at the time, dropped between 30 and 40 percent during the 2021 season.
The decrease, combined with staffing shortages—Laesk points out that running the village requires a staff member for each shanty—has led the business to opt out of reopening them for another winter. "I polled my staff," he says, "and the conversation really boiled down to [whether] there was as much value in it."
Other factors, like hazardous winter weather and county licensing requirements also contributed to the decision. He says, "It just wasn't in the cards."
Instead, the restaurant plans to reinvest in its indoor capabilities, headlined by several community events like the Inn's annual Gingerbread House Decorating Party and a highly-anticipated Cornhole League. "We couldn't do [those things] in years gone by, so it really is an opportunity to get back on an even keel," says Laesk.
As for the shanties themselves, Laesk informs Northern Express that he's already had a few purchasing inquiries.
"We're just grateful and fortunate to still be in business," he says, "and we look forward to seeing smiling faces through the winter."
Visit Little Traverse Inn at 149 E Harbor Hwy., Maple City. (231) 228-2560, littletraverseinn.com
Trending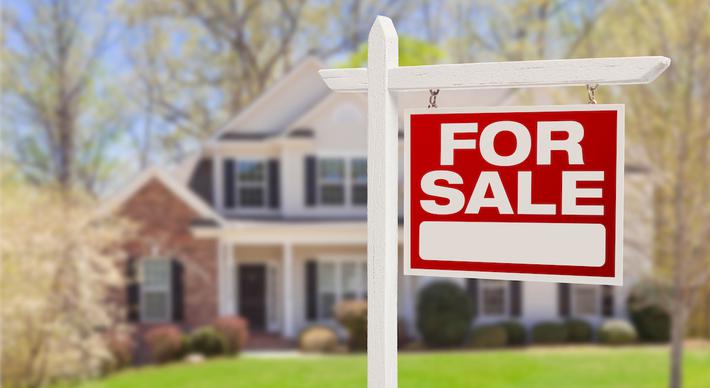 From Frenzy to Focus: Northern Michigan's Real Estate Update for Fall 2023
High-interest rates coupled with a lack of home listings have made for an interesting year in real estate. Northern Expres...
Read More >>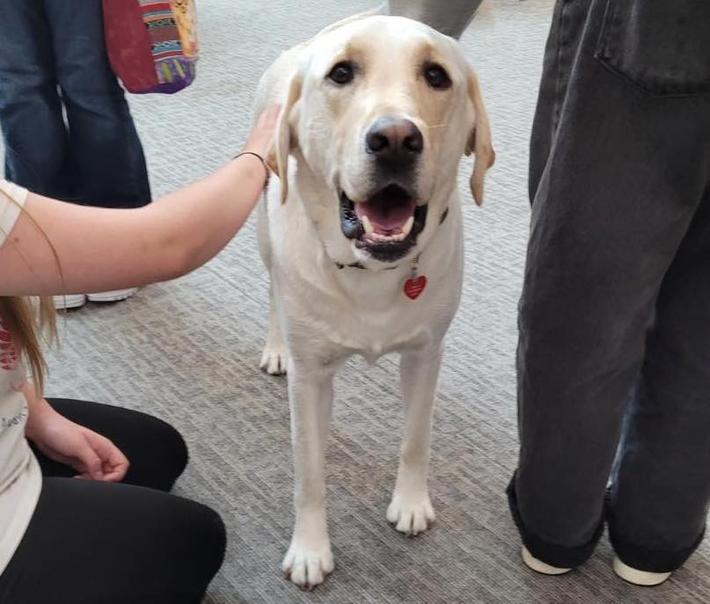 Pups on Campus
Traverse City West Senior High has brought on a very good boy as their newest staff member for the 2023-24 school year. Me...
Read More >>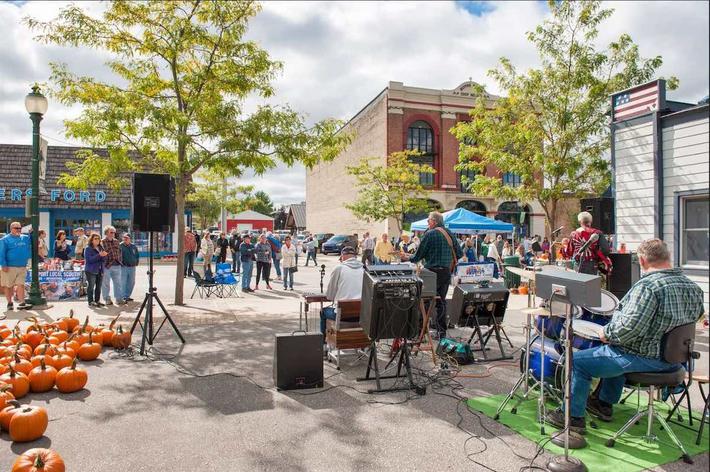 Celebrate the Harvest in Boyne City
Welcome to the season of harvest festivals! The days are getting shorter, the nights (and days) cooler, and it's tim...
Read More >>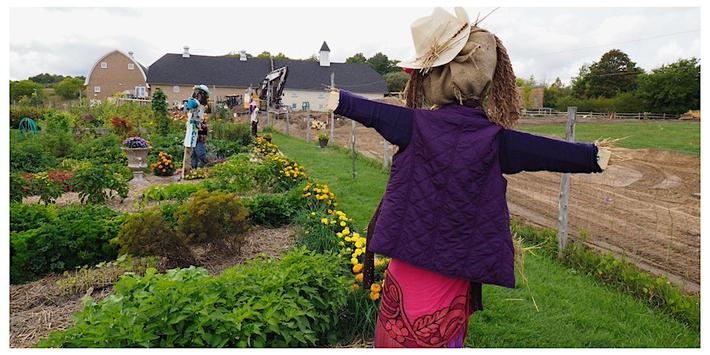 Scarecrow Szn
It may not be "spooky szn" (as the kids call it) just yet, but it does seem like it might be scarecrow szn. Th...
Read More >>